SAN DIEGO, Jan. 26, 2023 (GLOBE NEWSWIRE) -- The global human resources community, HR Girlfriends, is excited to announce a partnership with TOOTRiS, the nation's largest Child Care network, to provide premium Child Care access for its US-based members. Since 2010, HR Girlfriends has remained committed to offering female HR professionals vital resources to help build the relationships, skills, and opportunities they need to advance in the career of their dreams. With 70% of women managing most of the caregiving while working full-time, HR Girlfriends decided it is time to provide meaningful Child Care support to empower greater focus and success.
"Our mission to 'advance the practice and culture of people empowerment' is best served by listening to what our members truly need to reach their full potential," shares Sana' Rasul, President of HR Girlfriends. "Working moms are juggling several roles and responsibilities that pull them in numerous directions, so we're helping to take at least one enormous responsibility off their shoulders."
In fact, 43% of women feel they cannot give their all at work while also managing parenting tasks. Caregiving and household demands require, on average, 24 additional hours of work every week - the equivalent of a part-time job. As a result, many choose to leave their full-time jobs altogether or reduce work hours to meet caregiving and household demands. Both options hold them back from pursuing rewarding, enriching career opportunities or training in new skills that will keep them competitive. 
Under the partnership, HR Girlfriends members will get premium 24/7 access the TOOTRiS network, which allows them to easily search, vet, and enroll directly with licensed Child Care providers in real-time. The platform offers availability to nearly 200,000 unique programs and online enrollment up to a year in advance for standard and nonstandard hours of care, drop-in, after-school, specialized learning, summer camps, and extracurriculars. At a time when nationwide Child Care costs average more than $10,000 per year, rising 3% faster than inflation, TOOTRiS makes these services more accessible and affordable for working families.
"Too many women are balancing work and Child Care responsibilities without the critical resources and support they need to thrive," states Alessandra Lezama, TOOTRiS CEO and a select member of the ReadyNation CEO Task Force on Early Childhood. "We shouldn't have to choose between caring for our families or pursuing our dreams. We are excited to partner with HR Girlfriends to empower their members with peace of mind knowing they can personally and professionally advance while their kids have the quality care and attention they need."
# # #
About HR Girlfriends
HR Girlfriends was established in 2010 as a local group of Human Resources professionals seeking to acquire the skills, knowledge, and abilities to pursue the career of their dreams. Today, what began as a humble networking group has blossomed into a thriving global organization that offers consulting, training, education, and career development while sharing, promoting, and advocating for solutions in the field of human resources management. Learn more at hrgirlfriends.com.
About TOOTRiS
TOOTRiS is the nation's largest, most comprehensive Child Care network, with nearly 200,000 providers making access to care convenient, affordable, and on-demand.  TOOTRiS' unique technology unifies key stakeholders, enabling employers to provide fully managed Child Care Benefits, so their workforce has the flexibility and family support they need while organizations seek to increase productivity and their ROI. Learn more at TOOTRiS.com.
Contact Information:
Jeff McAdam
Creative Director - Press and Media Production
jmcadam@tootris.com
720-988-0984

Related Images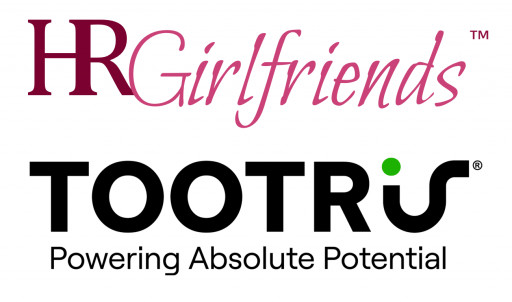 Image 1: HR Girlfriends & TOOTRiS




This content was issued through the press release distribution service at Newswire.com.
Attachment