HOUSTON, Feb. 03, 2023 (GLOBE NEWSWIRE) -- SEIDOR, a multinational consulting firm specializing in technology services and solutions, announces new leadership members in the U.S.
SEIDOR's new leadership includes the following: Dario Stern, CEO; Diego Dubini, Senior VP of Sales; Lucas Dubini, VP of Operations; David Strausser, VP of Business Development; and Mike Yehle, Practice Director S/4HANA RISE with SAP.
"SEIDOR USA represents the key piece for our global growth strategy. After 24 years with SEIDOR, I am very excited about this new challenge, and I am confident that with the support of this extraordinary SEIDOR USA team, we will exceed our goals for 2023," said Dario Stern, CEO of SEIDOR USA. Starting as a junior consultant and making his way to leading Mexico, and most recently Argentina, in executive leadership positions, Dario is taking charge of the U.S. along with the help of the rest of the leadership team.
Along with Dario, Diego and Lucas Dubini are coming from leadership positions at SEIDOR Argentina to help the U.S. team grow. With over 19 years of experience between the duo, they will help lead the U.S. sales, marketing, and operations teams.
David Strausser, the host of the business growth podcast Shark Bite Biz and a member of the Forbes Business Development Council, brings several years of ERP experience and is taking on leading the U.S. Business Development and helping lead their small business and midmarket Net New Name division.
With over 20 years of sales and marketing experience and working for companies like SAP, Mike Yehle is now in charge of the U.S. S/4HANA RISE with SAP division.
"I'm very excited about this new phase of SEIDOR USA. Our mission is to expand our presence in the U.S.; we'll enrich our current customer experience by extending our portfolio of solutions and services and reinforcing our territory coverage by adding new industries and regions. This investment reflects our commitment to the U.S. market, especially with our clients and business partners; new professionals are joining a high-quality team to make this project a reality," said Diego Dubini, SVP of Sales.
During 2023, SEIDOR will expand to eight major cities to further help our customers. This list includes the following cities: New York, NY; Los Angeles, CA; Chicago, IL; Boston, MA; Orlando, FL; San Francisco, CA; Philadelphia, PA; and Denver, CO.
About SEIDOR
SEIDOR, a Platinum award-winning local SAP partner, is a technology consultancy firm that offers a comprehensive portfolio of solutions from SAP, including SAP S/4HANA, SAP Business ByDesign, SAP Business One, SAP SuccessFactors, and SAP Analytics. SEIDOR also provides consultancy, implementation, development, and maintenance of applications and infrastructure and outsourcing services. With a global workforce of more than 7,500 highly qualified professionals, we have a combined history of successfully serving more than 8,500 customers in 44 countries, including the United States, Europe, Latin America, the Middle East, Africa, and Asia.
Contact Information:
Miles Beard
Digital Marketing Specialist
miles.beard@seidor.com

Related Images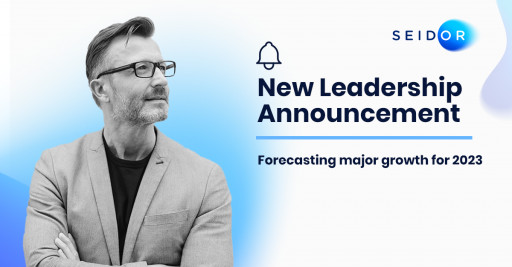 Image 1: SEIDOR USA new leadership 2023




This content was issued through the press release distribution service at Newswire.com.
Attachment