CLERMONT, Fla., Feb. 14, 2023 (GLOBE NEWSWIRE) -- Special Olympics Florida athlete Malcom Harris-Gowdie lived out his dream last week, working as a broadcaster at Super Bowl Media Row in Phoenix. The experience culminated Sunday, when Harris-Gowdie spent the day working in the media tent outside the big game.

"My dreams have come true!" he said. "So many people think that people with intellectual disabilities can't do certain things. I'm here to prove them wrong and show them that you can achieve your dream. I will never forget this time in my life!"

Harris-Gowdie, a St. Lucie County athlete, has been part of Special Olympics Florida for more than 15 years. An Athlete Leader and former County Athlete of the Year, he is an aspiring sportscaster who previously worked on Media Row, served as a special sports correspondent for CBS12 in West Palm Beach, and, through a partnership with Orlando Health, was a sideline reporter at the 2022 Special Olympics USA Games.
His time on Media Row this year is the result of a partnership between Special Olympics and sports and entertainment network FanSided.
FanSided and its parent company, Minute Media, are official global partners of Special Olympics and work with Special Olympics' programs to help end discrimination against people with intellectual disabilities and further inclusivity in sports.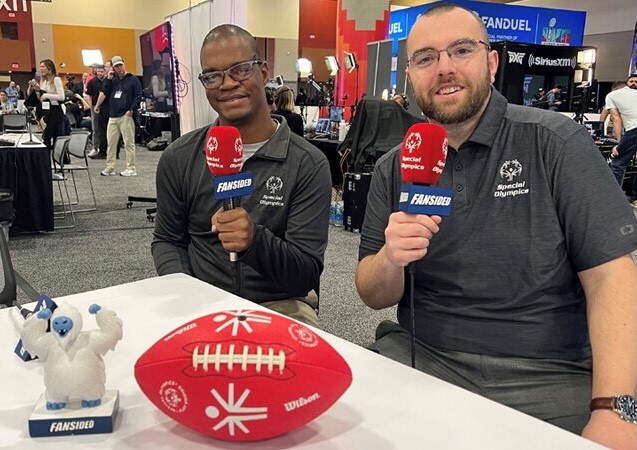 "It is thrilling – and inspiring – to see our athletes breaking barriers and accomplishing such remarkable things," said Special Olympics Florida President and CEO Sherry Wheelock. "Over the years, I have watched Malcom grow into a talented, incredibly knowledgeable sportscaster. We are so grateful to FanSided for recognizing his ability and giving him this amazing opportunity."
All last week, Harris-Gowdie was paired with FanSided host Matt Verderame, conducting interviews and covering pre-game news. He learned he would work as a game-day reporter during a Zoom call with Super Bowl winner and three-time Pro-Bowler Anquan Boldin.
A surprised Harris-Gowdie said he was honored by the opportunity.
"I have been busy prepping for weeks for this opportunity," he said. "I'm so proud to be here on behalf of Special Olympics, a movement that is about promoting inclusion and acceptance for all."
About Special Olympics Florida
Special Olympics Florida provides year-round sports training, competition, health services, and leadership programs to children and adults with intellectual disabilities, at no cost to the athletes or their caregivers, as a means to achieve physical fitness, self-esteem, socialization skills, and the life skills necessary to be productive, respected, and contributing members of their communities. To learn more, visit www.specialolympicsflorida.org. 
Bio Box 
Malcom Harris–Gowdie 
Home: St. Lucie County 
Years with Special Olympics Florida: 16 
Participates in: Basketball, Bowling, Golf, and more 
Aspiring sportscaster 
Served as special correspondent for the St. Lucie Mets and Miami Marlins 
Served as Orlando Health sideline reporter for 2022 Special Olympics USA Games 
Former St. Lucie County Athlete of the Year 
Publix Associate 
Special Olympics Florida Athlete Leader 
QUOTE: "I just want to have a voice and share my experience. I want people to know anything is possible if you set your mind to it." 
A photo accompanying this announcement is available at https://www.globenewswire.com/NewsRoom/AttachmentNg/e64680f8-51cf-4e6a-9e13-2a5755786e1d