CRANBURY, N.J., Feb. 28, 2023 (GLOBE NEWSWIRE) -- MJH Life Sciences®, the largest privately held, independent, full-service medical media company in North America with a drive to improve health care worldwide, today announced it was named as one of the 2023 Top Workplaces USA by the Top Workplaces awards program. The recognition places MJH Life Sciences® among select companies across the country that prioritize a people-centered culture and give employees a voice. The Top Workplaces USA award is based entirely on feedback from engagement surveys submitted by employees working at each organization.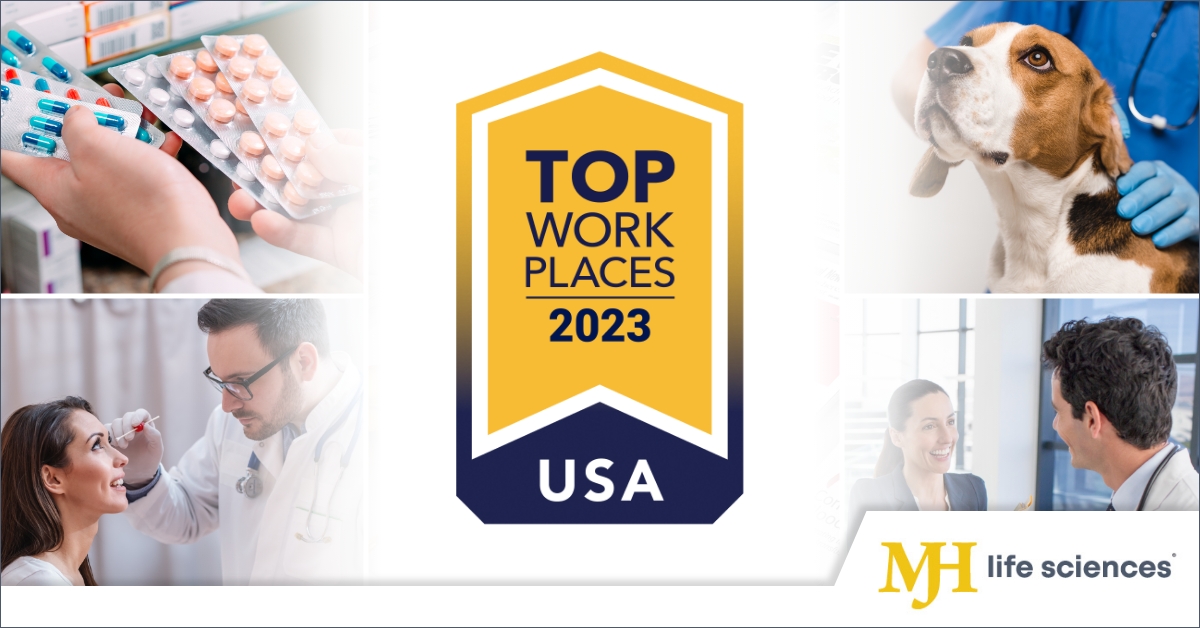 A photo accompanying this announcement is available at https://www.globenewswire.com/NewsRoom/AttachmentNg/cc62c488-5c02-40ba-99a2-aab4fb382bbd
MJH Life Sciences® is guided by the twin principles of innovation and an entrepreneurial spirit, and is dedicated to improving quality of life through health care communications, education and research. As advances in the latest screening, diagnosis, treatment and patient care models evolve, MJH Life Sciences® strives to keep health care professionals informed. With a reach of more than 7 million health care decision makers, physicians, pharmacists and managed care professionals, MJH Life Sciences® delivers trusted information that drives informed decisions across multichannel platforms.
"It's an honor for MJH Life Sciences® to be recognized as a Top Workplace, especially when the award resulted directly from our valuable team's feedback," said Mike Hennessy Jr., president and CEO of MJH Life Sciences®. "As a family-owned company, we are especially proud of our people-first mentality – whether it's our dedicated employees, associates, clients or the health care professionals and patients we serve with expert, educational content every day. At MJH, we are passionate about cultivating our team's talents and empowering individuals to evolve their careers and exceed goals."
The Top Workplaces employee engagement survey captures anonymous feedback in four different culture areas: "Align," which asks where the company is headed, as well as its values and cooperation levels; "Connect," which gauges whether employees feel appreciated, that their work is meaningful and that they are working at their full potential; "Coach," which evaluates how effective and nurturing their managers are; and "Performance," which reviews the company's execution, open-mindedness, innovation and leadership's engagement.
The following are featured excerpts from MJH Life Sciences® employees' workplace surveys:
"MJH provides a positive work environment, while motivating and engaging employees."
"MJH Life Sciences provides incredible information and education back to key health care stakeholders through impactful forms."
"I'm lucky to be surrounded by individuals with creative minds."
"Working at MJH has allowed me to make an impact not just in growing my professional development, but through the continued advancement of the education of healthcare professionals worldwide."
To learn more about the mission and values of MJH Life Sciences®, visit the company website.
About MJH Life Sciences
MJH Life Sciences® is the largest privately held, independent, full-service medical media company in North America dedicated to delivering trusted health care news across multiple channels. Through its more than 60 brands, MJH provides 7+ million health care professionals with the information and resources they need to optimize patient outcomes. MJH combines the reach and influence of its powerful portfolio of digital and print product lines, live and virtual events, educational programs and market research to empower health care professionals to improve lives worldwide. For more information, please visit https://www.mjhlifesciences.com/.
Media Contact:
Elise Fritz
MJH Life Sciences®
efritz@mjhlifesciences.com