DALLAS, March 15, 2023 (GLOBE NEWSWIRE) -- Space Auto, the new integrated software and marketing solution for auto dealerships, has created the ultimate social media how-to guide for BMW dealers.

The BMW Dealership Social Media Playbook offers expert tips on how dealerships can grow their digital presence, including proven steps for using TikTok and Instagram to drive vehicle sales. It includes everything from recommendations on lighting, production, and copywriting to commenting and tracking social media success.
According to Social Media Week, 90 percent of new vehicle buyers who used social media in the shopping process said it influenced their decision.
"Social media has become one of the most effective ways to reach new and existing car buyers, and yet there is never enough marketing support at auto dealerships, especially for platforms like TikTok and Instagram," said Nick Askew, Space Auto Founder and CEO. "That's why Space Auto created The BMW Dealership Social Media Playbook, offering dealers key insights on how to manage social media effectively and turn followers into prospective car buyers. We hope this guide helps BMW dealerships grow their business and makes their life easier in managing their social media presence."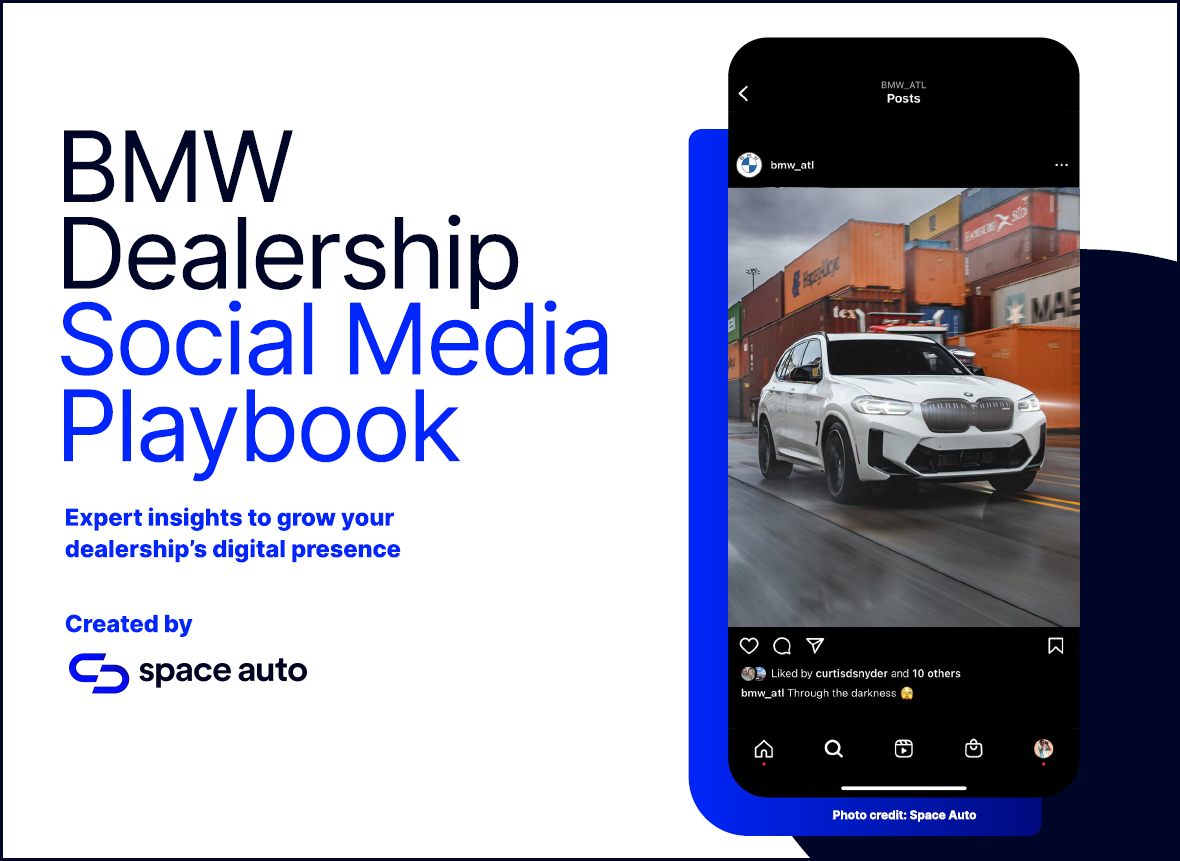 This how-to guide, created by Space Auto exclusively for BMW dealers, delivers expert insights to grow auto dealerships' digital presence. A photo accompanying this announcement is available at https://www.globenewswire.com/NewsRoom/AttachmentNg/7d1aa020-6013-4979-8677-e86501518621
The playbook features photography, video, social media posts, and case studies produced by Space Auto, contracted by six BMW Centers that are Space Auto's social media clients. Social media posts on these accounts have led to a significant uptick in engagement for these TikTok and Instagram accounts. Many posts have reached 10s of thousands or 100s of thousands of views and likes.
To start, the playbook will be distributed to more than 100 BMW dealerships in the following locations, among many others:
BMW DFW Centers
BMW San Antonio Centers
BMW Austin Centers
BMW Atlanta Centers
BMW Tampa Centers
BMW South Florida Centers
Space Auto is hosting a series of exclusive webinars for BMW Dealers where Askew and the Space Auto team walks them through The BMW Social Media Playbook and provides the inside scoop on the best ways to manage TikTok and Instagram.
Space Auto offers automotive social media content management and production to dealer groups, OEMs, and enterprise clients. Contact Gray Clark, VP of Dealer Services, at gray@space.auto for more details.
To learn more about Space Auto's innovative software and marketing solutions, request a demo at www.space.auto. 
For media only: the playbook can be downloaded at https://space.auto/playbookpress
About Space Auto 
Space Auto is on a mission to reimagine the car buying journey by streamlining automotive retail tech and elevating the customer experience. From first click to close, Space Auto gives auto dealerships the tools they need to connect with customers, drive sales, and grow business – all in one space. The company offers Software (Website, Retailing, CRM) and Digital Marketing to both independent and OEM dealerships, including BMW, Nissan, Kia, Honda, GMC, Hyundai, and many others. Learn more at www.space.auto and follow Space Auto on LinkedIn, Instagram, and Facebook.
MEDIA CONTACT:
LAZ PR
Lisa Lazarczyk
lisa@lazpr.com or 617-838-7327