TORONTO, March 17, 2023 (GLOBE NEWSWIRE) -- Despite a very challenging year for the markets, HOOPP maintained a strong funded status of 117%. Funded status is one of the most important indicators of the health of the Plan and its ability to pay pensions to members today and in the future.

2022 was an extremely challenging year for many investors, with some of the worst declines on record in both public equities and fixed-income markets (e.g., the US S&P 500 was down over 18%). It's very rare for these markets to move in the same direction at the same time, to such a significant degree. In addition, 2022 was marked by the highest inflation rate in 40 years and rising interest rates.
HOOPP was not immune to this challenging combination of factors, posting an annual return of -8.60% and closing out the year with net assets of $103.7 billion. HOOPP's investment team mitigated the impacts of the challenging market, surpassing the benchmark by 4.61% and generating a value add of over $5 billion.
"While we never want to see negative returns, our focus is always on paying pensions now and over the long term," said President and CEO Jeff Wendling. "As a pension delivery organization, we invest and plan in terms of decades, not single years. Our focus is on maintaining a healthy funded status and being able to pay pensions; we remain in an excellent position on that front."
HOOPP has a long history of investment success and significant asset growth. In 2001, net assets were $17 billion. By 2011, they had grown to $40 billion, and they surpassed $100 billion in 2020. This amounts to an increase of more than $83 billion in less than 20 years. HOOPP's 10-year annualized return as of Dec. 31, 2022 is 8.35%.
The continued strength and health of the Plan allowed HOOPP to deliver a benefit improvement to active members in 2022, the third benefit improvement in five years. HOOPP also provided a cost-of-living adjustment (COLA) to retired and deferred members at 100% the rate of increase of CPI, which we have done every year since 2014. Contribution rates remained stable for the 19th year in a row.
Other highlights from the year include:
We welcomed 28 new employers to the Plan, including many small healthcare providers.

HOOPP was selected by Mediacorp Canada Inc. as one of Greater Toronto's Top Employers for the third year in a row.

HOOPP's long-term investment success is due, in large part, to Liability Driven Investing (LDI), a strategy for which HOOPP is known as a leader in the global pension landscape. This approach, which aligns the Plan's assets with its pension liabilities, has enabled HOOPP to consistently maintain a strong funded status. Funded status as of Dec. 31, 2022 is 117%, which means that for every dollar HOOPP owes in pensions, it has $1.17 in assets.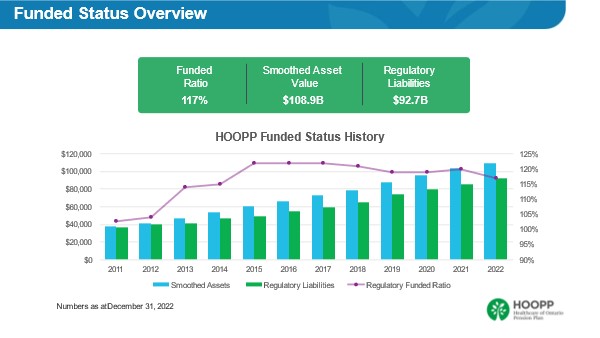 Despite the long-term success of LDI, there will be years when this approach produces a short-term negative return, as it did in 2022. The combination of factors that made the year unusual was particularly impactful on HOOPP's portfolio, being weighted heavily in fixed income and public equities.
HOOPP Chief Investment Officer Michael Wissell said: "HOOPP remains committed to LDI and, as always, we take a dynamic approach, evolving our strategies to respond to changing markets. We reduced our bond holdings prior to last year's rising interest rates, which helped mitigate the impact. Further, we continue to balance our portfolio with more capital in private equity, infrastructure and real estate. But the core approach of matching assets to liabilities, with a heavy weighting in fixed income, remains key to our investment strategy."
He added: "In addition to our healthy funded status, we maintain a strong liquidity position."
| | |
| --- | --- |
|  Performance by asset class | 2022 % Return |
| Fixed Income | -17.80% |
| Equities | -12.49% |
| Credit | 0.95% |
| Private Equity | 11.04% |
| Real Estate | 4.01% |
| Infrastructure | 9.43% |
|   |   |
About the Healthcare of Ontario Pension Plan
HOOPP serves Ontario's hospital and community-based healthcare sector, with more than 630 participating employers. Its membership includes nurses, medical technicians, food services staff, housekeeping staff, and many others who provide valued healthcare services. In total, HOOPP has more than 435,000 active, deferred and retired members.
HOOPP operates as a private independent trust, and is governed by a Board of Trustees with a sole fiduciary duty to deliver on the pension promise. The Board is jointly governed by the Ontario Hospital Association (OHA) and four unions: the Ontario Nurses' Association (ONA), the Canadian Union of Public Employees (CUPE), the Ontario Public Service Employees' Union (OPSEU), and the Service Employees International Union (SEIU). This governance model provides representation from both management and workers in support of the long-term interests of the Plan.
Contact:
James Geuzebroek, Director, Media & External Communications
A photo accompanying this announcement is available at https://www.globenewswire.com/NewsRoom/AttachmentNg/7812a553-1216-4e59-8525-71e6c264c027