Ottawa, March 20, 2023 (GLOBE NEWSWIRE) -- Precedence Research predict, the 5G NTN market size was accounted for USD 3.79 billion in 2022. 5G NTN, or 5G New Radio Terrestrial Networks, is an acronym. It alludes to the most recent class of wireless networks that transmit data and offer high-speed internet access using 5G technology. The Internet of Things, linked gadgets, and virtual and augmented reality are just a few examples of the data-intensive applications and services that the 5G Infrastructure is made to support (IoT). Compared to earlier versions of cellular networks, it delivers better network performance, including reduced latency and faster throughput, permitting new use cases and services.

Get the sample pages of report@ https://www.precedenceresearch.com/sample/2685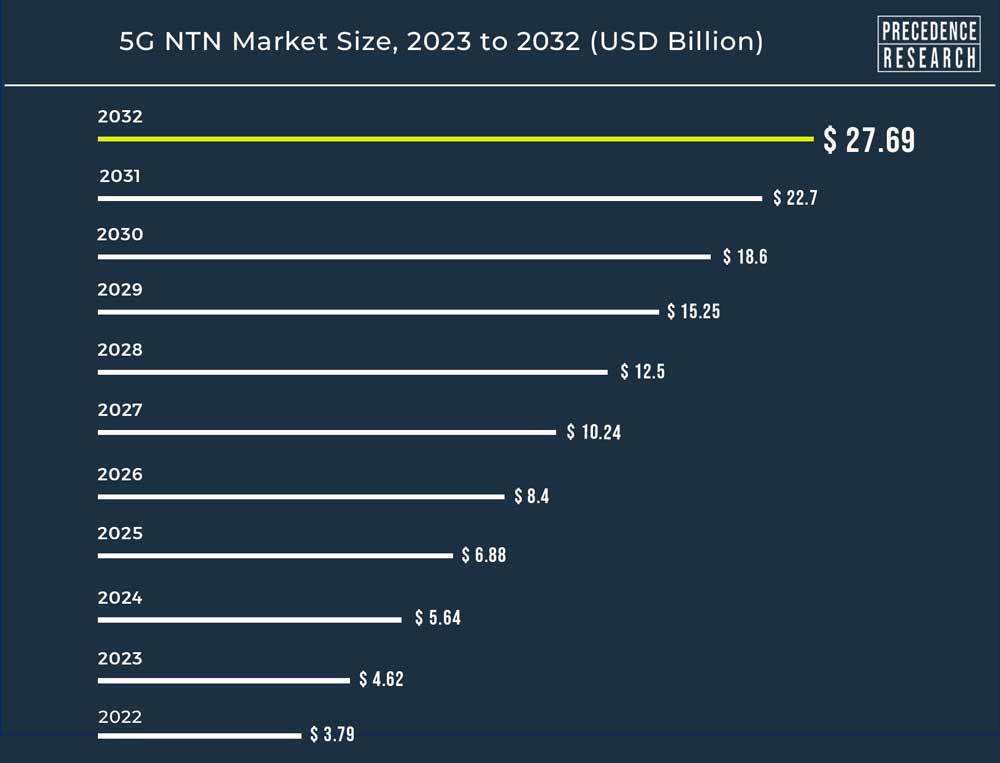 Market Overview
Wireless networks need to be quicker and more dependable due to the rise in connected devices and the demand for data-intensive apps and services. The expansion of the 5G NTN market is being driven by the advancement of 5G networks and the rising popularity of 5G devices. Governments and telecom firms are also making significant investments in 5G infrastructure, which is propelling the market's expansion. The need for 5G networks is being driven by the need for Internet of Things (IoT) services and applications, such as connected homes, driverless cars, and industrial automation. Distributed system and edge computing are two new business models made possible by the 5G Network that are expanding the industry.
Regional Insight
The majority of the global 5G NTN market is anticipated to be in North America. In this area, 5G NTN technology has a high acceptance rate in the US. The development of smart devices connected, the Industrial Iot of Everything (IIoE), and the growing commercialization of 5G services are the drivers that are popularizing the need for 5G NTN technologies in this region. The percentage of 5G connections in North America was 14% in 2022, according to the Global System for Mobile Communication (GSMA) study The Mobile Economy and is predicted to increase to 64% by the end of 2025.
Ask here for customization study@ https://www.precedenceresearch.com/customization/2685
Scope of the report
Report Coverage
Details
Market Size in 2032
USD 27.69 Billion
CAGR
22% from 2023 to 2032
By Component

Hardware
Solutions
Services

By Application
By End User

Maritime
Aerospace And Defense
Government
Mining

By Region

North America
Europe
Asia-Pacific
Latin America
The Middle East and Africa

Key Players
Anritsu, Ast Spacemobile, Gatehouse, Gilat Satellite Networks, Globalstar, Echostar, Ericsson, Inmarsat, Mediatek, Nelco, Nokia, Omnispace, Oneweb, Qualcomm, Intelsat, Keysight Technologies, Rohde & Schwarz, Ses, Skylo, Softbank, Spacex, Spirent and Others
Report Highlight
By Component, operators can use 5G NTN solutions to minimize operational costs while delivering a superior connectivity experience using 5G technologies. The 5G NTN solutions can offer exceptional network coverage without bounds by merging with satellite communication. Before introducing the system into the market, a number of top firms offer 5G NTN test services to guarantee its dependability, affordability, and effectiveness. Test solutions are helpful in resolving issues businesses have with the system's scalability, compatibility with long-distance coverage, mobility, satellite movement, speed, quality, and dependability in meeting demand, as well as its capacity for multi-layer communication.
By End-use, the key to success in the aerospace and defense sector is the growing adoption of cutting-edge technology and digitalized solutions. In order to ensure the same degree of connection in the air as on the ground, 5G NTN solutions are concentrated on improving 5G coverage to support numerous applications in this industry. They also offer high-speed internet connectivity to passengers on aeroplanes. Static communication, transportable CIS for expeditionary operations, land operations, real-time remote surgery, and marine operations are some of the application areas that the military industry will need a 5G NTN system to support.
By Application, the NTN system will increase network coverage to a variety of locales without terrestrial coverage, guarantee connection in rural areas with little to no Internet access, and support remote businesses like mining and oil and gas development. The usage of 5G services and solutions in remote education is rising to support remote working. Several businesses are concentrating on changing the laws and regulations to permit remote work and the transfer of employees from urban to remote regions. In order to provide broadband service in remote locations with cost-effectiveness and manageable technological complexity, they are installing satellites in LEO, MEO, and GEO. The deployment of a highly spread connectivity and network access in an emergency and safety situation is the goal of 5G NTN in a distant location.


Market Dynamic
Drivers
3GPP Evolution toward NTN
The 3GPP R17 standard depends on NTN functionality. It is still being developed for 5G-Advanced and is now a crucial part of the 3GPP R18 development schedule. In the future, direct satellite connectivity with mobile phones will be widely utilized in a variety of vertical industrial application domains, thus expanding the application scope for satellites. In-depth integration between the cellular and satellite sectors is being promoted, and convergence technological innovation is being actively sought on a global scale. Significant financial advantages will result from the convergence of satellite networks with terrestrial networks.
Restrain
Meeting Demand on Ground Station
The core network needs the radio elements, like gNB and relay, to be on the ground. This indicates that a ground station must eventually be connected to the satellite or aerial platform. How far it can go before losing contact with the ground station presents a challenge. The distance a satellite can travel before losing contact with the ground station is obviously constrained. Hence, a huge number of ground stations and satellites are needed to cover a broad area. Allowing some satellites to link to the core network indirectly via another satellite rather than a ground station is one suggested solution for this circumstance.
Opportunity
5G NB-IoT NTN contributing to opening the world to high speed
There has never been a more pressing need for satellite-based communication to be incorporated into 5G specifications. A new era in mobile network and worldwide communications will be ushered in by the 5G NB-IoT Standard specifications, allowing a variety of sectors to provide services globally via smooth 5G connectivity, even in remote areas with patchy network coverage.
Gas, oil, maritime, and agricultural sectors can all benefit substantially from a fast space-based connection. For instance, as container ships travel across the ocean, industries suffer with connectivity and visibility, creating an unreliable and unpredictable supply chain. These companies are the target of NB-IoT improvements to 3GPP's NTN specifications, which are intended to overcome the problems they presently experience due to limited TN coverage.
Related Reports
Recent & Development
MediaTek and Rohde & Schwarz joined forces in August 2022 to represent the capacity of 5G NTN technology to increase the network coverage of 5G communication anywhere at any time. To guarantee the flawless operation of satellites and other associated terminals and base stations, MediaTek utilized the testing solutions provided by Rohde & Schwarz.
Qualcomm, Ericsson, and Thales worked together in July 2022 to test and validate 5g NTN for application cases focused on smartphones. To confirm the future compatibility of 5G smartphones with 5G Infrastructure, Qualcomm will offer test phones.
Immediate Delivery Available | Buy This Premium Research Report@ https://www.precedenceresearch.com/checkout/2685
You can place an order or ask any questions, please feel free to contact at sales@precedenceresearch.com  | +1 9197 992 333
About Us
Precedence Research is a worldwide market research and consulting organization. We give unmatched nature of offering to our customers present all around the globe across industry verticals. Precedence Research has expertise in giving deep-dive market insight along with market intelligence to our customers spread crosswise over various undertakings. We are obliged to serve our different client base present over the enterprises of medicinal services, healthcare, innovation, next-gen technologies, semi-conductors, chemicals, automotive, and aerospace & defense, among different ventures present globally.
For Latest Update Follow Us:
https://www.linkedin.com/company/precedence-research/
https://www.facebook.com/precedenceresearch/
https://twitter.com/Precedence_R