Tokyo, March 21, 2023 (GLOBE NEWSWIRE) -- The polycarbonate market is expected to grow at a CAGR of 4.66% over the forecast period 2023 to 2032. The class of linear polyester blends and thermoplastic polymers that includes polycarbonate often exhibits a wide range of characteristics and formulations, subject to particular and frequently specialized needs. Typically, polycarbonate grades are separated into general-purpose and optical categories based on extrusion and injection molding, respectively. The wide range of polycarbonate's properties ensures its broad usage. As a result, it is utilized in a variety of industries, including automotive, building, electrical, electronic, optical, plumbing, and healthcare, to mention a few. In general, technologies, development, and sustainability-related challenges, such as the circular economy, composting, and net zero GHG emissions, greatly influence the polymers industry, which includes polycarbonates.

Get the sample pages of this report@ https://www.precedenceresearch.com/sample/2695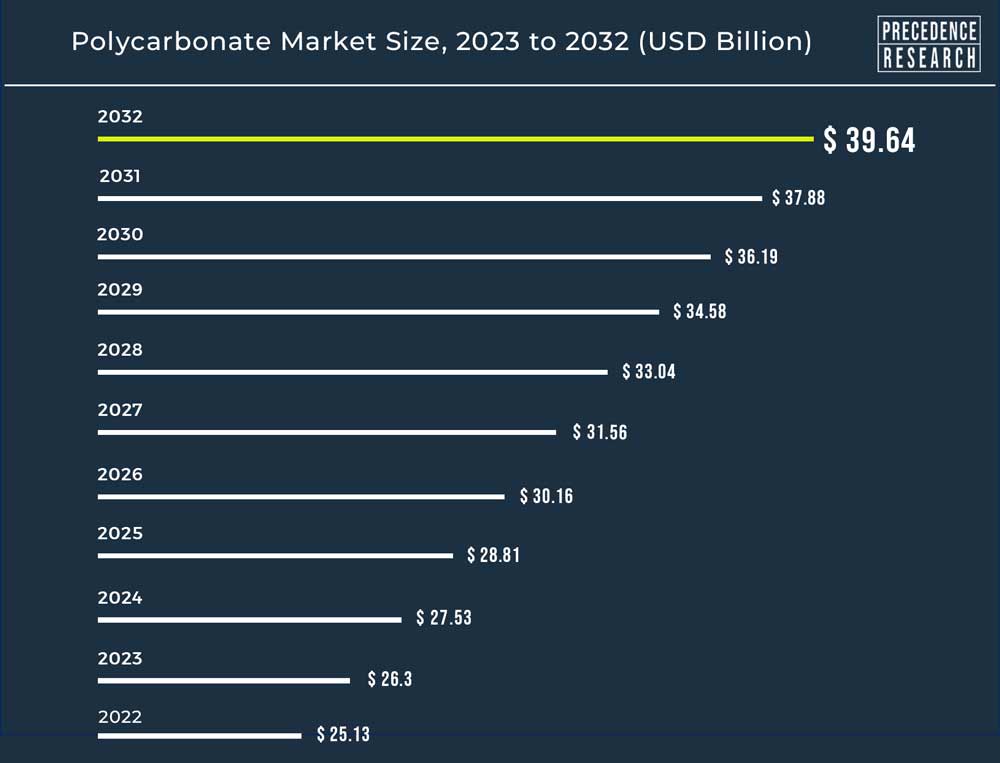 Market Overview
The thermoplastic polymers that make up polycarbonate resin are available in a variety of opaque and transparent colors. The majority of the applications for these resins call for heat resistance, strength, and toughness. Polycarbonate has a wide range of uses and a high consumption rate due to its adaptable qualities. Polycarbonate is frequently positioned amid engineering plastics and commodity plastics in terms of its high consumption. Via a process known as condensation, step-growth polymerization is a common way to create polycarbonate from phosgene and bisphenol A. Consumer, optical media, electrical & electronics, and automotive are a few of the major uses for polycarbonate. Globally, China is the country that consumes the most polycarbonate.
In addition, polycarbonates' flexibility makes it possible to manufacture them at room temperature without fractures or breaks without using heat. Although transparent materials are strong and flexible, they can be used for a wide range of purposes. Furthermore, environmental authorities are putting a lot of emphasis on low emissions, car manufacturers are putting a lot of effort into creating lightweight vehicles. One of the key market drivers is the widespread use of polycarbonate in the production of lightweight vehicles. Also, the consumer electronics market's quick expansion is a crucial factor in the industry's expansion.
Regional Insight
A large portion of the worldwide market share was accounted for by the Asia Pacific region because of its rapid industrialization and expanding economy. The demand for the replacement of conventional materials like glass, metal, wood, and other materials is being driven by expanding end-use sectors in the Asia Pacific region, particularly in growing economies like China, India, Thailand, and Indonesia. With a year-on-year increase, China is the region's top nation in terms of the quickly expanding aviation market. The need for home interior and other similar applications is primarily coming from the aviation sector in order to decrease vehicle weight and significantly improve fuel efficiency. Throughout the course of the forecast period, this is expected to encourage the product's growth in the area.
Report Highlight
By Type, in terms of light transmission and impact strength, solid polycarbonate sheet is preferable to hollow polycarbonate sheet. As a result, it is particularly well suited for applications like lamp boxes, hood illumination, industrial shops, and greenhouses where light is required immediately. Glass and solid polycarbonate sheets are both clear materials. These sheets are ideal for a variety of applications because of their outstanding light transmission, strong impact strength, light weight, great thermal insulation, and flame resistance.
By Application, over the forecast period, the polycarbonate sheets market is expected to be dominated by the building & construction sector. Since many architects are becoming aware of the advantages of polycarbonate sheets in skylight roofing, cladding, and other applications that demand great aesthetic appeal with durability and sustainability, building and construction uses are increasing. The product is also employed because of its attributes including great optical clarity, high impact and heat resistance, and lightweight and durability. The demand for it is anticipated to increase dramatically in the near future because it is an efficient replacement for acrylic sheets or glass components. Glass-clad laminates, which are widely utilized in the industry, also provide resistance against powerful ballistics.
Ask here for customization study@ https://www.precedenceresearch.com/customization/2695
Scope of this report
Report Coverage
Details
Market Size in 2032
USD 39.64 Billion
CAGR
4.66% from 2023 to 2032
By Product Type
By Application

Automotive and Transportation
Electrical and Electronics
Construction
Medical
Others

By Region

North America
Europe
Asia-Pacific
Latin America
The Middle East and Africa

Key Players
Covestro, Lotte Chem, Teijin Industries, Mitsubishi Engineering Plastics Corp., Trinseo, SABIC, Idemitsu Kosan Co. Ltd., Lone Star Chemical, Chi Mei Corporation, Entec Polymers, RTP Company, LG Chem and Others
Market Dynamic
Drivers
Increasing polycarbonate resins acceptance over other conventional glass fibers
Due to market-friendly government regulations and rising trends in the use of renewable energy sources, the automotive industry is expanding quickly, which is driving up demand for hybrid and electric cars. As a result, the market for polycarbonate resins has more applications due to producers adopting cutting-edge and novel technologies as well as increased expenditure in research and development. Also, growing desire for environmentally friendly products, particularly in emerging countries, is supporting market demand. Due to recent advancements in bio-based polycarbonates, which are positively impacting the growth of the global polycarbonate resin market, polycarbonate resins have significant potential opportunities throughout the course of the projection period.
Restrain
Volatile Raw Material Prices
The global market for polycarbonate sheets is facing difficulties due to fluctuating polycarbonate sheet prices. The availability of raw materials and changing raw material prices are the primary determinants of finished product pricing. Since petroleum is a key component of the raw materials required to make polycarbonate sheets, its price instability is a concern. Consequently, fluctuating prices for crude oil in recent years have had an impact on the cost of polycarbonate sheets. As a result, price-conscious customers and import risks have an effect on the suppliers of polycarbonate sheets.
Opportunity
Growing demand for bio-based polycarbonate
Environmental concerns are expected to increase demand for bio-based polycarbonate, creating profitable opportunities in the near future. For instance, Covestro introduced its first largely biobased polycarbonate film in January 2020. The new film material has a lower carbon footprint than traditional polycarbonate made from petroleum since more than half of its carbon comes from starch, a readily accessible plant feedstock.
Related Reports
Recent & Development
April 2022 - The xolon Group's Med portfolio now includes Inspria® Med, made of Eastman TritanTM copolyester. For medical applications, the solid sheets are a complement to the sheet materials Exolon Med and Vivak Med.
January 2022 - The Exolon Group has introduced an entirely new variety of multiwall sheet to the market with Exolon® multi U.V. Hybrid X. stronger, more adaptable, and more durable: The Exolon Group has introduced a totally new variety of multiwall sheet to the market with Exolon multi U.V. Hybrid X.
The Exolon Group and the Italian firm Società Europea Plastica (S.E.P.) will begin working together on polycarbonate panels in January and thereby provide the building industry with other options for polycarbonate sheets.


Immediate Delivery Available | Buy This Premium Research Report@ https://www.precedenceresearch.com/checkout/2695
You can place an order or ask any questions, please feel free to contact at sales@precedenceresearch.com  | +1 9197 992 333
About Us
Precedence Research is a worldwide market research and consulting organization. We give unmatched nature of offering to our customers present all around the globe across industry verticals. Precedence Research has expertise in giving deep-dive market insight along with market intelligence to our customers spread crosswise over various undertakings. We are obliged to serve our different client base present over the enterprises of medicinal services, healthcare, innovation, next-gen technologies, semi-conductors, chemicals, automotive, and aerospace & defense, among different ventures present globally.
For Latest Update Follow Us:
https://www.linkedin.com/company/precedence-research/
https://www.facebook.com/precedenceresearch/
https://twitter.com/Precedence_R