Tokyo, March 24, 2023 (GLOBE NEWSWIRE) -- The solvents market is expanding at a CAGR of 3.2% from 2023 to 2032. A solvent is a substance that liquefies in a chemically diverse solute to create a solution. Although it may also be found in gaseous and solid forms, liquid is the type that is most frequently encountered. There are two categories of solvents: conventional and organic. The largest consumers of solvents are the producers of paints and coatings, closely followed by those who create printing ink. The demand from the pharmaceutical industry came in third, then use in adhesives and cosmetics. Key applications include dry cleaning, deicers, cooling circuits, and chemical production processes.

Get the sample pages of this report@ https://www.precedenceresearch.com/sample/2707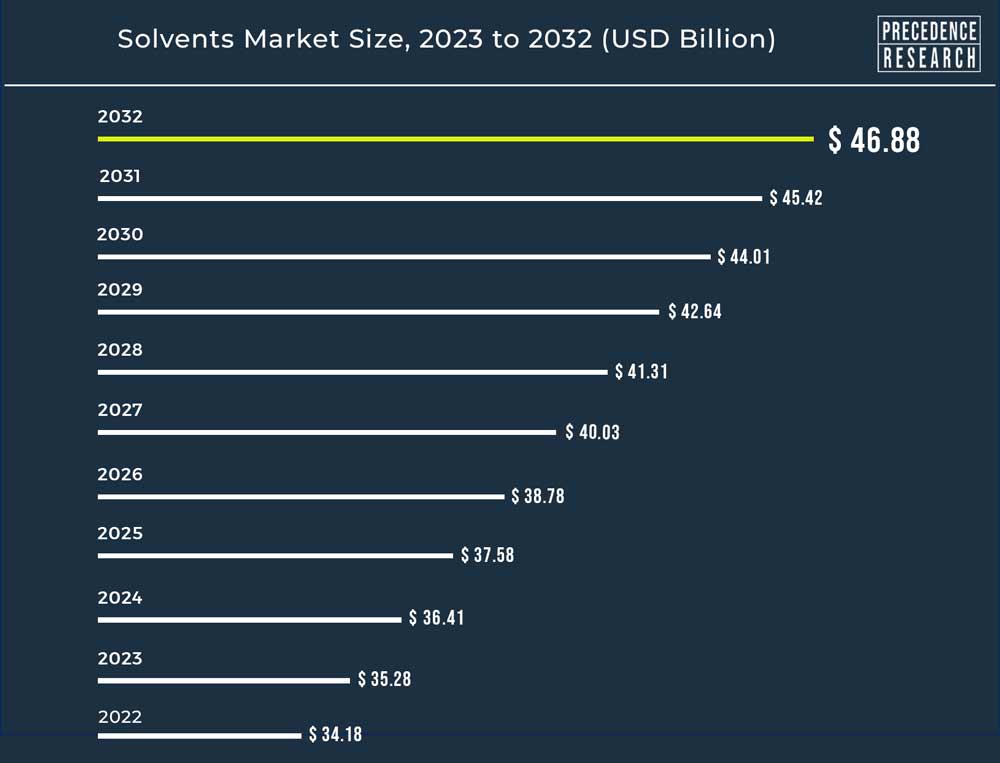 Traditional solvents include glycol ethers, hydrocarbons, acetate esters, alcohols, chlorinated chemicals, and ketones. Organic ones are largely used in conventional applications like dry cleaning and manufacturing. Except for chlorinated solvents, they have a high flammability. Some of them pose a health danger since they are damaging to the neurological and reproductive systems. They can also damage the kidneys and lungs, and they can even result in cancer. It is strongly advised that solvents be handled responsibly to minimize any potential health concerns.
Because they can dissolve, dilute, and absorb other chemicals in an extremely fine distribution without altering their chemical characteristics, solvents are crucial to industrial manufacturing. In addition to being used in paints, varnishes, printing inks, and adhesives, solvents (sometimes called dissolvents) are also used in cosmetics, detergents, and medications. Legislators are increasingly focusing on noxious odors, explosive vapors, and health and environmental impact since they are all contentious issues.
Regional Snapshots
With a share of more than 55%, Asia Pacific led the solvents market, followed by Europe and North America. Due to the rising demand from developing nations like China and India, the Asia Pacific region is anticipated to dominate the global solvents market over the forecasted period. Additionally, it is anticipated that the region's solvents industry would expand because of the fast industrialization and urbanization and the increased demand for vehicles. The projection period is expected to have the greatest CAGR growth in the Middle East and Africa. 40% of the world's gas reserves and 50% of its oil reserves are found in this area. As a result, petrochemical output is increasing, which is predicted to further support the market expansion for solvents. Additionally, the need for solvents in the paints and coatings application is anticipated to be driven by the fast expansion of building and construction activities and growing vehicle demand. Additionally, the region's personal care industry is expanding, which is fuelling the solvents market's expansion.
Report Highlights
Asia Pacific region has generated revenue 55% of the revenue share in 2022.
By product type, the alcohol segment has captured highest revenue share in 2022. 
By application, the paints and coatings segment has generated revenue share of over 54% in 2022.
By source, the derived sources segment has accounted revenue share of over 86% in 2022.
The high demand in the automotive sector is driving up the need for solvents, which is opening up lucrative opportunities for innovation in the paints and coatings aftermarket.
With more than a quarter of the market's total volume, alcohol was the most popular product category. It is also anticipated to be one of the segments with the greatest growth over the forecast period.
The need for construction chemicals, which is likely to lead to their increased utilization in the paints & coatings application, made paints and coatings the most popular application category.
Due to rapid industrialization and growing populations, the need for solvents in the Asia Pacific region is anticipated to increase. The main end uses of solvents in the area are pharmaceuticals, paints, and cosmetics.
Ask here for customization study@ https://www.precedenceresearch.com/customization/2707
Scope of this report
| | |
| --- | --- |
| Report Coverage | Details |
| Market Size in 2032 | USD 46.88 Billion |
| CAGR | 3.2% from 2023 to 2032 |
| Asia Pacific Revenue Share | 55% in 2022 |
| Paints and Coatings Segment Share | 54% in 2022 |
| Derived Sources Segment Share | 86% in 2022 |
| Key Players | Ashland Global Holdings Inc., BP plc., Celanese Corporation, BASF SE, CITGO Petroleum Corporation, Eastman Chemical Company, Exxon Mobil Corporation, Chevron Phillips Chemical Company LLC, Huntsman International LLC, INEOS AG, Kuraray Co., Ltd., LyondellBasell Industries Holdings B.V., Honeywell International Inc., Maruzen Petrochemical Co., Ltd., Sasol Limited, Shell International B.V., Solvay S.A., The Dow Chemical Company and Others |
Market dynamics
Drivers
Increasing Solvent Use in the Construction and Agricultural Sectors to Support Solvent Market Growth
An opportunity for the expansion of the solvents sector is presented by the increase in solvent demand in the construction and agriculture industries. The demand for solvents is being driven by the rising usage of personal care and household goods in both developed and developing nations. The widespread obsession with face and skin care products is meant to present chances for manufacturers and suppliers of personal care goods, particularly in emerging nations, to grow their income.
During the projection period, it is anticipated that the high demand for solvents from the construction sector and from agricultural chemical applications would propel its markets. Solvents play a crucial role in the built infrastructure, which is the backbone of growing urbanization. They serve as transporters for surface coatings. Pesticides depend heavily on solvents, which are used to control how well plants and vegetables develop. Oils and flavors are extracted from nuts using solvents, and it is undeniable that agricultural goods, particularly oils and spice extracts, make substantial use of solvents.
Restraints
There are both immediate and long-term impacts of solvent exposure that is based on petrochemicals. Hallucinations, blackouts, nausea, excruciating migraines, protracted sniffing, and dizziness are only a few of the short-term consequences. Damage to the kidneys, liver, brain, heart, and neurons are among the long-term repercussions. Some solvents can induce asphyxia by causing the lungs to freeze. Polyethylene glycols (PEGs), which pose risks to human health and the environment, are examples of these solvents. PEGs are susceptible to contamination from the recognized human carcinogens 1,4-dioxane and ethylene oxide during the production process, which damages the central nervous system. The market for solvents is thus faced with a problem due to the negative consequences of petrochemical-based solvents.
Opportunities
Modern Coatings and Paints Provide Durable Protection Because of Solvent Formulations
The creation of paints and coatings depends heavily on solvents. The paints and coatings sector is becoming a reliable source of income for solvents manufacturers. However, because of undesirable or incorrect aromatics, paint makers must worry about contamination in paint products. As a result, producers are expanding the selection of high purity solvents with the aid of rigorous quality controls.
When compared to alternatives with little solvent content, it has been discovered that paints and coatings prepared with solvents can dry significantly quickly at room temperature. These discoveries are resulting in chances for firms in the solvents sector to make money. Its application is quick and simple in a variety of end-use scenarios thanks to solvents in paints and coatings. Innovative coatings use solvent compositions to provide enduring protection and spectacular performance.
Challenge
The primary market restrictions for the solvent business are thought to be the environmental and health risks connected with solvent production. Additionally, the water-based solvents have certain undesirable traits including greater critical points and harsh reaction conditions. However, the higher manufacturing costs linked to organic solvents are also seen to be one of the main barriers.
The key factors limiting the growth of the solvent market are the restricted manufacture of the machinery needed to process the solvents, reusability, and other problems related to solvent processing.
Recent developments
The second ethylene cracker was first produced by Royal Dutch Shell Plc. (The Netherlands) in May 2018 at the Nanhai Petrochemical Complex in Huizhou, Guangdong Province, China. Through the use of OMEGA, SMPO, and polyol technologies, the firm was able to produce ethylene oxide, ethylene glycol, propylene oxide, polyols, polyolefins, phenol, and oxo-alcohols. Shell is utilizing sophisticated polyols and Omega technology for the first time in China.
In May 2018, BASF SE (Germany) and ExxonMobil (US) agreed to collaborate on the development of innovative gas-treating solvents and process technologies for use in the processing of natural gas and the refining of petroleum.
The Jurong Aromatics Corporation's main aromatics facility on Jurong Island in Singapore was acquired by ExxonMobil Corporation's Singapore subsidiary in August 2017. With the aid of the purchase, the business was able to produce more than 3.5 million tons of hydrocarbons annually, including 1.8 million tons of the solvent paraxylene.


Related Reports
Browse our latest press releases@ https://www.precedenceresearch.com/press-releases
VALUE PROPOSITIONS RELATED TO THE REPORT:
Powered with Complimentary Analyst Hours and Expert Interviews with Each Report
Average cost per global solvents market right now and how will it change in next 5-6 years
How many solvents are manufactured per annum globally? Who are the sub-component suppliers in different regions?
What is happening in the overall public, globally?
Cost breakup of a global solvents market and key vendor selection criteria
Market share of global solvents market manufacturers and their upcoming products
The market size (both volume and value) of global solvents market in 2023-2032 and every year in between?
Comprehensive quantitative and qualitative insights at segment and sub-segment level
Granular insights at global/regional/country level
Deep-rooted insights on market dynamics (drivers, restraints, opportunities) and business environment
Winning imperatives
Exhaustive coverage on 'Strategic Developments' registered by leading players of the market
CUSTOMIZATION OPTIONS:
Distributor Landscape Assessment
Pricing Intelligence
Customer Base Assessment
Investment & Initiatives Analysis
'Business Profile' of Key Players


Market Segmentation
By Product Type
Glycols
Hydrocarbons Solvents

Aliphatic Solvents
Aromatic Solvents
Halogenated Solvents
Methylene Chloride
Trichloroethylene
Perchloroethylene
Acetic Acid

Alcohols

Methanol
Ethanol
Propanol
Butanol

Esters

Ethyl Acetate
Butyl Acetate

Ketones
Chlorinated
Others


By Application
Printing inks
Paints and coatings
Pharmaceuticals 
Adhesives
Cosmetics
Agriculture Chemicals
By Source
Natural Sources 
Derived Sources

Petroleum Sources 
Synthetic Sources
By Geography
North America
Europe
Asia-Pacific
Latin America
The Middle East and Africa


Immediate Delivery Available | Buy This Premium Research Report@ https://www.precedenceresearch.com/checkout/2707
You can place an order or ask any questions, please feel free to contact at sales@precedenceresearch.com  | +1 9197 992 333
About Us
Precedence Research is a worldwide market research and consulting organization. We give unmatched nature of offering to our customers present all around the globe across industry verticals. Precedence Research has expertise in giving deep-dive market insight along with market intelligence to our customers spread crosswise over various undertakings. We are obliged to serve our different client base present over the enterprises of medicinal services, healthcare, innovation, next-gen technologies, semi-conductors, chemicals, automotive, and aerospace & defense, among different ventures present globally.
For Latest Update Follow Us:
https://www.linkedin.com/company/precedence-research/
https://www.facebook.com/precedenceresearch/
https://twitter.com/Precedence_R