Ottawa, March 28, 2023 (GLOBE NEWSWIRE) -- Precedence Research announced, the 3D printing market is expanding at a CAGR of 18.92% over the forecast period 2023 to 2032. 3D printing is a manufacturing method that employs digital documents to generate three-dimensional parts. Due to their outstanding accuracy as well as the resource-efficient prototype, additive methods are used in 3D printing to manufacture goods by introducing successive material layers. 3D printing products and services such as resin 3D printers, 3D printer filament as well as 3D printers, had also grown in popularity for producing personalized goods. Due to ongoing 3D printing research and development, as well as the growing need for prototype products from various industrial verticals, mainly in automotive, healthcare, military, and aerospace, the industrial 3D printing market is expected to grow.

Get the sample pages of report@ https://www.precedenceresearch.com/sample/2718
The aggressive R&D in Three-Dimensional Printing (3DP) and growing demand for prototyping applications from various industry verticals, particularly healthcare, automotive, and aerospace and defense, are the factors expected to drive the market growth.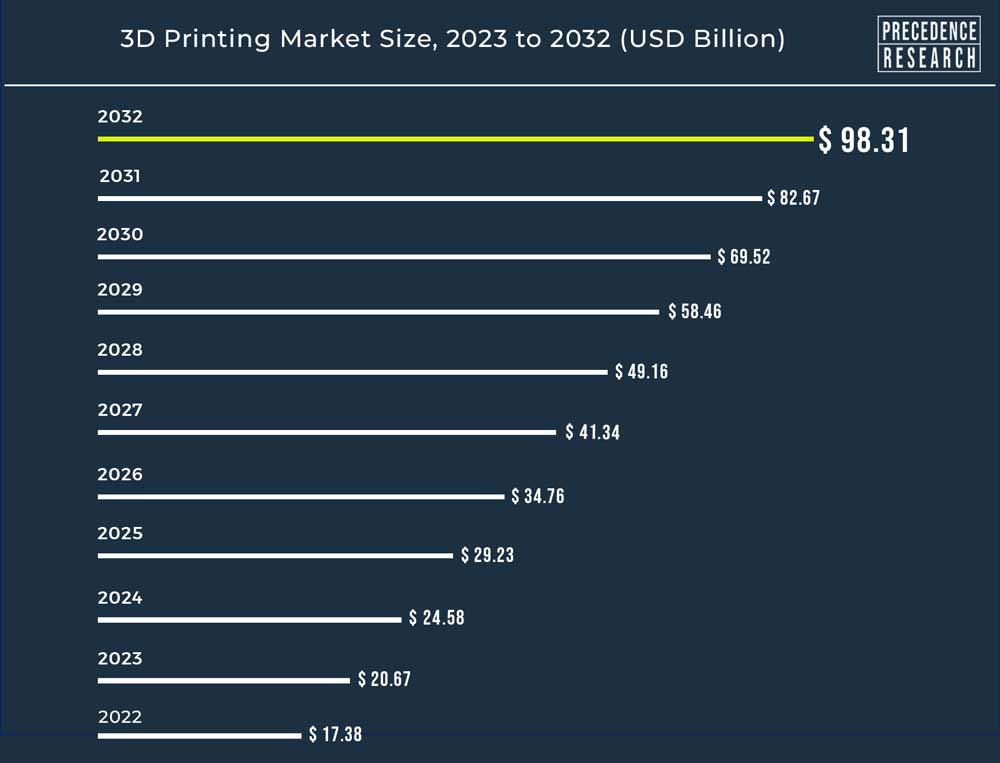 Component Landscape
The hardware industry dominated the market in 2022, accounting for 65% of total sales. The market for hardware was estimated at USD 12.81 billion in 2022. The hardware sector has benefited from the growing importance of accelerated prototyping and innovative manufacturing practices. The primary drivers are rapid industrialization, urbanization, the rising popularity of customer electronic devices, improved civil infrastructure, and reduced labor costs.
The software sector is predicted to expand at a rapid pace. The market for software was estimated at USD 5.71 billion in 2022. 3D printing software is frequently used to generate products and parts that will be printed. The potential to keep scanned pictures of objects is expected to drive the scanning software market during the forecast period.
Printer-type Landscape
The industrial printer category is expected to account for more than 77% of overall revenue in 2022. A large part of industrial 3D printers is responsible for the widespread use of industrial printers in sectors like electronics, automotive, defense and aerospace, and healthcare.
Furthermore, 3D printers are predicted to expand at the fastest CAGR from 2023 to 2032. Desktop 3Dimensional printers are currently used for household and domestic purposes. They are, however, used in higher education settings such as schools for technical research and education. Small businesses are adopting desktop printers and expanding their operations to include 3D printing and related activities.
Technology Landscape
Stereolithography is one of the most ancient and popularly used printing technologies. The stereolithography sector ruled the market in 2022. Technological advancements and research and development events carried out by industry researchers and experts are paving the way for more dependable and efficient techniques.
3D Printing Market by Technology, (Revenue USD Million)
| | | |
| --- | --- | --- |
| Technology | 2021 | 2022 |
| Stereolithography | 1,152.2 | 1,389.9 |
| Fuse Deposition Modeling | 1,041.4 | 1,261.7 |
| Selective Laser Sintering | 472.8 | 567.9 |
| Direct Metal Laser Sintering | 470.8 | 564.9 |
| Polyjet Printing | 518.6 | 617.7 |
| Inkjet Printing | 586.6 | 709.7 |
The most preferred technology is selective laser sintering (SLS). It is expected to grow at the fastest CAGR throughout the predicted period due to its numerous advantages over other technologies. SLS uses 12-powder nylon as a raw material instead of the photosensitive resin used during stereolithography. SLS has been demonstrated to be cost and material-friendly since it does not require a post-printing support structure. Furthermore, SLS has improved durability and produces functional parts as well as prototypes. It is also progressively being used in sports automobiles and electric vehicles. The IEA estimates that the number of electric car sales worldwide was 7 million in 2021 and will be 80% by 2050. Major automotive firms have increasingly used SLS 3D printing technology in EVs, which is predicted to propel segment expansion.
Ask here for customization study@ https://www.precedenceresearch.com/customization/2718
Application Landscape
Prototyping led the market in 2022, accounting for approximately 55% of total revenues. By using prototyping greater precision and more reliable finished products are manufactured. Prototyping is widely used in the aerospace, defense, and automotive industries.
Furthermore, the tooling sector is anticipated to expand over the predicted period. 3D printing for tooling had also emerged to be one of technology's most potential applications. Polymer 3D printing enables faster, cheaper, and more customized tools for everything from fixtures and jigs to asset casting patterns. Owing to their relative affordability and convenience of use, companies generally switch to SLA and FDM technologies to generate tooling. According to reports, Ford is applying Ultimaker FDM 3D printers to produce custom tools.
Vertical Landscape
Based on the vertical, the market is divided into two segments: desktop 3D printing and industrial 3D printing. The industrial 3D printing sector held the largest market in 2022, accounting for more than 77% of total sales. Industrial 3D printing contributes to the development of artificial muscles and tissue that mimic human tissues and are used in replacement reconstructive surgery.
3D Printing Market by Type, (Revenue USD Million)
| | |
| --- | --- |
| Type | Revenue 2022 (USD Million) |
| Desktop 3D Printer | 4,740.3 |
| Industrial 3D Printer | 15,276.7 |
| Total | 20,012.0 |
Over the forecast period desktop 3D printing is estimated to grow at a steady pace. Desktop 3D printing applications include education, fashion, jewelry, dentistry, objects, food, and others. The dental vertical dominated the market in 2022 and is expected to grow during the forecast period. The use of 3DP printers in the production of miniatures, replica jewelry, craft and art, clothing, and apparel is also rapidly increasing.
Material Landscape
In 2020, revenue from polymer 3D printing is expected to reach $11.7 billion, which includes hardware, materials, and 3D-printed parts sales. Currently, the technique has a wide range of medical applications, from surgical tips and tools to human tissue replacement.
During the forecast period, the ceramic material sector is anticipated to grow significantly. Even though ceramic additive manufacturing is still in its early stages, rising R&D for 3D printing technologies which includes inkjet and FDM printing has resulted in an increased requirement for ceramic additive manufacturing.
Regional Landscape
North America led the market in 2022, accounting for roughly 34% of total revenues. Fitness trackers and smart clothing are expected to propel 3D printing technologies in the United States, Canada, and the United Kingdom. Furthermore, shifting customer preferences have resulted in a demand for flexible bands and electronics systems using 3D printing technology is driving the growth.
3D Printing Market by Region, (Revenue USD Million)
| | | |
| --- | --- | --- |
| Region | 2021 | 2022 |
| North America | 5,765.0 | 6,871.2 |
| Europe | 5,044.1 | 6,131.5 |
| Asia Pacific | 3,832.9 | 4,792.8 |
| South America | 1,238.9 | 1,467.8 |
| MEA | 659.1 | 753.7 |
During the projected period, the Asia-Pacific is predicted to grow at the fastest CAGR. This faster approval of additive manufacturing in the Asia Pacific is attributed to upgrades and developments in the region's manufacturing industry. In addition, Asia Pacific is rising as an industrial powerhouse for the automotive and healthcare sectors. A stronghold on consumer electronics production, combined with faster urbanization, is adding to the region's growing demand for 3D printing.
Market Dynamics
Drivers
Ease of developing customized products
Material availability and advancements in 3D printing techniques have hastened the implementation of print-on-demand sections for the production of customized functional parts. 3D printing enables the production of personalized products based on individual requirements and needs. Customized services are provided by the companies, including basic design advancement by designers, accompanied by enabling them to co-design the goods. Continuous technological advancement in emerging 3D printing techniques, lower printer costs, as well as the availability of a variety of materials makes it possible to easily manufacture custom-made products. For instance, a 5,000-pound, 25-foot boat called 3Dirigo which was 3D printed by the University of Maine set a Guinness World Record.
Restraint
The threat of infringement on intellectual property rights
With the rising use of technology and the expiration of patents, 3D printers seem to be very common. Industries have already begun uploading their documents to websites so that customers choose their products before transporting them to consumers. Customers may anticipate a greater level of individualization for the items they purchase. Increased consumer adoption may increase 3D copyright infringement.
In 2021, the Ibero-American Program for Industrial Property published a report analyzing patent applications related to the 3D printing filed in its member countries between 2014 and 2018.
Recent developments:
In October 2022, PostProcess Technologies as well as EOS formed a distribution partnership in order to provide EOS customers with a completely automated & sustainable depowering solution.
Imaginarium announced the launch of its desktop as well as industrial 3D printer range in collaboration with Ultimaker in February 2022.
Key Market Players
Stratasys Ltd.
EnvisionTec, Inc.
Materialise
3D Systems, Inc.
Autodesk Inc.
GE Additive
Voxeljet AG
Made In Space
Canon Inc.


Segments Covered in the Report\
By Component
By Printer Type
Industrial 3D Printer
Desktop 3D Printer
By Technology
Selective Laser Sintering
Stereolithography
Fuse Deposition Modeling
Direct Metal Laser Sintering
Inkjet Printing
Polyjet Printing
Electron Beam Melting
Laminated Object Manufacturing
Digital Light Processing
Laser Metal Deposition
Others


By Application
Functional Parts
Tooling
Prototyping


By Vertical
Desktop 3D Printing
Industrial 3D Printing
By Material
By Geography 
North America
Europe
Asia Pacific
LAMEA
VALUE PROPOSITIONS RELATED TO THE REPORT:
Powered with Complimentary Analyst Hours and Expert Interviews with Each Report
Comprehensive quantitative and qualitative insights at segment and sub-segment level
Granular insights at global/regional/country level
Deep-rooted insights on market dynamics (drivers, restraints, opportunities) and business environment
Cost breakup of a global 3D printing market and key vendor selection criteria
Blanket coverage on competitive landscape
Winning imperatives
Exhaustive coverage on 'Strategic Developments' registered by leading players of the market
CUSTOMIZATION OPTIONS:
Distributor Landscape Assessment
Pricing Intelligence
Customer Base Assessment
Investment & Initiatives Analysis
'Business Profile' of Key Players


Immediate Delivery Available | Buy This Premium Research Report@ https://www.precedenceresearch.com/checkout/2718
You can place an order or ask any questions, please feel free to contact at sales@precedenceresearch.com  | +1 9197 992 333
About Us
Precedence Research is a worldwide market research and consulting organization. We give unmatched nature of offering to our customers present all around the globe across industry verticals. Precedence Research has expertise in giving deep-dive market insight along with market intelligence to our customers spread crosswise over various undertakings. We are obliged to serve our different client base present over the enterprises of medicinal services, healthcare, innovation, next-gen technologies, semi-conductors, chemicals, automotive, and aerospace & defense, among different ventures present globally.
For Latest Update Follow Us:
https://www.linkedin.com/company/precedence-research/
https://www.facebook.com/precedenceresearch/
https://twitter.com/Precedence_R