New York, May 19, 2023 (GLOBE NEWSWIRE) -- According to a report published by Next Move Strategy Consulting, the global Mobile Phone Accessories Market generated USD 275.54 billion in 2022, and is projected to reach USD 426.78 billion by 2030, at a CAGR of 5.0% from 2023 to 2030.
The research offers a detailed analysis of the drivers, restraints, and opportunities of the market to understand the changing market dynamics. Moreover, the research provides an extensive analysis of major segments and their sub-segments to identify the fastest-growing and highest revenue-generating segments.
Equipping the extensive analysis of each and every aspect of the market in 2,004 pages, accompanied by 1,726 tables and 1,691 figures, the report aims to become a source of guidance for market players, investors, and startups to determine the strategies for the next few years and achieve sustainable growth.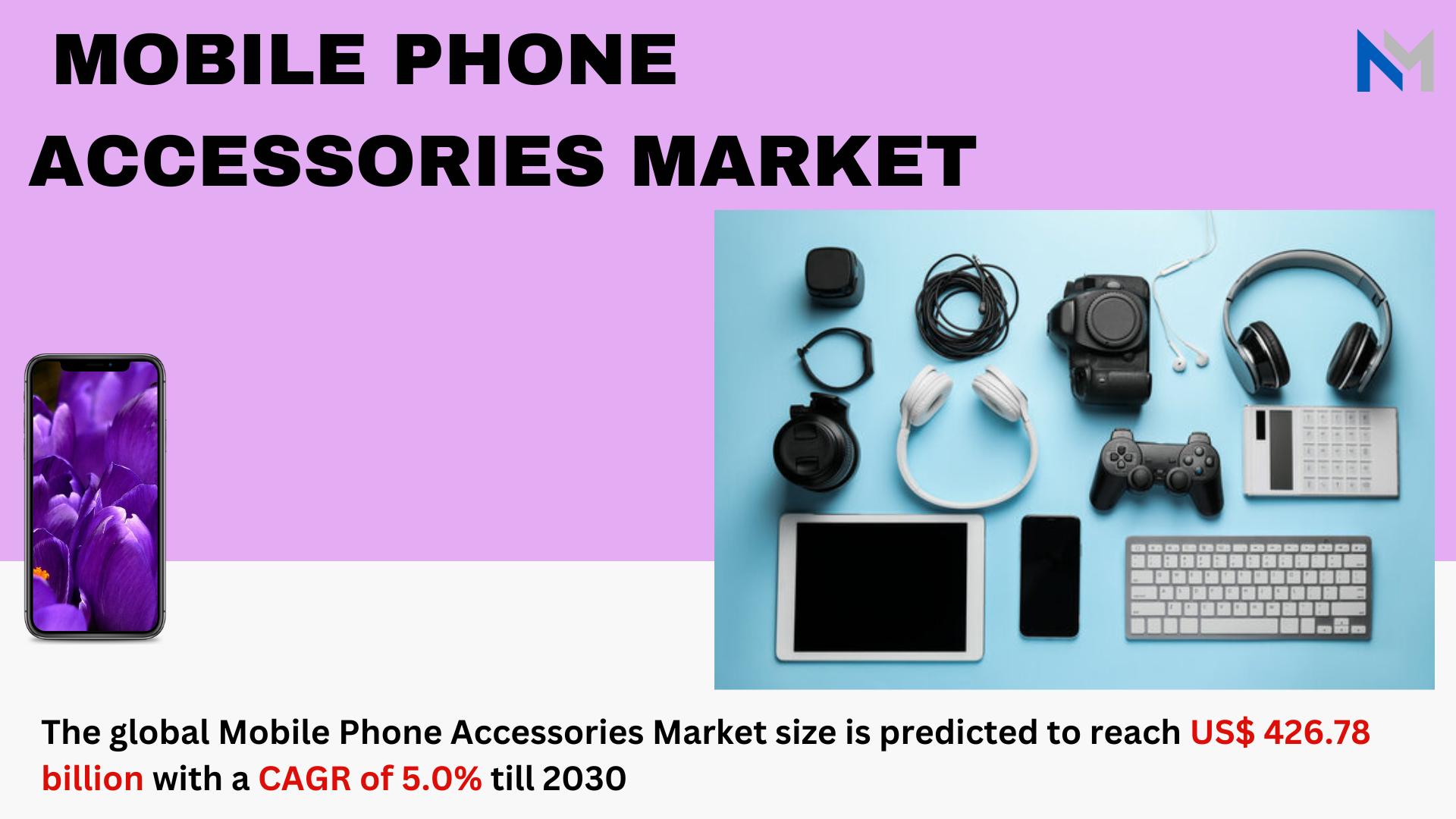 Request a free sample: https://www.nextmsc.com/mobile-phone-accessories-market/inquire-before-buying
Report Coverage
Details
Forecast Period
2023–2030
Base Year
2022
Market Size in 2022
USD 275.54 Billion
Market Size in 2030
USD 426.78 Billion
CAGR
5.0%
No. of Pages
2,004
Tables
1,726
Figures
1,691
Segments Covered
Type, Distribution Channel, Sales Category, Sales Channel, Usage, and Region
Drivers
Growing Demand for Wireless Accessories
Rise In Adoption of Smartphones
Opportunities
Falling prices for wireless earbuds, bluetooth/NFC speakers, noise cancellation technology, and smart watches
The report identifies driving factors, restraining factors, and opportunities in the market. The rise of e-commerce platforms has made it easier for consumers to access a wide variety of products from anywhere and at any time, which has led to an increase in consumer demand for mobile phone accessories. In addition, technological advancements in products such as wireless charging, noise cancelling headphones, and smart watches have attracted more consumers, further fueling the growth of the market. However, the high cost of branded mobile phone accessories and reliability issues associated with third-party mobile phone accessories restrain the growth of the market.
Identifying the opportunities that leading players can take leverage to increase their market share, Next Move Strategy Consulting's Lead Analyst for Consumer Goods commented, "Customized mobile phone cases are expected to experience an increased demand as consumers are increasingly seeking personalized and unique ways to express their individuality. Customized phone cases offer a way to personalize and protect phones while also reflecting the user's personality, interests, and style."
Buy this report directly from here:  https://www.nextmsc.com/report/mobile-phone-accessories-market
Need a customized report, Get in touch with us here: https://www.nextmsc.com/contact
Based on region, Asia-Pacific is accounted for the highest share in 2022, and is expected to remain dominant throughout the forecast period. This is attributed to the growing mobile gaming industry in China and Southeast Asia. The growing gaming industry leads to increase in demand for gaming accessories and headphones in this region. Moreover, several manufacturers and retailers of mobile phone accessories are driving the market growth by providing consumers with a vast selection of customizable products such as phone cases, skins, and pop-sockets that offer both protection and enhanced functionality to their devices.
On the other hand, Europe is estimated to witness substantial growth during the forecast period. The European region has a well-established e-commerce infrastructure, providing consumers with convenient access to a wide range of mobile phone accessories. In addition, consumers in Europe are increasingly concerned about the environmental impact of their purchases, leading to a rise in demand for eco-friendly mobile phone accessories made from sustainable materials.
The study analyzes each region and its countries by segments and their sub-segments to outline the steps to be taken to consolidate their presence in the mobile phone accessories market. Furthermore, this analysis helps determine the fastest-growing segments and the highest revenue-generating segments to take the next step accordingly.
If you have any queries, you can enquire before purchasing:  https://www.nextmsc.com/mobile-phone-accessories-market/inquire-before-buying
The report offers an extensive analysis of the competitive landscape of the global mobile phone accessories market. Some of the major market players in the market are Samsung Electronics, Apple, Inc., Bose Corporation, Sony Corporation, Xiaomi Corporation, Google, Skullcandy, Amazon.com, Huawei Technologies Co. Ltd., and Imagine Marketing Ltd.
Also, Browse Related Reports:
Wireless Charging Market by Technology (Inductive, Resonant, Radio Frequency, and Others) and Industry Vertical (Electronics, Automotive, Industrial, Healthcare, and Aerospace & Defense): Global Opportunity Analysis and Industry Forecast 2023–2030
Ultra-Secure Smartphones Market by Operating System (Android And IOS), and by End User (Government Agency, Military & Defense, and Enterprises)– Global Opportunity Analysis and Industry Forecast 2022-2030
Smart Headphones Market by Product Type (In Ear, On Ear, and Over Ear), by Application (Sports Headphones, Gaming Headphones, Business Headphones, Professional Headphones and Ordinary Headphones), and by Distribution Channel (Online and Offline) - Global Opportunity Analysis and Industry Forecast, 2022 – 2030
About Us:
Next Move Strategy Consulting is an independent and trusted third-platform market intelligence provider committed to delivering high-quality market research reports that help multinational companies triumph over their competition and increase their industry footprint by capturing greater market share. Our research model is a unique collaboration of primary research, secondary research, data mining, and data analytics.
We have been servicing over 1000 customers globally, including 90% of Fortune 500 companies over a decade. Our analysts constantly track various high-growth markets and identify hidden opportunities in each sector or industry. We provide one of the industry's best-quality syndicates as well as custom research reports across ten different industry verticals. We are committed to delivering high-quality research solutions per your business needs. Our industry-standard delivery solutions range from pre-consultation to after-sales services, provide an excellent client experience and ensure the right strategic decision-making for businesses.