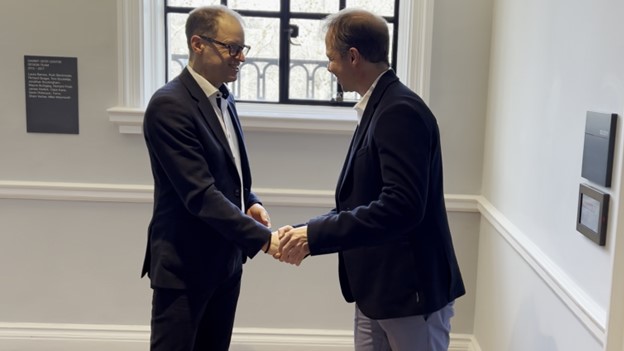 Chris Caldwell of United Renewables and Tom Gosling Meet to discuss ESG
DOUGLAS, Isle of Man, May 24, 2023 (GLOBE NEWSWIRE) -- Sustainability expert Tom Gosling is raising concerns about the potential negative consequences of relying solely on ESG targets. In a recent episode of the Conversations on Climate Podcast, Gosling argues that ESG targets can lead to greenwashing and create a false sense of security.

ESG stands for environmental, social, and governance. ESG targets are used by investors to measure how companies are performing in these areas. However, Gosling argues that ESG targets can be gamed by companies that are simply looking to improve their image rather than actually making a difference.
"We need to be careful about using ESG targets as a proxy for sustainability," Gosling says. "We need to look at the underlying data and make sure that companies are actually making progress."
Gosling also argues that ESG targets can create a false sense of security. Companies that meet ESG targets may believe that they are doing enough to address climate change, when in reality they may still be making a significant contribution to environmental problems.
"We need to think about sustainability in a more holistic way," Gosling says. "We need to look at the entire value chain, from the extraction of raw materials to the disposal of waste. We also need to consider the social and governance aspects of sustainability."
Gosling's concerns about ESG targets have sparked a debate among sustainability experts. Some agree with Gosling that ESG targets can be harmful, whilst others believe that they are a necessary step in the fight against climate change.
The debate is likely to continue as ESG becomes increasingly important in the world of finance. It is important to have a clear understanding of the potential benefits and risks of ESG targets before making any investment decisions.
Join us for Season 2 of Conversations on Climate, the podcast that brings together brilliant minds from academia and business to share their expertise on the urgent issue of climate change. In this new season, we delve deeper into the world of sustainable business practices and offer practical tips and insights on how companies can thrive in a changing world. From seasoned veterans to up-and-coming entrepreneurs, our guests share diverse perspectives and innovative solutions to global environmental challenges. Don't miss out on this valuable resource is for anyone committed to a greener future.
Listeners can subscribe to the podcast's YouTube channel or follow them on LinkedIn, Twitter and Facebook to stay up to date on the latest episodes. The podcast aims to create a community of thinkers, researchers, policymakers, and business leaders who discuss the challenges ahead and offer solutions to global climate and environmental issues.
Watch this interesting episode of the Conversations on Climate podcast now to find out how your ESG targets may be doing more harm than good.
For more information about Conversations on Climate please visit the United Renewables website.
Tom Gosling is an Executive Fellow in the Department of Finance at LBS where he contributes to the evidence-based practice of responsible business by connecting academic research, public policy, and corporate action. He also works with the Leadership Institute at LBS.
Chris Caldwell is an entrepreneur and founder of United Renewables, a green energy company working across wind, solar, tidal and anaerobic technologies with a special interest in serving island communities. He is also a growing authority in the digital climate debate, as host of the podcast Conversations on Climate.
Conversations on Climate is a joint production of United Renewables and the London Business School Alumni Energy Club.
Episode 1 of Season 2 of the Conversations on Climate Podcast, featuring François Ortalo-Magné Dean of the of London Business School, is available here.
Conversations on Climate brings world-leading thinkers from business and academia together to share their expertise on the subject of climate change. Previous guests include Sir Andrew Likierman, Julio Dal Poz, Professor Jean-Pierre Benoît, and Professor Ioannou. Tara Schmidt, Professor Dan Cable, Professor Zoe Chance, Professor Lynda Gratton.
All previous episodes can be found here. Related articles can be found here.
CONTACT Isabella Hawke – Sales and Marketing Consultant
COMPANY United Renewables
PHONE +447624457139
EMAIL IIhawke@unitedrenewables.co.uk
WEB unitedrenewables.co.uk/resources
A photo and a video accompanying this announcement are available at
https://www.globenewswire.com/NewsRoom/AttachmentNg/9ad2de1a-ef1b-41dd-abde-512a9c9452c6
https://www.globenewswire.com/NewsRoom/AttachmentNg/a1ca299e-0881-40c1-917c-3eeec9b963b9