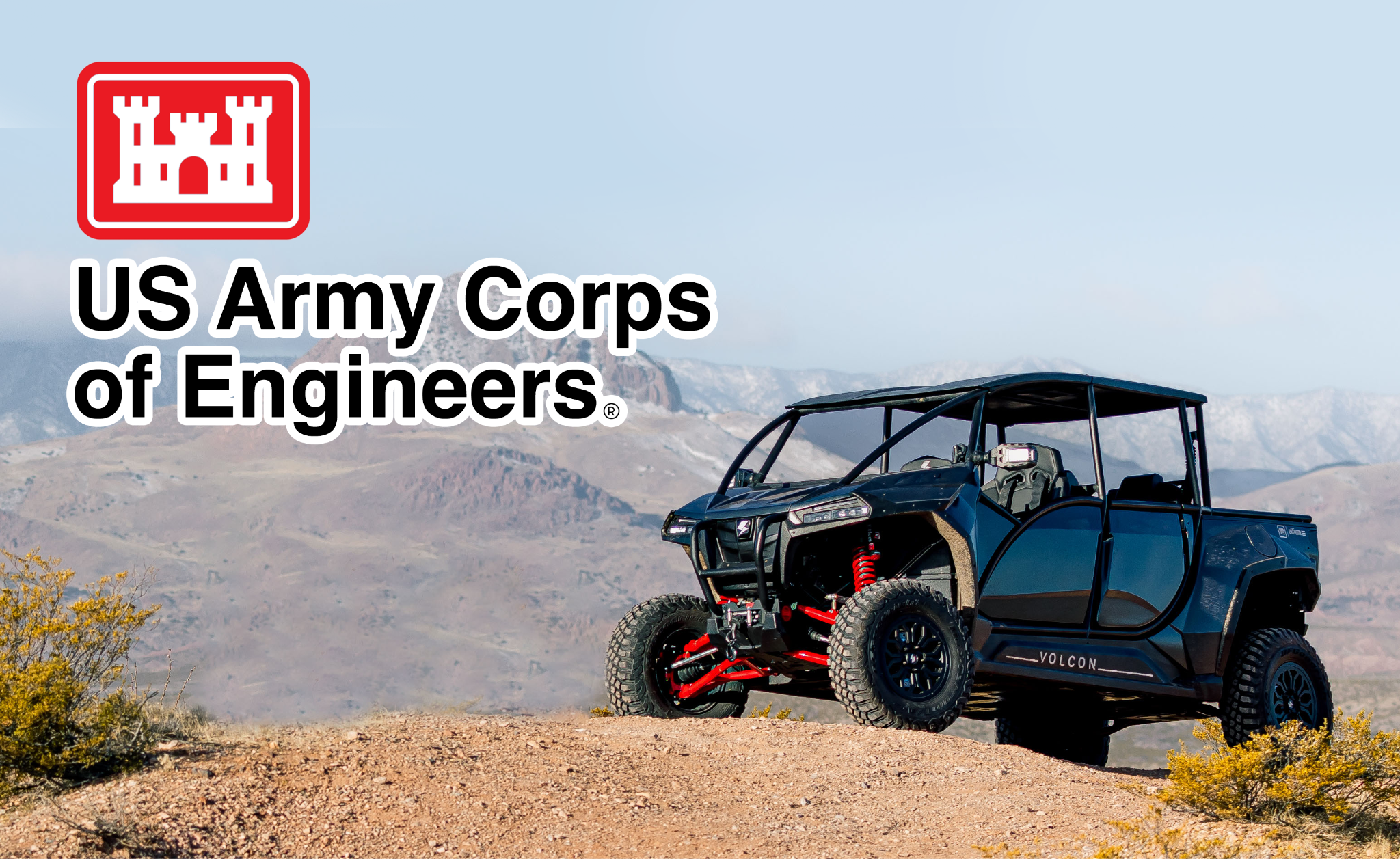 AUSTIN, Texas, June 06, 2023 (GLOBE NEWSWIRE) -- Volcon Inc. (NASDAQ: VLCN) ("Volcon" or the "Company"), the first all-electric, off-road powersports company, announced today that it has received notice of award of two additional orders to deliver a total of five Stag UTV vehicles to the U.S. Army under the management of the U.S. Army Engineer Research and Development Center's (ERDC) Construction Engineering Research Laboratory (CERL). The Stag is expected to be delivered to multiple U.S. Army locations in late 2023.
—-------------
View the Volcon Stag in action here: https://www.volcon.com/stag
—-------------
Awarded through the Defense Logistics Agency (DLA) Tailored Logistics Support Program (TLSP), and to be fulfilled by Noble, the slightly modified commercial version of the Stag will include an enhanced 54kWh electric powertrain. The vehicle will be utilized to support the U.S. Army Corps of Engineers (USACE) disaster and emergency response missions, in accordance with the National Response Framework (NRF). Missions include emergency power support, emergency infrastructure assessments, debris removal, and urban search and rescue, which require rapidly deployable and energy efficient systems to successfully initiate and conduct emergency response, disaster, and contingency operations. In addition, ERDC-CERL's intent is to introduce the Stag to soldiers rotating through their training sites and explore other opportunities for military applications.
"What we are witnessing in federal and state procurement is beyond a movement to simply comply with administrative requirements for fleet electrification," says Volcon Vice President of Global Defense and Government Programs, Richard Tannery. "These mandates provide good introductions to government decision makers regarding the technology, and many are realizing that EV performance speaks for itself. The conversation is shifting to one of tactical advantage, over sustainability."
As Volcon continues to enter new sales channels, its ability to rapidly prototype and leverage strategic and innovative collaborations has been met with increased interest by various defense and government entities. Especially as they will need to meet the aggressive timelines for fleet electrification as set by the US Army's 2022 Climate Strategy, and the Biden administration's 2021 Federal Sustainability Plan. Tannery continued, "There is hesitance in early adoption of electrified fleets, until decision makers are aware that we can export power for tactical surveillance and communications systems, provide silent overwatch for forward reconnaissance and intelligence gathering, traverse all-terrain conditions with a reduced thermal and noise signature, reduce maintenance requirements, and begin to assess how to more efficiently manage the logistical requirements of petroleum-based fuels in contested environments. The technology needs to be chosen for the correct mission set. That is the real conversation. We can't force technology into the battlefield to the disadvantage of the warfighter just because it feels good. Instead, we have to apply the technology to the correct tactical application. That's how you deploy new technology, today."
About Volcon, Inc.
Based in the Austin, Texas area, Volcon was founded as the first all-electric powersports company producing high-quality and sustainable electric vehicles for the outdoor community. Volcon electric vehicles are the future of off-roading, not only because of their environmental benefits, but also because of their near silent operation, which allows for a more immersive outdoor experience.
Volcon's 2023 vehicle roadmap includes both motorcycles and UTVs hitting the market in North America. Its first product, the innovative Grunt, has been shipping to customers since late 2021 and combines a fat-tired physique with high-torque electric power and a near-silent drive train. Volcon just announced the launch of the Grunt EVO, an evolution of the original Grunt with a belt drive, an improved suspension and seat. Volcon also just announced the launch of the Runt LT, which is a fun-sized version of the groundbreaking Grunt, is better suited for small statured riders, more compact properties and trails, or as a pit bike at race events, while still delivering robust off-road capabilities. The Brat is Volcon's first foray into the wildly popular eBike market for both on road and off-road riding and is currently being delivered to dealers across North America. Volcon is also launching and currently delivering the Volcon Youth Line of dirt bikes for younger riders between the ages of 4 to 11. Volcon recently launched the Stag and entered the rapidly expanding UTV market. The Stag empowers the driver to explore the outdoors in a new and unique way that gas-powered UTVs cannot. The Stag offers the same thrilling performance of a standard UTV without the noise (or pollution), allowing the driver to explore the outdoors with all their senses.
Volcon Contacts:
For Media: media@volcon.com
For Dealers: sales@volcon.com
For Investors: investors@volcon.com
Volcon Products:

Volcon Stag: https://www.volcon.com/stag
Volcon Brat: https://www.volcon.com/brat
Volcon Grunt: https://www.volcon.com/grunt-evo
Volcon Runt: https://www.volcon.com/runt-lt
Volcon Youth Line: https://www.volcon.com/youth
For more information on Volcon or to learn more about its complete motorcycle and side-by-side line-up, visit: www.volcon.com
Forward-Looking Statements
Some of the statements in this release are forward-looking statements, which involve risks and uncertainties. Forward-looking statements in this press release include, without limitation, whether the Company can begin production of the Stag to meet the purchase requirements of these orders and whether those units will result in future sales opportunities to federal and state entities. Although the Company believes that the expectations reflected in such forward-looking statements are reasonable as of the date made, expectations may prove to have been materially different from the results expressed or implied by such forward-looking statements. The Company has attempted to identify forward-looking statements by terminology including ''believes,'' ''estimates,'' ''anticipates,'' ''expects,'' ''plans,'' ''projects,'' ''intends,'' ''potential,'' ''may,'' ''could,'' ''might,'' ''will,'' ''should,'' ''approximately'' or other words that convey uncertainty of future events or outcomes to identify these forward-looking statements. These statements are only predictions and involve known and unknown risks, uncertainties, and other factors. Any forward-looking statements contained in this release speak only as of its date. The Company undertakes no obligation to update any forward-looking statements contained in this release to reflect events or circumstances occurring after its date or to reflect the occurrence of unanticipated events. More detailed information about the risks and uncertainties affecting the Company is contained under the heading "Risk Factors" in the Company's Annual Report on Form 10-K and subsequently filed Quarterly Reports on Form 10-Q and Current Reports on Form 8-K filed with the SEC, which are available on the SEC's website, www.sec.gov.
A photo accompanying this announcement is available at https://www.globenewswire.com/NewsRoom/AttachmentNg/eeb654cf-33d7-4541-834a-2ae901732c36