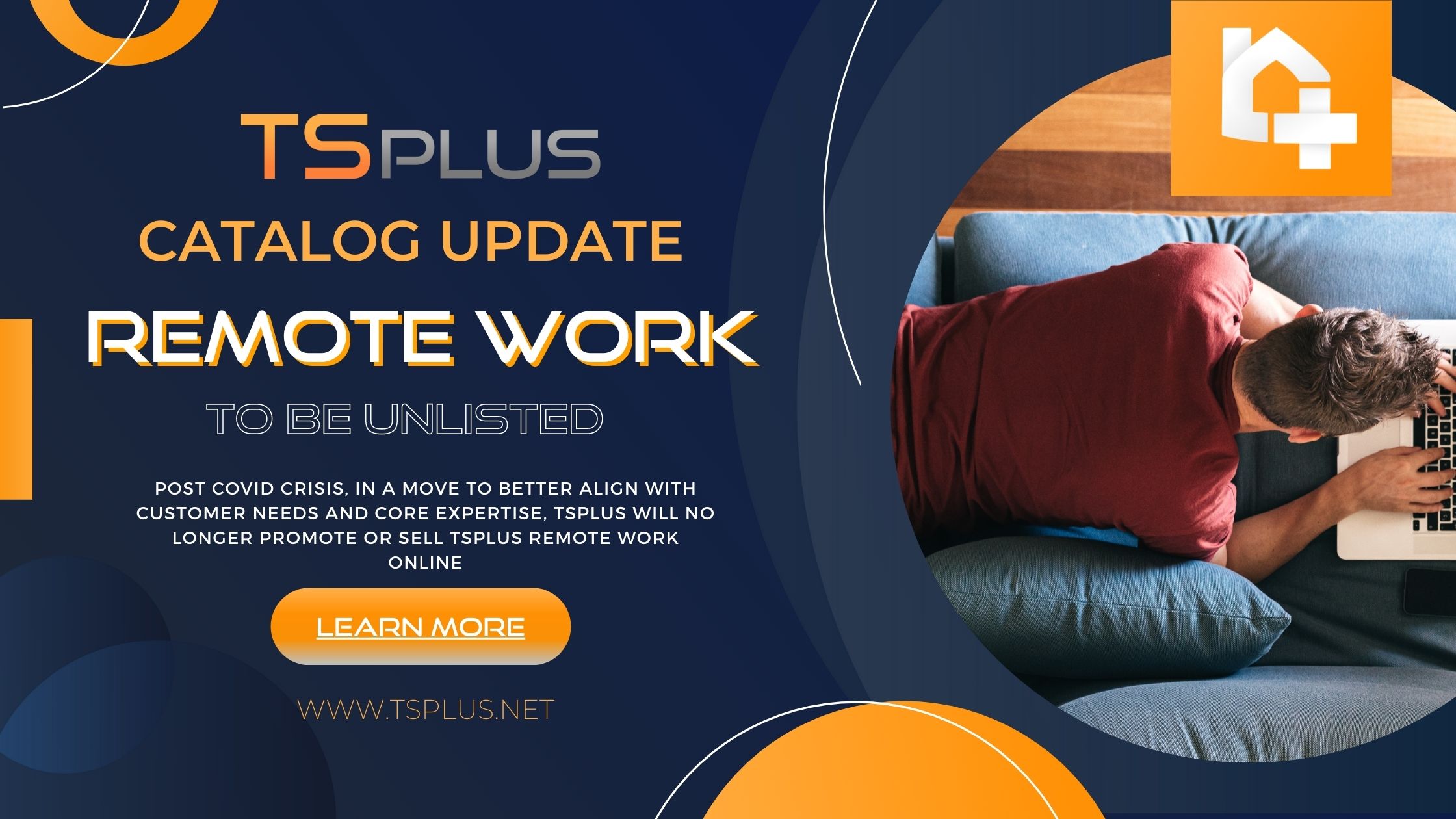 IRVINE, Calif., June 14, 2023 (GLOBE NEWSWIRE) -- TSplus, provider of remote desktop software solutions, has announced a strategic update to its product lineup. In a move to better align with customer needs and core expertise, TSplus will no longer promote or sell TSplus Remote Work online.

TSplus Remote Work was developed as a response to the COVID-19 pandemic, providing an affordable, user-friendly, and secure solution for businesses transitioning to remote work. As the crisis subsides and traditional work settings regain prominence, TSplus has decided to reevaluate its product offerings and concentrate on its core strengths.
CEO Dominique Benoit explains, "We remain committed to meeting our customers' needs with innovative solutions. While TSplus Remote Work played a crucial role during the pandemic, it's now time to focus on our core products. This strategic decision will allow us to enhance and expand our offerings, providing even greater value to our customers."
Existing TSplus Remote Work customers, partners, and users will continue to receive support, active licenses will remain valid, and security updates will be provided. The support team will be available to address any inquiries or concerns.
To ensure ongoing accessibility, TSplus has created a "legacy products" category on its website. Customers and IT professionals can access technical and marketing documentation related to TSplus Remote Work from this category.
TSplus continues to invite customers, partners, and IT professionals to explore its range of remote desktop software solutions at www.tsplus.net. For inquiries or more information on TSplus' product offerings, or requests regarding Remote Work, interested parties are encouraged to contact the sales team at sales@tsplus.net. They will be happy to assist and provide detailed information on how TSplus can meet specific business requirements.
---------
About TSplus: TSplus is a global leader in remote desktop software solutions, empowering businesses of all sizes. With secure and scalable products, TSplus enhances productivity, streamlines IT management, and improves collaboration. For over a decade, TSplus has delivered cutting-edge technology and exceptional customer service to help businesses thrive in a digital world.
A photo accompanying this announcement is available at https://www.globenewswire.com/NewsRoom/AttachmentNg/98c55f64-816e-4ae2-8ee6-a25ac92024c7