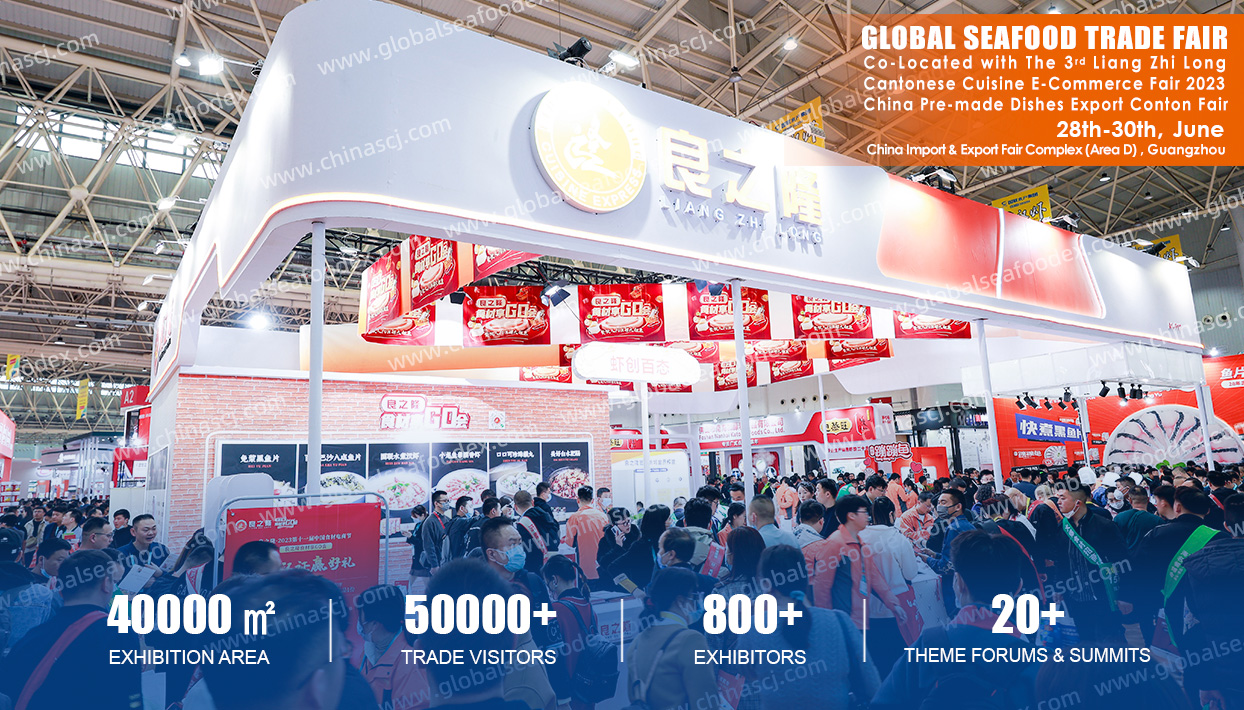 GUANGZHOU, China, June 21, 2023 (GLOBE NEWSWIRE) -- The Global Seafood Trade Fair Co-Located with The 3rd Liang Zhi Long Cantonese Cuisine E-Commerce Fair 2023 will be held from June 28th to June 30th, 2023 by Wuhan Shihedao Network Technology Co., Ltd.
With an impressive exhibition area of 40,000 m2, featuring over 800 exceptional exhibitors, and expected to attract more than 50,000 trade visitors. The Global Seafood Trade Fair will showcase various fishery and aquatic products, including live seafood, dry goods, pre-cooked dishes, raw material processing and catering packaging equipment, refrigeration equipment, and so on. Furthermore, the event will bring together international enterprises and suppliers from Thailand, Ecuador, the United States, Australia, France, other countries and regions, who will showcase feature seafood products from around the world.
According to global market statistics for pre-cooked dishes, the industry was valued at US$148.67 billion in 2022 and is expected to reach US$214.71 billion by 2030. As global trade recovers, the demand for pre-cooked dishes will continue to grow. The exhibition will specially set up a pavilion to showcase popular pre-cooked dishes for exhibitors and provide valuable insights into the global pre-cooked dishes market.
In addition to the seafood exhibition, over 20 wonderful activities, including food-tasting sessions, category promotions, and cooking competitions, will be held during the Global Seafood Trade Fair. These include the Opening Ceremony of the Feast of Hot Pot Delights and the China Artistic Seafood Presentation: Artistic Cold Dish Competition. Notably, a series of industry summit forums will also take place, such as the First Edition Pre-cooked Dishes Export Forum of the Greater Bay Area Pre-cooked Dishes (Nansha) Export Zone, the 18th Tilapia Industry Development Forum, Sustainable Development Technology Forum for Aquatic Food Ingredients, and Deep Sea Aquaculture and Seafood Market Summit 2023. These forums will empower the discussion and the development of the seafood and aquatic pre-cooked dishes industry.
The Global Seafood Trade Fair extends a warm invitation to visitors and traders to attend and explore the event in Zone D of the China Import and Export Fair Complex in Guangzhou from June 28th to 30th.
Media contact:
Ms. Rachel CHEN
Mobile: +86-136 3232 6056
E-mail:
rachelchen@chinascj.com
service@globalseafoodex.com
Website: www.globalseafoodex.com
A photo accompanying this announcement is available at https://www.globenewswire.com/NewsRoom/AttachmentNg/0a138bdc-f09a-4c2a-a844-5f245ad57060