NEW YORK, United States, June 21, 2023 (GLOBE NEWSWIRE) -- Zion Market Research has published a new research report titled "Smart Bullets Market 2023-2030" in its research database. According to the latest research study, the demand of global smart bullets market size was worth at USD 600 million in 2022 and it is expected to surpass around USD 1300 million mark by 2030, growing at a compound annual growth rate (CAGR) of approximately 10.03% during the forecast period 2023 to 2030.
What are Smart Bullets? How big is the Smart Bullets Industry?
Report Overview:
The study on the smart bullet market provides in-depth and analytical insights into the most successful firms operating in the worldwide market. The report is a combination of extensive primary and secondary research with the goal of identifying upcoming market trends, growth inhibiting factors, and opportunities. Both types of research were used. The most recent technological advances, inventions, and product releases are included in the smart bullet industry reports, along with additional in-depth data on the various market diversification strategies.
In order to achieve a higher level of precision and accuracy, "smart bullets" are projectiles that are guided electronically and are equipped with a satellite guidance system, a global positioning system, as well as infrared, laser, and radio technologies. These intelligent projectiles are also known as precision-guided bullets in some circles. These are designed to strike the designated target while minimizing the damage done to innocent bystanders. These bullets receive their instructions and are operated by means of the external operating systems that are situated in remote regions.
Get a Free Sample PDF of this Research Report for more Insights - https://www.zionmarketresearch.com/sample/smart-bullets-market-size

(A free sample of this report is available upon request; please contact us for more information.)
Our Free Sample Report Consists of the Following:
Introduction, Overview, and in-depth industry analysis are all included in the updated report.
About 222+ Pages Research Report (Including Recent Research)
Provide detailed chapter-by-chapter guidance on Request
2023 Updated Regional Analysis with Graphical Representation of Size, Share, and Trends
Includes Tables and figures have been updated
The most recent version of the report includes the Top Market Players, their Business Strategies, Sales Volume, and Revenue Analysis
Zion Market Research Methodology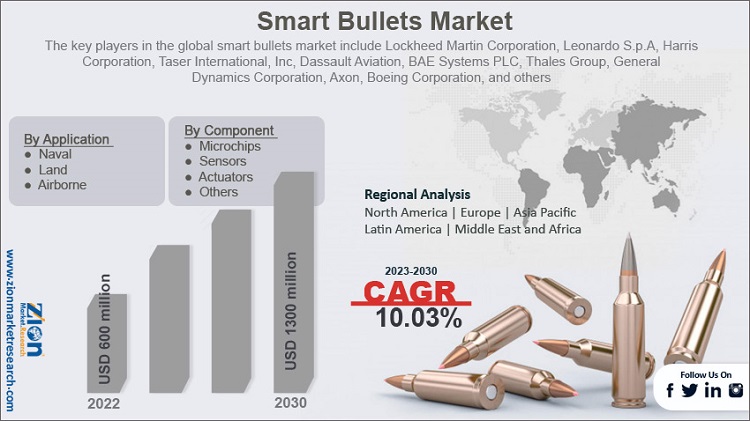 Global Smart Bullets Market: Growth Factors
Demand for enhanced precision targeting weapons is projected to drive global market expansion
The nature of warfare has substantially evolved over time. Both developing and industrialized nations are concentrating their efforts on creating cutting-edge testing and combat weaponry that can fight independently and self-destruct if necessary. In addition, there is a considerable demand for weapons with greater range and impact. The need for operational strikes and precise attacks lies at the heart of the most recent wars on the battlefield. In the upcoming years, a situation like this is probably going to greatly accelerate the expansion of the worldwide smart bullets market. Additionally, it is projected that the rise in investments in developing autonomous weapons and the increasing number of security threats from terrorist groups will fuel the expansion of the global market for smart bullets. In the upcoming years, there will probably be a greater need for smart bullets due to a shift towards digitalization, especially in the defense industry.
Restraints
Smart bullet prices may slow worldwide market expansion
The technique of creating smart bullets is intricate. Additionally, production needs a skilled labour to be completed. As a result, smart bullets are quite expensive, which is expected to impede the growth trajectory of the business globally in the years to come.
Directly Purchase a copy of the report with TOC @ https://www.zionmarketresearch.com/buynow/su/smart-bullets-market-size

Report Scope
| | |
| --- | --- |
| Report Attribute | Details |
| Market Size in 2022 | USD 600 Million |
| Projected Market Size in 2030 | USD 1300 Million |
| CAGR Growth Rate | 10.03% CAGR |
| Base Year | 2022 |
| Forecast Years | 2023-2030 |
| Key Market Players | Lockheed Martin Corporation, Leonardo S.p.A, Harris Corporation, Taser International, Inc, Dassault Aviation, BAE Systems PLC, Thales Group, General Dynamics Corporation, Axon, Boeing Corporation, The Raytheon Company, Northrop Grumman Corporation, and others |
| Key Segment | By Type, By Application, By Component, By Caliber, and By Region |
| Major Regions Covered | North America, Europe, Asia Pacific, Latin America, and the Middle East &, Africa |
| Purchase Options | Request customized purchase options to meet your research needs. Explore purchase options |
Smart Bullets Market: Segmentation Analysis
The global smart bullets market can be segmented into type, application, component, caliber, and region.
By type, the market can be segmented into guided and self-guided smart bullets. In terms of market share for smart bullets globally, the guided bullet sector dominates. In order to enable for aiming and other crucial duties, guided bullets are those that are well-equipped with sensors and an integrated circuit. These bullets have the ability to capture data on several factors and transmit it through radio frequency to users for further examination. These bullets' main purpose is to aid military troops or law enforcement in hitting targets more accurately, even at a distance. Nevertheless, the self-guided smart bullets market is anticipated to expand consistently over the approaching years due to the demand for cutting-edge technology, particularly in the process of producing ammunition. In order to facilitate self-destruction once launched from the weapon, these bullets primarily contain a large number of integrated electronic chips. The main benefit of these bullets is that they don't harm any innocent bystanders and make it nearly hard for someone to use the cartridge without the appropriate target identification device.
By application, the market can be segmented into naval, land, and airborne. The smart bullets market is dominated globally by the airborne segment. During the anticipated timeframe, it is anticipated to capture around 50% of the market share overall. Armed forces frequently employ these rounds in airborne and ground strafing operations. The advantage of these bullets is their rapid-fire rate. Because of its sophisticated tracking system and sensors, it can also fire the target with a high degree of accuracy.
The global Smart Bullets market is segmented as follows:
By Type
Guided Smart Bullets
Self-Guided Smart Bullets
By Application
By Component
Microchips
Sensors
Actuators
Others
By Caliber
More Than 0.50 Caliber
And Less Than 0.50 Caliber
Browse the full "Smart Bullets Market By Type (Guided And Self-Guided Smart Bullets), By Application (Naval, Land, And Airborne), By Component (Microchips, Sensors, Actuators, And Others), By Caliber (More Than 0.50 Caliber And Less Than 0.50 Caliber), And By Region: - Global And Regional Industry Overview, Market Intelligence, Comprehensive Analysis, Historical Data, And Forecasts, 2023-2030" Report at- https://www.zionmarketresearch.com/report/smart-bullets-market-size

Competitive Landscape
Some of the main competitors dominating the global Smart Bullets market include - 
Lockheed Martin Corporation
Leonardo S.p.A
Harris Corporation
Taser International Inc
Dassault Aviation
BAE Systems PLC
Thales Group
General Dynamics Corporation
Axon
Boeing Corporation
The Raytheon Company
Northrop Grumman Corporation
Others.
 Key Insights from Primary Research:
According to the analysis shared by our research analyst, the Smart Bullets market is likely to expand at a CAGR of around 10.03% during the forecast period (2023-2030).        
In terms of revenue, the Smart Bullets market size was valued at around US$ 600 million in 2022 and is projected to reach US$ 1300 million by 2030.
The high demand for advanced precision targeting weapons is likely to boost the global smart bullet market growth.
Based on the type, the guided bullet segment accounts for the largest share of the global smart bullets market.
Based on the application, the airborne segment dominates the global smart bullets market.
Based on the component, the microchips segment dominates the global market.
Based on caliber, the less than 0.50 caliber segment holds the largest share of the global market.
Based on region, North America is expected to dominate the market during the forecast period.
Have Any Query? Ask Our Experts: https://www.zionmarketresearch.com/inquiry/smart-bullets-market-size

Key questions answered in this report:
What is the market size and growth rate forecast for Smart Bullets industry?
What are the main driving factors propelling the Smart Bullets Market forward?
What are the leading companies in the Smart Bullets Industry?
What segments does the Smart Bullets Market cover?
How can I receive a free copy of the Smart Bullets Market sample report and company profiles?
Key Offerings:
Market Size & Forecast by Revenue | 2023−2030
Market Dynamics – Leading Trends, Growth Drivers, Restraints, and Investment Opportunities
Market Segmentation – A detailed analysis By Type, By Application, By Component, By Caliber, and By Region
Competitive Landscape – Top Key Vendors and Other Prominent Vendors
Request for Customization on this Report as per your requirements - https://www.zionmarketresearch.com/custom/7276

(We tailor your report to meet your specific research requirements. Inquire with our sales team about customising your report.)
Regional Analysis:
North America accounts for the largest share of the global smart bullets market. The government's increasing focus on enhancing military capabilities and resulting increase in the defence budget can be ascribed to the region's expansion. Additionally, a vital factor in the region's rapid market expansion is the region's expanding technology improvements. Favorable regulatory conditions in the area will also have a beneficial effect on the trajectory of the worldwide market's growth. The most developed and modern defence infrastructure is located in the area.
Asia Pacific is also likely to witness significant growth in the coming years due to the growing initiatives by the government to promote sports activities like paintballs games, airsoft games, etc. This will likely result in higher sales and demand for smart bullets. Additionally, it is projected that the government's increased focus on strengthening the military and defence industry will further fuel regional market expansion.
Europe is also expected to witness a steady growth rate in the forthcoming years. The need for advanced attack weapons like smart bullets is on the rise, which is the main factor driving growth. The need for cutting-edge weapons to ensure the protection of military troops and civilians is growing due to the numerous threats from various non-national entities.
By Region
North America

U.S.
Canada
Rest of North America

Europe

France
UK
Spain
Germany
Italy
Rest of Europe

Asia Pacific

China
Japan
India
South Korea
Rest of Asia Pacific

The Middle East & Africa

Saudi Arabia
South Africa
Rest of the Middle East & Africa

Latin America

Brazil
Argentina
Rest of Latin America
Recent Developments
BAE Systems Plc, in August 2022, initiated innovating the next generation 155mm ammunition technology particularly suitable for naval and land applications. This technology includes a wide spectrum of base and fuze options.
General Dynamics Corporation saw a 31% increase in index funds after three consecutive years of loss. Also, the company witnessed a 12% increase in CAGR over the year.
To know an additional revised 2023 list of market players, request a brochure of the report: https://www.zionmarketresearch.com/inquiry/smart-bullets-market-size

Browse Other Related Research Reports from Zion Market Research:
About Zion Market Research:
Zion Market Research is a leading market research organization offering industry expertise and scrupulous consulting services to clients for their business development. The reports and services offered by Zion Market Research are used by prestigious academic institutions, start-ups, and companies globally to measure and understand the changing international and regional business backgrounds.
Our client's/customer's conviction on our solutions and services has pushed us in delivering always the best. Our advanced research solutions have helped them in appropriate decision-making and guidance for strategies to expand their business.
Follow Us on LinkedIn: https://www.linkedin.com/company/zion-market-research/

Follow Us on Twitter: https://twitter.com/zion_research

Follow Us on Facebook: https://www.facebook.com/zionmarketresearch

Follow Us on Pinterest: https://www.pinterest.com/zionmarketresearch/

Follow Us on YouTube: https://youtu.be/Y0Yfi7N8zSs

Contact Us:
Rushikesh Dorge
USA: +1 347 690-0211
United Kingdom: +44 2032 894158
Japan: +81 50 5806 9039
India: +91 7768 006 007
Web: https://www.zionmarketresearch.com/

Blog: https://zmrblog.com/

Still, Looking for More Information? OR Want Data for Inclusion in Magazine, Case Study, or Media?
Email Directly Here with Detail Information: sales@zionmarketresearch.com