London, United Kingdom, June 27, 2023 (GLOBE NEWSWIRE) --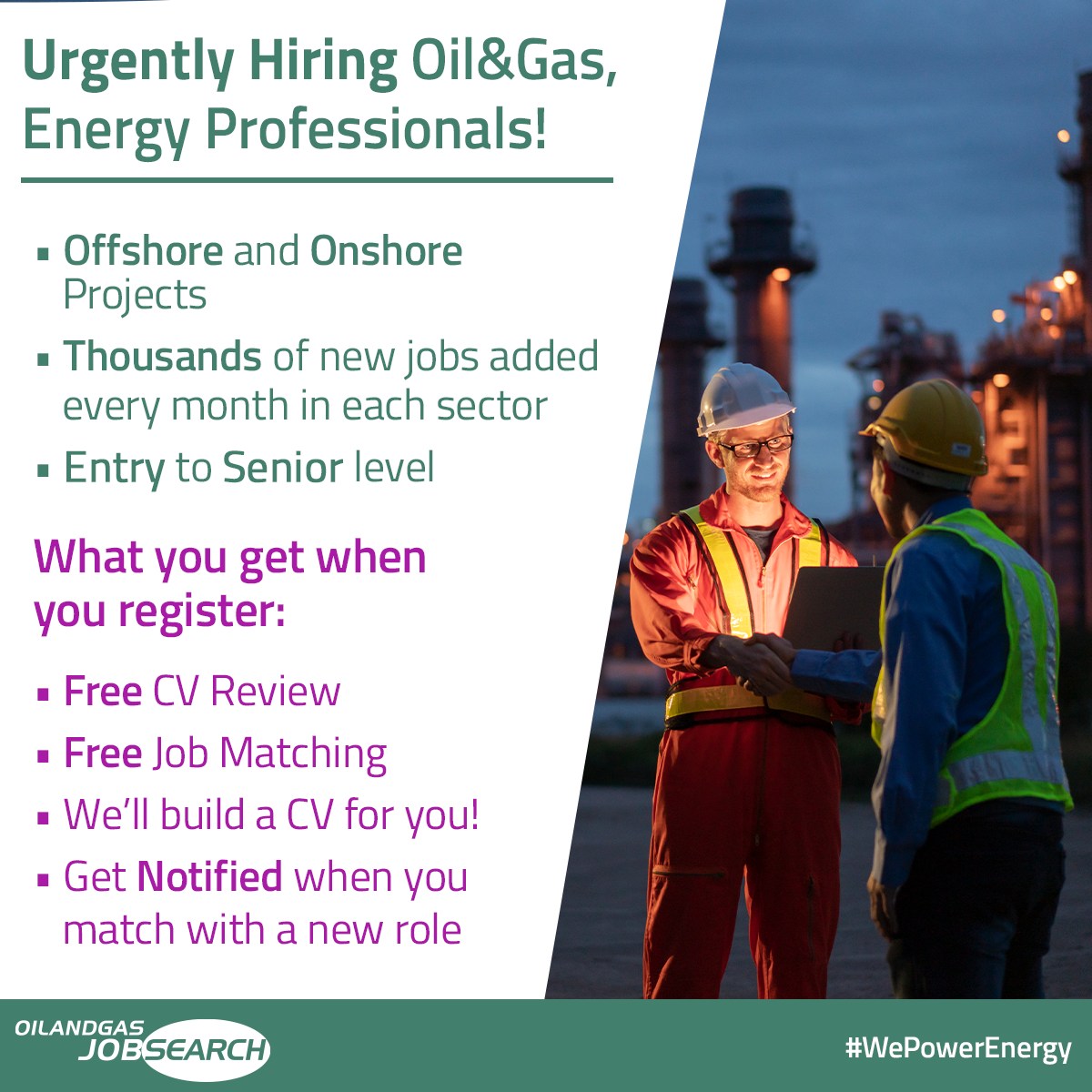 Oilandgasjobsearch.com is a leading online job board that specialises in connecting employers and job seekers within the oil, gas, and energy industry. The company has recently launched its unique CoLab hub that provides valuable market information tools to help with enhancing jobseekers' career paths:
average salaries in the Oil and Gas sector
detailed job profile information
skill pools for each specific role
similar job roles
The company is committed to providing comprehensive and up-to-date job information to help job seekers find the right job and advance their careers.
3.8 million oil, gas, and energy professionals already trust Oilandgasjobsearch.com with their job search in the Energy sector and can find a range of job opportunities across various sectors within the industry, including upstream, midstream, downstream, and renewables.
Oilandgasjobsearch.com's user-friendly platform enables job seekers to search for job vacancies, apply online, and receive job alerts, while its CoLab hub provides valuable market information tools such as average salaries for key oil and gas industry roles. This information helps employers to attract top talent by offering competitive compensation packages and helps job seekers to negotiate fair salaries.
For example, if a jobseeker or potential employer wants to know more about the expected Drilling Engineer Salary, profile, or related jobs, they can access the information on the career-builder CoLab hub to help maximize their earning potential and achieve desired schedule flexibility.
Additionally, when a job seeker is looking for something in a new field that matches their skill set but is unsure of the roles involved, Oilandgasjobsearch.com's CoLab hub will display a comprehensive list of the job's role and responsibilities. For example, for Drilling Engineer Jobs, the CoLab page shows employees' tasks include:
Inspect oil and gas wells to determine that installations are completed.
Write technical reports for engineering and management personnel.
Interpret drilling and testing information for personnel.
Specify and supervise well modification and stimulation programs to maximize oil and gas recovery.
Monitor production rates, and plan rework processes to improve production.
Coordinate the installation, maintenance, and operation of mining and oil field equipment.
Design or modify mining and oil field machinery and tools, applying engineering principles.
Supervise the removal of drilling equipment, the removal of any waste, and the safe return of land to structural stability when wells or pockets are exhausted.
Simulate reservoir performance for different recovery techniques, using computer models.
Oilandgasjobsearch.com is committed to making significant contributions to the oil, gas, and energy job market. The company's expertise and dedication to the industry have made it a trusted and reliable resource for both employers and job seekers searching for a variety of competitive Energy roles, such as Offshore jobs.
The company's CoLab hub is a unique way for professionals in the industry to connect with personalized careers resources, find resume examples to know what recruiters are looking for in a role, see salary intel to maximize earning potential, view career paths based on their specific skills and find tailored information to further their career in the .
More information
To learn more about Oil and Gas Jobs Search and its CoLab Hub that provides valuable market information tools, such as average salaries, detailed job profile information, and similar job roles, please visit the website at https://www.oilandgasjobsearch.com/.
Source: https://thenewsfront.com/oilandgasjobsearch-com-launch-colab-hub-to-help-job-seekers-within-the-oil-gas-and-energy-industry-connect-with-employers/