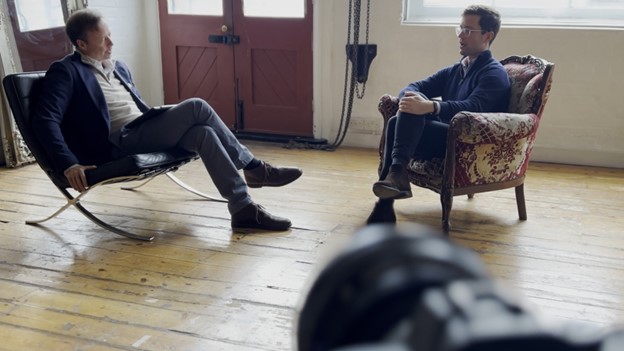 Chris Caldwell of United Renewables in Conversation with Venture Capitalist Amory Poulden
DOUGLAS, Isle of Man, July 20, 2023 (GLOBE NEWSWIRE) -- As the sustainability revolution sweeps through most industries in the West, the climate venture capital space is now in the spotlight. Amidst the excitement, questions arise about how the climate old guard is embracing newcomers. Christopher Caldwell, CEO of United Renewables, entrepreneur, and host of Conversations on Climate podcast, offers valuable insights on the changing landscape.
The Numbers Speak: Climatetech VC Boom
The figures speak for themselves - in 2021, the climate start-up sector raised a staggering $111 billion, surpassing enterprise software and closing in on giants like healthtech and fintech. Investors are awakening to the potential of the next trillion-dollar market, turning climate venture capital into the height of fashion.
New Blood, New Challenges
The influx of new entrants into the climate space poses both opportunities and challenges. Amory Poulden, climatetech VC and Founding Principal of D2 Fund, emphasises the market's tipping point. However, not all new players share the same inherent moral drive for climate action.
Armory Poulden, "They are business people first, and climatetech enthusiasts second… the primary motivator for a lot of those individuals is building a durable, large, profitable business; versus going out to save the world."
The Green Movement at a Crossroads
This shift brings the climate old guard into a moment of self-reflection. Are they ready to embrace newcomers with open arms, or does skepticism linger about the newcomers' intentions?
Caldwell in a recent article urged inclusivity, recognising that a broad tent approach fosters success. He draws parallels with the UK's Conservative Party, which maintained its relevance by welcoming diverse voices. For the green movement to thrive, a welcoming attitude towards newcomers is essential.
Fighting Greenwashers and Promoting Accountability
Whilst embracing new participants, ensuring the authenticity and the credibility of climate initiatives is crucial, distinguishing genuine intentions from greenwashing is vital, as is holding those with good intentions accountable.
Learning from the past, Caldwell cautions against oversimplified understandings of climate issues. Newcomers must commit to learning and evolving to avoid inadvertently undermining the cause.
Building a Strong Climate Alliance
Welcoming new entrants is a collective responsibility. Mentorship and guidance will prevent repeating past mistakes and will lead to a sustainable, thriving climate venture capital ecosystem.
To explore the full conversation on the sustainability revolution and the evolving climate Venture Capital landscape, tune in to the Conversations on Climate podcast episode with Amory Poulden.
About United Renewables:
United Renewables is a renowned leader in the renewable energy sector, committed to driving a global energy transition. The company specialises in delivering cutting-edge renewable energy solutions to island communities, empowering small communities and businesses to embrace sustainable practices. Caldwell is also a growing authority in the digital climate debate, as host of the podcast Conversations on Climate.
Conversations on Climate is a joint production of United Renewables and the London Business School Alumni Energy Club.
Episode 1 of Season 2 of the Conversations on Climate Podcast, featuring François Ortalo-Magné Dean of the of London Business School, is available here.
Conversations on Climate brings world-leading thinkers from business and academia together to share their expertise on the subject of climate change. Guests include: Sir Andrew Likierman, Julio Dal Poz, Professor Jean-Pierre Benoît, and Professor Ioannou. Tara Schmidt, Professor Dan Cable, Professor Zoe Chance, Professor Lynda Gratton, Tom Gosling, Eduardo Famini Silva, Dr. Linda Yueh.
All previous episodes can be found here. Related articles can be found here.
CONTACT Isabella Hawke – Sales and Marketing Consultant
COMPANY United Renewables
PHONE +447624457139
EMAIL IIhawke@unitedrenewables.co.uk
WEB unitedrenewables.co.uk/resources
A photo accompanying this announcement is available at https://www.globenewswire.com/NewsRoom/AttachmentNg/0b90da4b-a04f-463b-98ad-0fe6b415d395