New York, Aug. 09, 2023 (GLOBE NEWSWIRE) -- The digital experience platform market is estimated to grow at a CAGR of ~9% from 2023 to 2035. The market is estimated to garner a revenue of nearly USD 17 billion by the end of 2035, up from a revenue of about USD 8 billion in the year 2022. Digital technologies such as the Internet of Things (IoT), artificial intelligence (AI), machine learning and cloud computing are growing in popularity across a wide range of industries. These digital technologies give companies the ability to quickly collect and analyze data to make better decisions and drive more efficient operations.
Request Free Sample Copy of this Report @
https://www.researchnester.com/sample-request-4968
As a result, companies are increasingly relying on digital experience platforms to provide better customer experiences. The DXPs are powerful tools for businesses to create a seamless customer journey and deliver personalized experiences. Therefore, startups in this field invest heavily in R&D to create more efficient and powerful DXPs. Konent.ai invested USD 40 million from Expedition Growth Capital (EGC) to develop artificial intelligence solutions for its content management system "CMS". Organizations are recognizing the importance of delivering seamless and personalized experiences to their customers across different digital channels. DXPs enable businesses to unify and manage content, data, and interactions, providing a cohesive and consistent experience throughout the customer journey.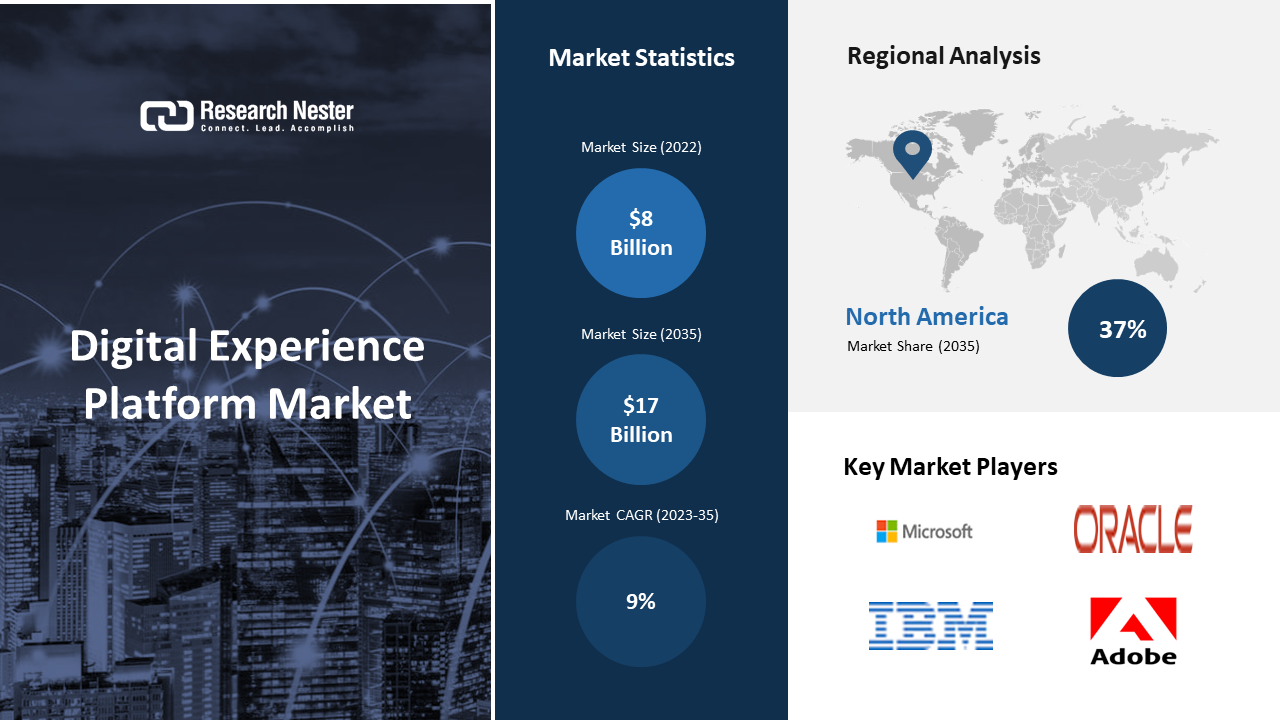 Digital Experience Platform Market: Key Takeaways
Market in North America to propel highest growth
The cloud segment to garner the highest growth
Market in Asia Pacific to grow at a highest rate
Increasing Demand for Streamline Services across the Globe to Boost Market Growth
More than 418 million people worldwide listen to podcasts, including 122 million in the US. By the year 2023, there are expected to be more than 155 million podcast listeners worldwide. Consumers want a streamlined experience when it comes to entertainment and media consumption. This leads to an increased demand for DXPs that give users quick and easy access to podcasts, streaming services and other content. The number of registered top-level domains exceeded 369 million in the third quarter of 2020, while there were more than 320,000 web hosting service providers. As businesses of all sizes use the Internet to create their digital presence, the demand for web hosting services is increasing. This increased demand will increase the need for DXP. Web 2.0 technologies enable users to interact and collaborate in a dynamic and interactive online environment. This allows users to create and share content, including blogs, wikis, and social networking sites, which in turn helps create a more personalized digital experience.
Digital Experience Platform Market: Regional Overview
The digital experience platform market is segmented into five major regions including North America, Europe, Asia Pacific, Latin America, and the Middle East and Africa region.
Expanding Integration with existing systems to Drive the Market Growth in North America Region
The digital experience platform market in North America region is estimated to garner the largest revenue by the end of 2035. Personalized experiences are becoming increasingly important in the digital landscape. A study found that 80% of consumers in North America are more likely to do business with companies that offer personalized experiences. Organizations are leveraging data and analytics to gain actionable insights into customer behavior and preferences. According to a survey, 97.2% of North American executives reported that their firms were investing in data and analytics initiatives.
Seamless integration with existing systems, such as CRM, marketing automation, and e-commerce platforms, is a critical driver for DXP adoption. This integration enables organizations to leverage their existing infrastructure while enhancing digital experiences. Consumers in North America expect seamless and consistent experiences across different channels and touchpoints. A survey found that 73% of North American companies identified delivering an omnichannel customer experience as a strategic priority.
Growing internet penetration and smartphone adoption to Propel the Growth in the North America Region
The Asia Pacific digital experience platform market region is estimated to garner the highest CAGR by the end of 2035. The Asia Pacific region has experienced rapid growth in internet connectivity and smartphone usage, leading to a surge in digital interactions. According to a report, the number of smartphone users in the Asia Pacific region was projected to reach over 2.9 billion by 2023.
Make an Inquiry Before Buying this Report @
https://www.researchnester.com/inquiries-before-buying-4968
The Asia Pacific region has become a major hub for e-commerce and digital commerce. The increasing number of online shoppers and the growth of digital transactions have created a demand for seamless and engaging digital experiences. According to a report, retail e-commerce sales in Asia Pacific were projected to reach USD 2.27 trillion in 2021. Organizations in the Asia Pacific region are recognizing the importance of customer-centric strategies to drive growth and differentiate themselves in the market. Delivering personalized and engaging digital experiences is a key aspect of these strategies. Governments and businesses in the Asia Pacific region are actively investing in digital transformation initiatives to enhance their competitiveness and drive innovation. These initiatives often include improving digital experiences across various touchpoints.
Digital Experience Platform, Segmentation by Deployment Mode
Amongst these segments, the cloud segment in digital experience platform market is anticipated to hold the largest share over the forecast period. The exponential growth of data has led to increased demand for storage and data analytics capabilities. Cloud storage provides scalable and cost-effective solutions for storing and managing large volumes of data. Additionally, cloud-based analytics platforms offer powerful data processing and analysis capabilities. According to IDC, worldwide spending on cloud-based big data and analytics solutions is projected to reach USD 23.1 billion in 2022, indicating the growing adoption of cloud for data storage and analytics needs.
The proliferation of Internet of Things (IoT) devices and the need for edge computing capabilities have driven the growth of cloud services. Cloud computing provides the necessary infrastructure and platforms to handle and process the massive amounts of data generated by IoT devices. Cloud solutions enable organizations to leverage IoT and edge computing to gain valuable insights and drive innovation. The COVID-19 pandemic has accelerated the adoption of remote work and highlighted the importance of cloud technologies for collaboration and productivity. Cloud-based collaboration tools, virtual desktops, and communication platforms have become essential for remote teams.
Digital Experience Platform, Segmentation by Application
Business to Customer
Business to Business
Amongst these segments, the business-to-consumer segment in digital experience platform market is anticipated to hold a significant share over the forecast period. The widespread adoption of smartphones has significantly influenced the B2C segment. Mobile devices have become a primary channel for consumers to interact with businesses, browse products, and make purchases. It was noted that the number of smartphone users worldwide surpassed 3.8 billion in 2021. Businesses are focusing on providing personalized experiences and enhancing customer engagement. Social media platforms have become key channels for businesses to engage with consumers and promote their products. Influencer marketing has gained popularity as businesses collaborate with influencers to reach and connect with their target audiences. Subscription-based business models have witnessed significant growth in the B2C segment. Consumers are increasingly opting for subscription services for products ranging from entertainment (e.g., streaming platforms) to meal kits and beauty products.
Request for Customization of this Report @
https://www.researchnester.com/customized-reports-4968
Digital Experience Platform, Segmentation by Component
Digital Experience Platform, Segmentation by End Use
Retail
BFSI
Travel and Hospitality
IT and Telecom
Healthcare
Manufacturing
Media and Entertainment
Education
Few of the well-known market leaders in the global digital experience platform market that are profiled by Research Nester are Acquia Inc., International Business Machines Corporation, Liferay, Inc., Open Text Corporation, Sitecore, Adobe Inc., Oracle Corporation, SAP SE, IBM Corporation, Microsoft Corporation, and other key market players.
Recent Development in the Market
Oracle Fusion Cloud Human Capital Management (HCM) is the comprehensive human capital management system selected by Bank of Thailand (BOT) to foster an employee-centric digital workforce. With Oracle Cloud HCM, the BOT can automate processes and improve workflows.
In addition to expanding its partner ecosystem, Adobe announced that it will accelerate content velocity and create seamless customer journeys, improving the customer experience for millions of people. This allows them to provide a better user experience, which leads to greater customer retention and satisfaction.
About Research Nester
Research Nester is a one-stop service provider with a client base in more than 50 countries, leading in strategic market research and consulting with an unbiased and unparalleled approach towards helping global industrial players, conglomerates and executives for their future investment while avoiding forthcoming uncertainties. With an out-of-the-box mindset to produce statistical and analytical market research reports, we provide strategic consulting so that our clients can make wise business decisions with clarity while strategizing and planning for their forthcoming needs and succeed in achieving their future endeavors. We believe every business can expand to its new horizon, provided a right guidance at a right time is available through strategic minds.