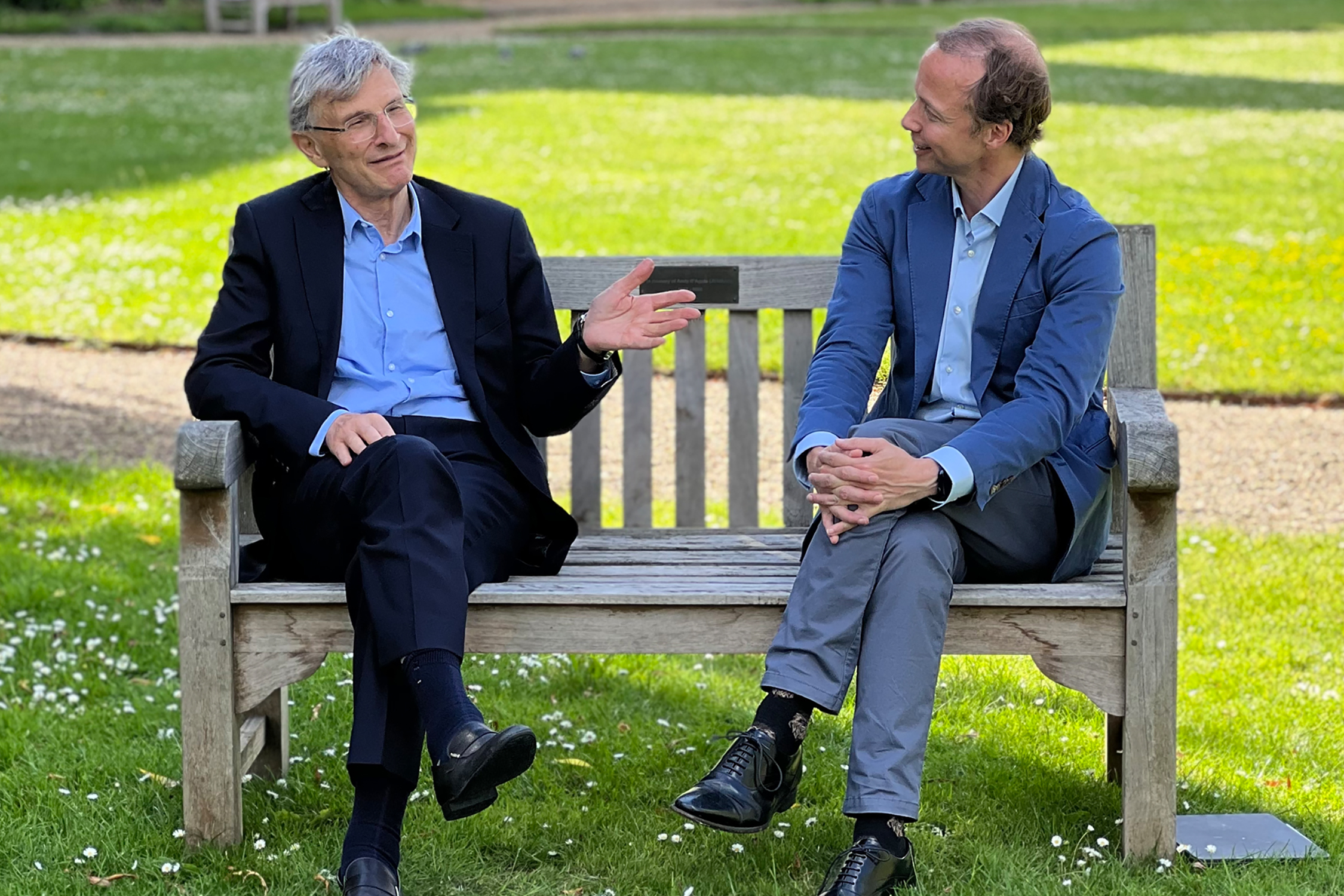 Chris Caldwell United Renewables CEO in conversation with Professor Likierman former Dean of the London Business School
DOUGLAS, Isle of Man, Aug. 16, 2023 (GLOBE NEWSWIRE) -- In today's ever-evolving business arena, staying ahead requires more than mere adaptation; it demands the art of acceleration. Christopher Caldwell, the mastermind behind the Conversations on Climate podcast, takes a deep dive into this dynamic terrain. The key to triumph lies not in just keeping pace, but in pressing the "go faster" button and embracing insights from the crème de la crème of the industry.
Introducing the Conversations on Climate Newsletter: Unveiling the Minds of Business Titans.
Step into the realm of brilliance with the Conversations on Climate Newsletter, your conduit to learning from the brightest luminaries and business leaders worldwide. Crafted to complement and support the Conversations on Climate podcast, this newsletter is a treasure trove of wisdom that unlocks the true potential of both your personal and professional journey.
Navigating Unprecedented Challenges with Invaluable Guidance
In a world brimming with unprecedented challenges and opportunities spurred on by climate change, businesses are on the hunt for innovative avenues to flourish whilst making a positive impact. The Conversations on Climate Newsletter serves as a powerful reservoir, offering an exclusive window into the minds of those at the forefront of transformation. Through captivating interviews, illuminating articles, and in-depth analyses, the newsletter is intricately aligned with the Conversations on Climate podcast, and is meticulously crafted to arm you with the knowledge and inspiration needed to elevate your business prowess.
Why Choose the Conversations on Climate Newsletter and Podcast series?
Expert Insights: Learn from industry experts, thought leaders, and visionaries who are shaping the business landscape. Their experiences and strategies can serve as a blueprint for your own success.

Business Innovation: Stay ahead of the curve by exploring innovative solutions that align business growth with environmental stewardship. Discover how sustainable practices can drive profitability and positive change.

Comprehensive Coverage: From renewable energy to green technologies, sustainable supply chains to circular economy models, both the newsletter and the podcast cover a wide range of topics that impact businesses today and in the future.
How to Access the Conversations on Climate Newsletter:
Signing up for this exclusive newsletter is simple, join the growing community of business leaders committed to accelerating their success while making a positive contribution to the world.
Don't miss out on the opportunity to tap into the wisdom of the best and brightest. Press the "go faster" button for your business by subscribing to the Conversations on Climate Newsletter today.
About Conversations on Climate
Conversations on Climate is a platform dedicated to fostering meaningful discussions on climate change, sustainability, and their impact on businesses. The Conversations on Climate Newsletter provides business professionals with insights, interviews, and thought-provoking content from experts and leaders in various industries. Through this platform, professionals can discover innovative ways to drive business success while contributing to a more sustainable future.
About Christopher Caldwell:
Christopher Caldwell is the visionary CEO and founder of United Renewables, a cutting-edge climate tech startup pioneering innovative solutions to combat greenhouse gas emissions. The Conversations on Climate podcast has garnered esteem within professional circles due to its feature of in-depth interviews with eminent climate change experts. "An alumnus of Yale University and London Business School, Caldwell's passion for sustainability drives him to make a real impact on the world.
About United Renewables:
United Renewables is a renowned leader in the renewable energy sector, committed to driving a global energy transition. The company specialises in delivering cutting-edge renewable energy solutions to island communities, empowering small communities and businesses to embrace sustainable practices. Caldwell is also a growing authority in the digital climate debate, as a thought leader and host of the podcast Conversations on Climate.
For more information and access to this exceptional episode, visit the Conversations on Climate Podcast on Youtube or Podbean platforms.
For all related articles.
Conversations on Climate is a joint production of United Renewables and the London Business School Alumni Energy Club.
Conversations on Climate brings world-leading thinkers from business and academia together to share their expertise on the subject of climate change. Guests include Sir Andrew Likierman, Julio Dal Poz, Professor Jean-Pierre Benoît, Professor Ioannou, Tara Schmidt, Professor Dan Cable, Professor Zoe Chance, Professor Lynda Gratton, Tom Gosling, Eduardo Famini Silva, Dr. Linda Yueh, Yariv Cohen, and François Ortalo-Magné.
All previous episodes can be found here. Related articles can be found here.
CONTACT Isabella Hawke – Sales and Marketing Consultant
COMPANY United Renewables
PHONE +447624457139
EMAIL IIhawke@unitedrenewables.co.uk
WEB unitedrenewables.co.uk/resources
A photo accompanying this announcement is available at https://www.globenewswire.com/NewsRoom/AttachmentNg/8ba86d47-80e7-44cc-9bdb-860cd96ae8d1