New York, Aug. 16, 2023 (GLOBE NEWSWIRE) -- The global web content management market size is slated to expand at ~18.70% CAGR between 2023 and 2035. The market is poised to garner a revenue of USD 70.26 billion by the end of 2035, up from a revenue of ~USD 8.98 billion in the year 2022.With the rise of digitalization, businesses are focusing on providing seamless and personalized digital experiences to their customers. According to a report, by 2023, more than 70% of enterprise organizations will have adopted a digital experience platform (DXP) to improve their digital customer experiences. WCM solutions enable organizations to create, manage, and deliver engaging content across various digital channels, such as websites, mobile apps, and social media platforms.
Request Free Sample Copy of this Report @
https://www.researchnester.com/sample-request-4815
The growing demand for enhanced digital experiences is fueling the adoption of WCM solutions. Customer engagement has become a critical factor in achieving business success. WCM platforms offer features like personalization, targeted messaging, and Omni channel delivery, enabling businesses to engage their customers effectively. By providing relevant and interactive content, companies can attract and retain customers, leading to increased demand for WCM solutions.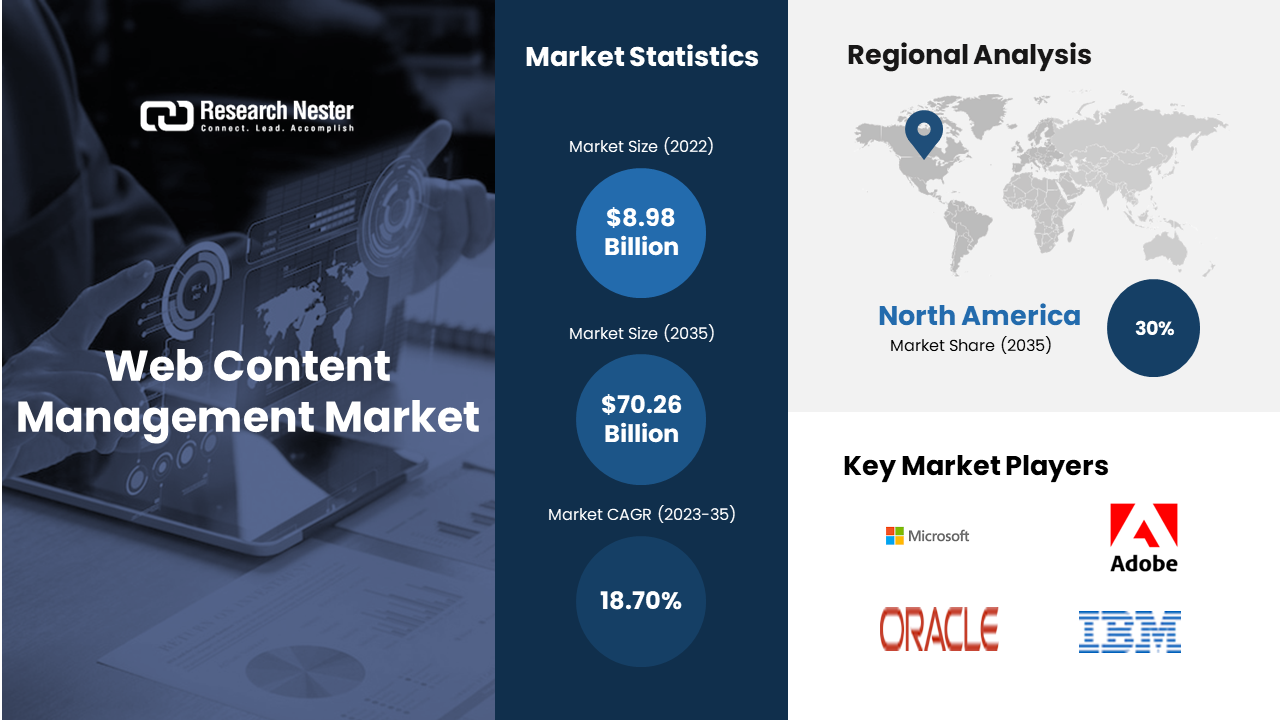 Web Content Management Market: Key Takeaways
Market in North America to propel the highest growth
The social media management segment to garner the highest growth
Market in Asia Pacific to grow at the highest rate
Increasing E-commerce Expansion across the Globe to Boost Market Growth
The rapid growth of e-commerce has created a need for effective content management in the online retail sector. WCM solutions offer features like product catalogs, inventory management, payment integration, and personalized recommendations, helping businesses deliver compelling shopping experiences. As e-commerce continues to expand, the demand for WCM platforms in the retail industry is expected to increase. A report found that in the year 2021, consumers spent nearly USD 792 billion online with U.S. retailers, representing a 32.4% increase compared to the previous year.
WCM systems are often integrated with various digital technologies such as customer relationship management (CRM), marketing automation, analytics, and social media platforms. This integration enables organizations to leverage data insights, automation, and targeted marketing to enhance their digital strategies. The integration capabilities of WCM solutions drive their adoption among businesses. These growth drivers indicate a promising future for the web content management market as organizations recognize the importance of delivering engaging digital experiences and effective content management to stay competitive in the digital era.
Web Content Management Market: Regional Overview
The market is segmented into five major regions including North America, Europe, Asia Pacific, Latin America, and the Middle East and Africa region.
Regulatory Compliance and Data Governance to Propel the Growth in the North America Region
The web content management market in the North American region is estimated to garner the largest revenue by the end of 2035. The growth of the market in this region can primarily be attributed to the fact that Compliance with data privacy regulations, such as the General Data Protection Regulation (GDPR) and the California Consumer Privacy Act (CCPA), is crucial for businesses operating in North America. WCM platforms offer features for data governance, consent management, and content security, aiding organizations in maintaining regulatory compliance.
The adoption of cloud-based WCM solutions is on the rise in North America. Cloud-based platforms offer scalability, flexibility, and cost-effectiveness, allowing businesses to focus on content management without the need for extensive infrastructure investments. The benefits of cloud computing are driving the demand for cloud-based WCM solutions. A report states that 92% of enterprises in North America have a multi-cloud strategy, indicating a significant uptake of cloud services.
Make an Inquiry Before Buying this Report @
https://www.researchnester.com/inquiries-before-buying-4815
Rising Significance of Content Marketing to Drive the Market Growth in Asia Pacific Region
The Asia Pacific web content management market is estimated to garner the highest CAGR by the end of 2035.  The regional growth can majorly be attributed to the rising significance of content marketing. The APAC content industry is growing rapidly. A report found that 60% of APAC marketers plan to increase their content marketing budgets in the coming years. Content marketing has gained significant importance in the Asia Pacific (APAC) region, as businesses recognize its effectiveness in engaging customers, building brand awareness, and driving conversions. The statistics indicate that APAC marketers are increasingly recognizing the importance of content marketing and allocating resources to create high-quality, localized, and engaging content. The adoption of video content, social media distribution, and influencer marketing further contribute to the rising significance of content marketing in the APAC region. Hence, the web content management market in the Asia Pacific region is anticipated to grow notably over the forecast period.
Web Content Management, Segmentation by Application
Website Management
Workflow Management
Social Media Management
Amongst these three segments, the social media management segment is anticipated to hold the largest share over the forecast period. The growth of the segment is due to the increasing focus on social media marketing and advertising. Advertising spending on social media is constantly increasing. As more sellers spend on ads, companies are preparing to allocate more funds to sponsored marketing techniques to stay ahead of the competition. About 77% of B2B and B2C marketers use retargeting ads as part of their Facebook and Instagram ad campaigns. In addition, increasing use of social media is also expected to drive the segment's growth. At around 151 minutes a day, the time that internet users spend on social media is higher than ever before. In addition, the average user switches between seven different social networks every month.
Web Content Management, Segmentation by Deployment
Amongst these two segments, the cloud segment in web content management market is anticipated to hold a significant share over the forecast period. The growth of the segment is attributed to the increasing use of cloud computing and cloud storage. In the United States, about 94% of businesses use cloud services. Additionally, nearly 67% of enterprise infrastructure is currently hosted in the cloud. In addition, around 92% of companies have or are planning a multi-cloud strategy. Because of the encryption, the cloud is extremely secure. This makes the information less accessible to hackers and people who do not have access rights. Most companies store data in the cloud, and nearly half trust its security and reliability enough to store their most important data.
Request for Customization of this Report @
https://www.researchnester.com/customized-reports-4815
Web Content Management, Segmentation by End User
BFSI
IT & Telecommunication, Government
Media & Entertainment
Others
Web Content Management, Segmentation by Component
A few of the well-known industry leaders in the web content management market that are profiled by Research Nester are Open Text Corporation, Microsoft Corporation, Adobe, Inc., IBM Corporation, Oracle Corporation, Optimizely AB, Acquia, Inc., Sitecore Holding II A/S, SDL, Kentico Group, and other key market players.
Recent Development in the Web Content Management Market
SDL announced the launch of SDL Tridion, its intelligent content platform. Accelerate the digital transformation and deliver next-gen digital experiences to consumers, partners, and employees. Significantly increase automation and unify areas of content. It also addresses the issues of content duplication, outdated methods, siled information stores, and inefficient content delivery.
Open Text Corporation announced the launch of a new content services platform, OpenText Core Content, and OpenText Core Case Management. It offers robust records management, case management, APIs, and connections to popular apps.
About Research Nester
Research Nester is a one-stop service provider with a client base in more than 50 countries, leading in strategic market research and consulting with an unbiased and unparalleled approach towards helping global industrial players, conglomerates and executives for their future investment while avoiding forthcoming uncertainties. With an out-of-the-box mindset to produce statistical and analytical market research reports, we provide strategic consulting so that our clients can make wise business decisions with clarity while strategizing and planning for their forthcoming needs and succeed in achieving their future endeavors. We believe every business can expand to its new horizon, provided a right guidance at a right time is available through strategic minds.