DAYTONA BEACH, Fla., Aug. 22, 2023 (GLOBE NEWSWIRE) -- Wawa, Inc., is thrilled to announce today another exciting element of its partnership with NASCAR. During this year's Wawa 250 Powered by Coca-Cola happening on August 25 at Daytona International Speedway, Wawa will be serving as primary sponsor of four NASCAR Xfinity Series teams, with each of the four drivers representing one of Wawa's brand-new Recharger energy drinks. The race will be broadcast live starting at 7:30 p.m. EST on the USA Network.
For the past three years, Wawa has served as the primary sponsor for the NASCAR Xfinity Series race at Daytona International Speedway. Now, Wawa's sponsorship is adding fun and flavor to this year's race as each of the four teams will represent one of Wawa's new Recharger energy drinks. Race enthusiasts and Wawa fans will see the vibrant colors and themes of Mermaid, Dragon Burst, Galaxy, and Island Surf Rechargers zipping around the track. The four teams Wawa is sponsoring at the Wawa 250 Powered by Coca-Cola include:
Natalie Decker, Emerling Gase Racing
Joe Graf Jr., RSS Racing
Brett Moffitt, AM Racing
JJ Yeley, SSGreenLight Racing
"We are thrilled to enhance our continued partnership with NASCAR and support one of the Xfinity Series' most anticipated events with a special sponsorship of four very talented drivers! We look forward to fueling the energy and excitement of this one-of-a-kind superspeedway race with the colors and themes of our new line of Recharger energy drinks!" said Jim Morey, Chief Marketing and Brand Officer for Wawa. "These new drinks match the level of energy and drive that the sport of NASCAR and these drivers, crews, teams and, of course, fans display during these great events."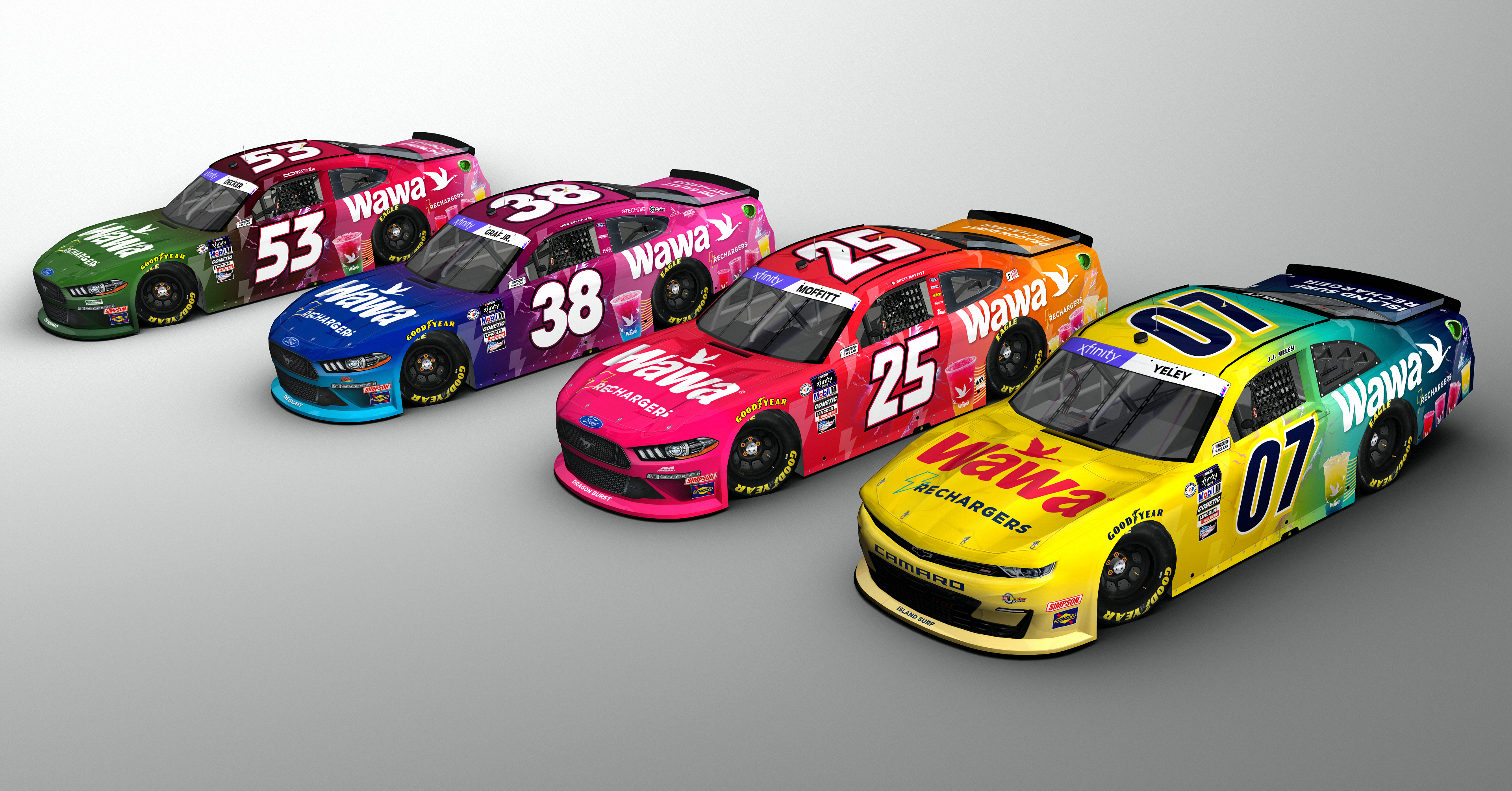 Each year, the Wawa 250 Powered by Coca-Cola has delivered heart-stopping racing and constant action, and the four drivers Wawa is sponsoring will be bringing a whole new level of excitement with Wawa's Recharger energy drinks.
Natalie Decker joins the fray with Emerling Gase Racing. As the only female driver on the track for this race, she carries the spirit and flair of the Mermaid Recharger. "Just like the mythical mermaid, we're diving deep into this race with grace and determination. Daytona under the lights is mesmerizing, much like the allure of the deep sea. Racing at the world's racing capital is always a dream, and with Wawa's Mermaid Recharger by our side, we're aiming to make some waves!"
Brett Moffitt of AM Racing brings the heat of the Dragon Burst Recharger. With playoffs on the horizon, Moffitt's determination to secure a win at Daytona is palpable. "The Dragon Burst Recharger is all about fiery energy, and that's exactly what we're bringing to Daytona. I'm on the edge, needing this win to burst into the playoffs. Racing under Daytona's lights is electrifying, and with the power of the dragon, we're ready to soar and claim victory."
Joe Graf Jr., a proud New Jersey native just like Wawa, carries his state's pride and the cosmic energy of the Galaxy Recharger. "Being from New Jersey, I'm thrilled to represent Wawa at Daytona this weekend. I'm going to use the energy of the Galaxy Recharger and the cosmic alliance of one of my favorite brands and one of my favorite tracks to power through to a solid finish."
And last, but by no means least, NASCAR Cup Series veteran JJ Yeley will pull double duty at Daytona, in both the Xfinity and Cup Series. Riding the wave of the Island Surf Recharger, Yeley's seasoned experience will be one to watch. "Pulling double duty at Daytona is always a rush, much like catching the perfect wave. With the refreshing spirit of the Island Surf Recharger, I'm ready to ride the tide of excitement. Daytona under the lights? It's a surfer's dream of speed and rhythm at the world's racing capital."
The Wawa 250 Powered by Coca-Cola at Daytona isn't just another race; it's a culmination of speed, strategy, and flavor! Wawa's decision to sponsor four teams in their namesake race emphasizes their dedication to motorsport and their fans. Join us under the lights of Daytona International Speedway or tune into the USA Network to experience the thrill of racing, flavored by Wawa.
About Wawa, Inc.
Wawa, Inc., a privately held company, began in 1803 as an iron foundry in New Jersey. Toward the end of the 19th Century, owner George Wood took an interest in dairy farming and the family began a small processing plant in Wawa, PA in 1902. The milk business was a huge success, due to its quality, cleanliness and "certified" process. As home delivery of milk declined in the early 1960s, Grahame Wood, George's grandson, opened the first Wawa Food Market in 1964 as an outlet for dairy products. Today, Wawa is your all day, every day stop for freshly prepared foods, beverages, coffee, fuel services and surcharge-free ATMs. Wawa stores are located in Pennsylvania, New Jersey, Delaware, Maryland, Virginia, Florida and Washington, D.C. The stores offer a large fresh foodservice selection, including Wawa brands such as custom prepared hoagies, freshly-brewed coffee, hot breakfast sandwiches, specialty beverages and an assortment of soups, sides and snacks. Forbes.com ranks Wawa as #24 of America's Largest Private Companies in 2022, #12 on Forbes 100 Halo List in 2022, and one of Forbes 2023 America's Best Employers for New College Graduates and Women. For more information, visit us on www.wawa.com or follow us on Facebook, Twitter or Instagram @wawa. 
A photo accompanying this announcement is available at https://www.globenewswire.com/NewsRoom/AttachmentNg/283e2be0-b90d-4887-aa94-2c2628b34c0f