VANCOUVER, British Columbia, Aug. 29, 2023 (GLOBE NEWSWIRE) -- Foremost Lithium Resource & Technology Ltd. (NASDAQ: FMST) (CSE: FAT) ("Foremost Lithium", "Foremost" or the "Company"), a North American hard-rock lithium exploration company, has undertaken an extensive summer exploration program on its "Lithium Lane Properties", near the historic mining center of Snow Lake, Manitoba.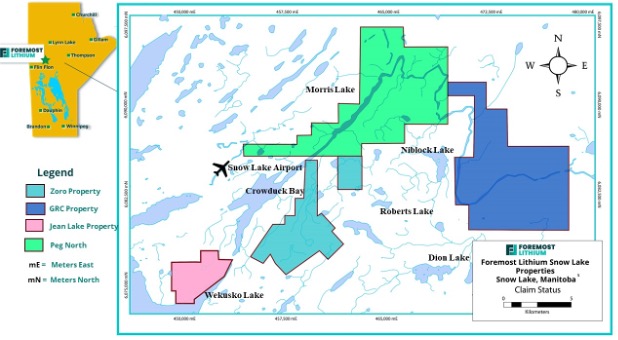 Fig. 1 Lithium Lane Claim Map

Dahrouge Geological Consulting Ltd. ("DGC"), is conducting a large-scale surface exploration program on Foremost's four Lithium Lane properties for Lithium Cesium Tantalum ("LCT") pegmatites which includes:
Targeted geochemical sampling and geological mapping

Prospecting and rock sampling over priority target areas

MMI-soil or till sampling of target areas lacking outcrop

Detailed geological mapping in highly prospective zones, and data captured using ESRI Field Maps.
DGC has applied its established targeting methodology to Foremost's extensive geological database, integrating historical and recent exploration records to highlight high-priority targets. The program's focus includes properties that are either under-explored or have good potential for discovering additional LCT pegmatites.
Jason Barnard, Foremost President, and CEO comments "Preliminary assessment on our Lithium Lane Properties provided from Dahrouge are encouraging for discovery of further LCT pegmatites. The properties are certainly not short on potential targets, and we look forward for results of this exploration program to help delineate drill targets on all our Lithium Lane Properties".
Peg North Property
The Peg North Project consists of 28 contiguous claims, totaling 16,697 acres/6,757 hectares.
Peg North hosts significant potential for lithium mineralization, given its proximity to the Wekusko Pegmatite Fields and its position along strike of the Thompson Brothers Lithium Deposit and the Crowduck Bay Fault ("CBF"). Spodumene-bearing LCT pegmatite has been historically associated with the CBF.
High-resolution magnetic data acquired and processed by EarthEx Geophysical Solutions has identified a substantial sinistral fault on the eastern side of the property, accompanied by a magnetically depleted zone at its southern boundary. Notably, this fault has not been documented in regional government mapping. The structure attains a width of approximately 50 meters, extending upwards of three kilometers in a northerly direction within the property. Its presence indicates the possibility of it being a potential conduit for LCT mineralization, thus warranting further exploration.
Historical records from the Geological Survey of Canada (GSC) in 1949 confirm the existence of five pegmatites on the property. Furthermore, historical sampling records from 1981 suggest the presence of numerous additional pegmatites. The property has not been subjected to substantial LCT Pegmatite exploration, making it a focus for the 2023 surface exploration initiatives.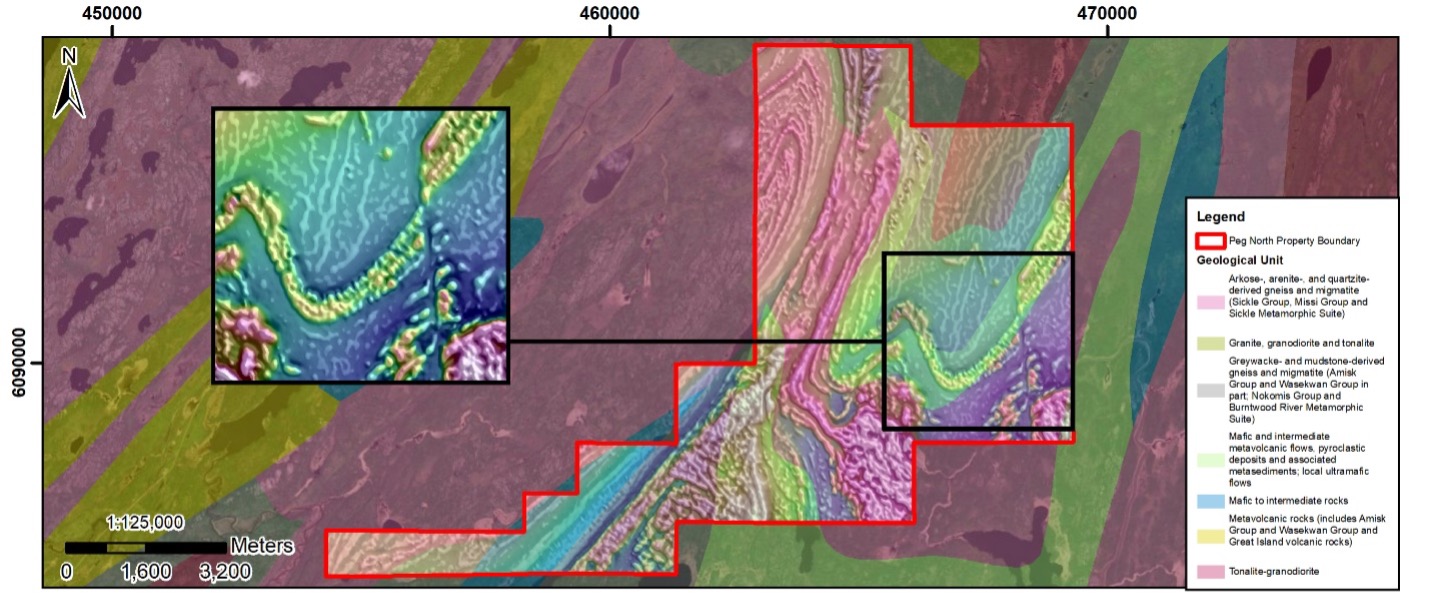 Fig. 2 Peg North Magnetic Map Highlighting a Prominent Sinistral N-S Fault.

Grass River Property
The "GRC" Project consists of 29 contiguous claims totaling 15,664 acres/6,339 hectares.
A total of 10 pegmatites have been identified on the property. These pegmatites were not well documented in historical literature, warranting further exploration. Historical exploration on the property includes 69 drillholes specifically targeting base metal mineralization. Among these 69 drillholes are 19 pegmatite intersections, seven of which are drill-indicated spodumene-bearing pegmatites. These intersections provide additional evidence of LCT pegmatite mineralization on the property.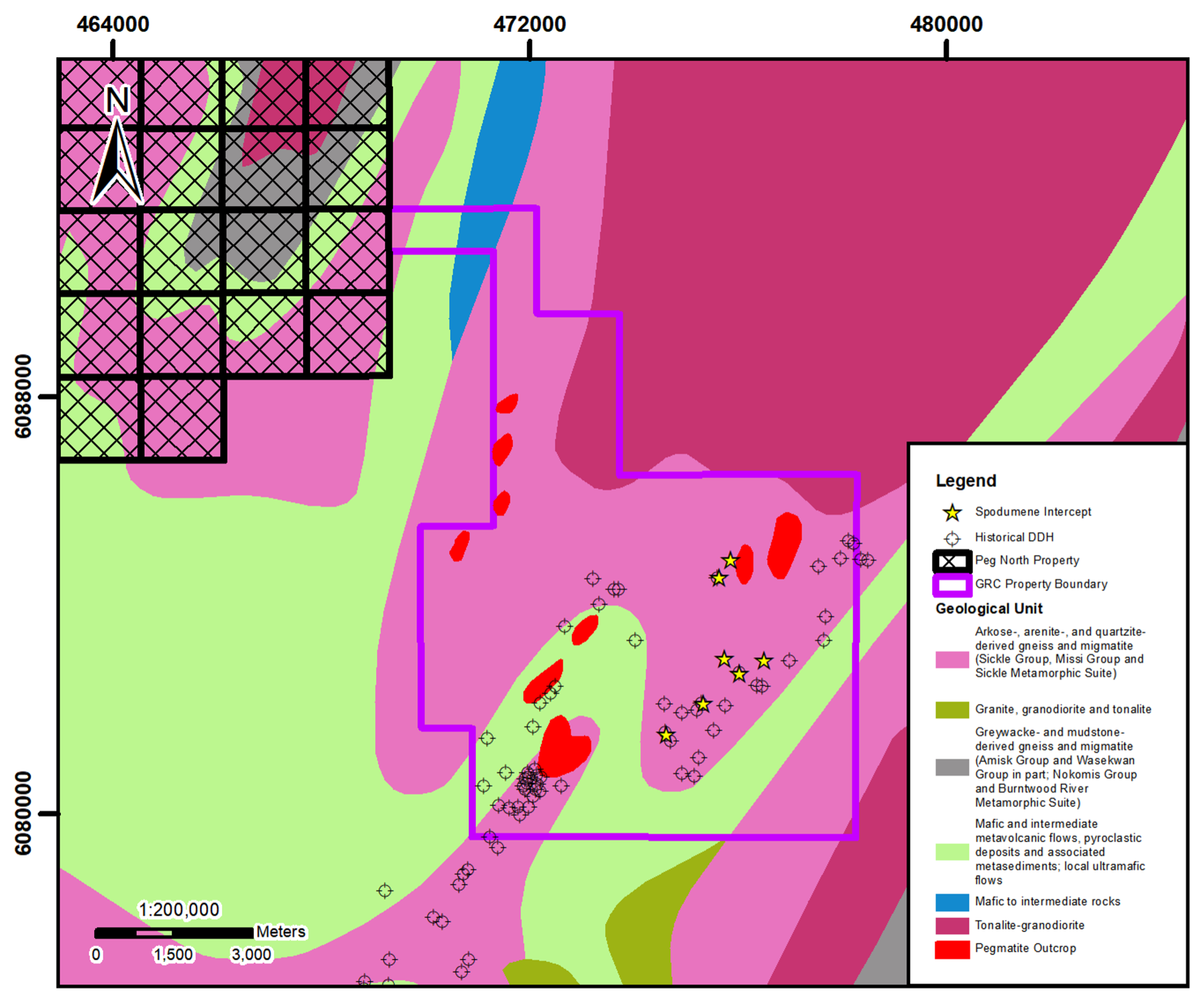 Fig. 3 Grass River Property Geology

The Zoro Property
The Zoro Property consists of 16 claims totaling 8,377-acre /3,390-hectares.
It is comprised of three option agreements including The Zoro 1, which hosts a high-grade partially outcropping lithium bearing spodumene pegmatite within Dyke 1. This dyke hosts an inferred resources of 1,074,567 tons at a grade of 0.91% Li2O, with a cut-off of 0.3% in accordance with the Company's SK-1300 Technical Report Summary (2023) and NI-43101 Technical Report titled "NI 43-101 Technical Report on the Zoro Lithium Project, Snow Lake, Manitoba" Fedikow and Zelligan (2018). The company has earned 100% undivided interest in all minerals on the option agreement.
Two additional option agreements on the Zoro Property host 15 additional spodumene-bearing pegmatite dykes discovered to date. Foremost has earned 100% interest in all lithium bearing pegmatite dykes, with the balance of the mining rights, including precious metals, owned by an armed length party.
The property was recently surveyed with UAV-borne magnetic and Lidar surveys conducted EarthEx Geophysical between May 28 and June 15, 2022, and comprised 1,264.7-line km. Dyke 1 and Dyke 8, are the most prominent dykes on Zoro, as they remain open at depth and along strike and the survey results, along with further summer exploration, will provide a base map for targeting for planned follow-up drilling to assess both dykes with the goal of expanding existing resource.
Jean Lake Property
The Jean Lake Property consists of five contiguous claims totaling 2,476 acres/1,002 hectares.
The property contains three pegmatites: B1, B2, and B3. The B1 and B2 pegmatites contain coarse-grained spodumene, confirmed by 2023 drilling. Results include 1.26% Li2O over a length of 3.35 metres in drill hole FM23-01A. Additionally, hand samples have returned assays of 3.89% to 5.17% in two samples from pegmatite dyke B1 and 3.81% to 4.74% Li2O in three samples from pegmatite dyke B2. Further assessment will be conducted on the Jean Lake Property to assess B1, B2 and B3 and their strike extensions.
Foremost will provide updates on the exploration progress and results, on subsequent news releases.
The technical content of this news release has been reviewed and approved by Dr. Mark Fedikow, P.Geo. who is a Qualified Person within the meaning of SK-1300/ NI 43-101.
On Behalf of the Board of Directors
Jason Barnard, President and CEO
Email: info@foremostlithium.com
Phone: +1 (604) 330-8067
About Foremost Lithium
Foremost Lithium is a hard-rock lithium exploration company focused on empowering the North American clean energy economy. Foremost's strategically located lithium properties extend over 43,000 acres in Snow Lake, Manitoba, and It's Lac Simard South property in Quebec extends over 11,400 acres, in known active lithium camps.
Foremost's four flagship Lithium Lane Projects as well as its Lac Simard South project are situated at the tip of the NAFTA superhighway to capitalize on the world's growing EV appetite, strongly positioning the Company to become a premier supplier of North America's lithium feedstock. As the world transitions towards decarbonization, the Company's objective is the extraction of lithium oxide (Li₂O), and to subsequently play a role in the production of high-quality lithium hydroxide (LiOH), to help power lithium-based batteries, critical in developing a clean-energy economy. Foremost Lithium also has the Winston Gold/Silver Property in New Mexico USA. Learn More at www.foremostlithium.com.
Follow us or contact us on social media:
Twitter: @foremostlithium
Linkedin: https://www.linkedin.com/company/foremost-lithium-resource-technology/
Facebook: https://www.facebook.com/ForemostLithium
Forward-Looking Statements
This news release contains "forward-looking statements" and "forward-looking information" (as defined under applicable securities laws), based on management's best estimates, assumptions, and current expectations. Such statements include but are not limited to, statements with respect to the plans for future exploration and development of the Company's properties and the acquisition of additional exploration projects. Generally, these forward-looking statements can be identified by the use of forward-looking terminology such as "expects", "expected", "budgeted", "forecasts", "anticipates" "plans", "anticipates", "believes", "intends", "estimates", "projects", "aims", "potential", "goal", "objective", "prospective", and similar expressions, or that events or conditions "will", "would", "may", "can", "could" or "should" occur. These statements should not be read as guarantees of future performance or results. Such statements involve known and unknown risks, uncertainties and other factors that may cause actual results, performance or achievements to be materially different from those expressed or implied by such statements, including but not limited to: risks related to the receipt of all necessary regulatory and third party approvals for the proposed operations of the Company's business and exploration activities; risks related to the Company's exploration properties; risks related to international operations; risks related to general economic conditions; actual results of current exploration activities; unanticipated reclamation expenses; changes in project parameters as plans continue to be refined; fluctuations in prices of commodities including lithium and gold; fluctuations in foreign currency exchange rates; increases in market prices of mining consumables; possible variations in reserves; failure of plant, equipment or processes to operate as anticipated; accidents, labour disputes, title disputes, claims and limitations on insurance coverage and other risks of the mining industry; delays in the completion of exploration, development or construction activities; changes in national and local government regulation of mining operations; tax rules and regulations; and political and economic developments in jurisdictions in which the Company operates. Although the Company has attempted to identify important factors that could cause actual results to differ materially from those contained in forward-looking statements, there may be other factors that cause results not to be as anticipated, estimated or intended. There can be no assurance that such statements will prove to be accurate, as actual results and future events could differ materially from those anticipated in such statements. The forward-looking statements and forward-looking information are made as of the date hereof and are qualified in their entirety by this cautionary statement. The Company disclaims any obligation to revise or update any such factors or to publicly announce the result of any revisions to any forward-looking statements or forward-looking information contained herein to reflect future results, events, or developments, except as require by law. Accordingly, readers should not place undue reliance on forward-looking statements and information. Please refer to the Company's most recent filings under its profile at www.sedar.com for further information respecting the risks affecting the Company and its business.

The Canadian Securities Exchange has neither approved nor disapproved the contents of this news release and accepts no responsibility for the adequacy or accuracy hereof.
Photos accompanying this announcement are available at
https://www.globenewswire.com/NewsRoom/AttachmentNg/855682b5-fef1-429c-a36f-1780df7adaf5
https://www.globenewswire.com/NewsRoom/AttachmentNg/b86aa368-3ffa-4fa8-ae7b-8f1c678e5367
https://www.globenewswire.com/NewsRoom/AttachmentNg/1424b695-101c-4a4e-b153-6c15d3a197bc