BIRMINGHAM, United Kingdom, Aug. 31, 2023 (GLOBE NEWSWIRE) -- CIRRO Fulfillment, a leading e-commerce fulfillment service provider, is excited to announce its participation in the upcoming Autumn Fair, the UK's premier marketplace for wholesale home, gift, and fashion. The event will occur at the NEC Birmingham from September 3 to September 6, 2023.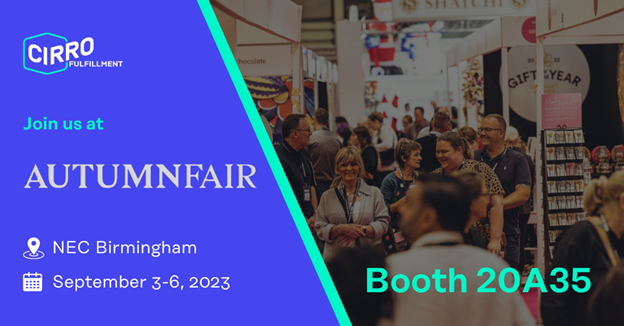 Autumn Fair is a go-to event for industry professionals seeking the latest products, suppliers, and trends; this year, it is projected to have over 3,000 buyers and a comprehensive showcase of more than 600 exhibitors, fostering an anticipated 10,000 connections. 
CIRRO Fulfillment stands out as a distinctive presence at the Autumn Fair, offering top-notch fulfillment and customized supply chain solutions for the retail and wholesale industry. With a network spanning over 30 countries and comprising 80 fulfillment centers, the company's collective warehousing capacity surpasses 1,200,000 square meters. Notably, this comprehensive network includes cutting-edge intelligent fulfillment centers in the UK and the U.S. Supported by a dedicated workforce exceeding 3,000 skilled professionals, CIRRO Fulfillment effectively manages an impressive daily order volume exceeding 400,000 orders. Backed by 15 years of experience serving the home, gift, and fashion sectors, the company deeply understands logistics and supply chain operations challenges.
Charles Lu, Head of Business Development, expounded, "Our comprehensive fulfillment services empower you to focus on expanding your business while we adeptly manage day-to-day operations. Our flexibility ensures we can scale alongside your growth, adapting to your evolving needs. Working with us can help you easily tackle your challenges during the following busy seasons such as Amazon Prime, Black Friday, Pre-Christmas rush, and January Sales."
CIRRO Fulfillment cordially invites all to visit stand 20A35 during the Autumn Fair in Birmingham. This presents an exclusive opportunity to delve into the comprehensive fulfillment services and witness how the company utilizes Automatic Mobile Robots to streamline operations, optimize efficiency, and elevate customer service.
Website:
www.cirroglobal.com/fulfillment
About CIRRO Fulfillment:
CIRRO Fulfillment is a leading e-commerce fulfillment service provider that offers comprehensive, high-standard, and customized supply chain solutions, with a focus on warehouse and international logistics services. Currently, there are more than 4,000 active clients using our fulfillment service in over 80 fulfillment centers.
A photo accompanying this announcement is available at https://www.globenewswire.com/NewsRoom/AttachmentNg/4d4ee673-7eac-471f-b8e6-5a32ed4978b1