New York, Aug. 31, 2023 (GLOBE NEWSWIRE) -- The global Contactless Biometrics Technology market size is slated to expand at ~ 20 % CAGR between 2023 and 2035. The market is poised to garner a revenue of USD 50 billion by the end of 2035, up from a revenue of ~USD 10 billion in the year 2022. The abrupt outbreak of the global pandemic upheld the popularity of contactless technologies such as automation and contactless biometrics-driven identity management systems that enable user authorization without a human touching any machine sensors for health and safety reasons to avert virus containment.
Request Free Sample Copy of this Report @
https://www.researchnester.com/sample-request- 3924
Post-pandemic, this led to the speedy replacement of touch-based technologies such as the use of fingerprints on elevator buttons, smartphones, and door handles, and together with the emergence of biometric identification through contactless sensors enabling facial recognition, ear recognition, iris recognition, hand vein capturing, gait recognition, and voice recognition. All these advancements are massively responsible for the uptrend in the utilization of a variety of non-contact biometric technology, which is anticipated to propel market growth in the forecast period. For instance, ~64% of airports are aiming to roll out self-boarding gates using biometrics and ID documentation by 2023.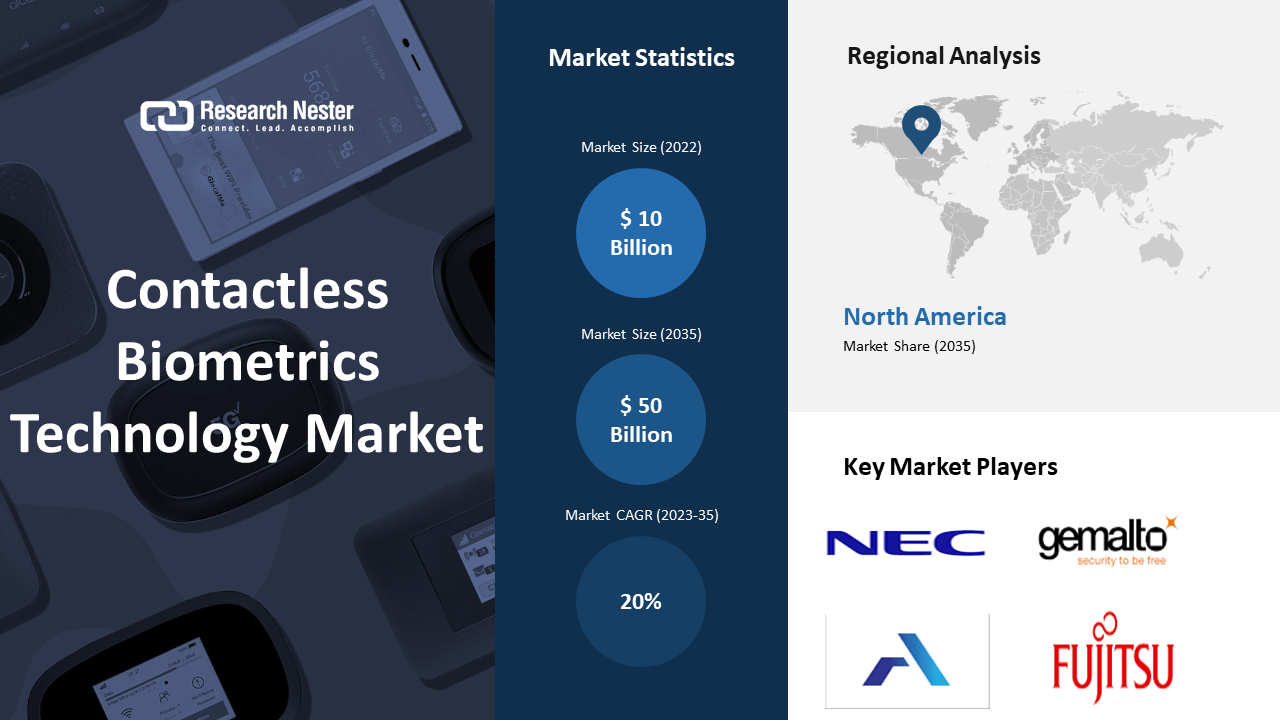 Global Contactless Biometrics Technology Market: Key Takeaways
Market in North America to propel the highest growth
Government segment to garner the highest growth
Market in Asia Pacific to grow at the highest rate
Growing Adoption of Advanced Technologies to Boost Market Growth
With the growing role of smart technologies such as QR scanning, near-field communication involving 5G and IoT, biometric facial recognition, and thermal scanning technologies, as well as increased investment in artificial intelligence (AI), machine learning (ML), and big data, the biometric algorithm is expected to evolve contactless solutions for facilitating authentication, access control, payment, and fraud prevention in man The global total corporate investment in artificial intelligence (AI) in 2021 accounted for around USD 94 billion showing a sharp rise from 2020. According to one report, from the pandemic to July 2020, there was a 136% increase in contactless transactions in the United States, promoting digital services and digital transactions. Moreover, face-recognition technologies combined with real-time emotion detection technology and upcoming health monitoring and caretaking robots are gaining popularity in the healthcare sector, enabling improved security and patient identification, better patient monitoring and diagnosis, as well as an improved patient experience, besides a reduction in the workload of healthcare workers.
Global Contactless Biometrics Technology Market: Regional Overview
The global contactless biometrics technology market is further divided into given major regions. This includes North America, Europe, Asia Pacific, Latin America, and the Middle East and Africa region. 
Rising Security Threats to Drive the Growth in the North America Region
The contactless biometrics technology market in the North American region is estimated to garner the largest revenue by the end of 2035. The rising security concern as well as increasing government spending on homeland security and emergency management to curb terrorism and other cross-border illegal activities in the region is leading to the increasing adoption of various identification and authentication methods as well as surveillance solutions. Military spending in the United States increased in 2020, accounting for over USD 750 billion, a rise of ~USD 20 billion from 2019 and more than USD 50 billion from 2018. Moreover, the growing use of facial and iris recognition at airport security, besides the increasing use of contactless biometric cards for banking and financial services, is also expected to contribute to the growth of the market in the region.
Rising Concerns about Illegal Immigration to Drive Growth in Asia Pacific Region
The contactless biometrics technology market in the Asia Pacific region is estimated to garner the highest CAGR by the end of 2035. The market growth in the region in the forecast period can be attributed to the growing concern over illegal immigrants with rising intraregional migrations as well as the increasing number of terrorist activities in the region. As per a 2020 report, Asia was home to over 4.5 billion people and was also the origin of more than 40% of the world's international migrants, which accounted for ~115 million. Besides this, the subsequent commercialization of the biometrics industry resulting from government initiatives such as India's Aadhaar or China's CRIC (Resident Identity Card) as well as the rising threat of the communal spread of the future wave of COVID-19 in the Asia Pacific region are expected to boost the robust market growth of contactless biometrics technology market in the region.
Make an Inquiry Before Buying this Report @
 https://www.researchnester.com/inquiries-before-buying- 3924
The study further incorporates Y-O-Y growth, demand & supply and forecast future opportunity in:  
North America (U.S., Canada)  
Europe (U.K., Germany, France, Italy, Spain, Hungary, Belgium, Netherlands & Luxembourg, NORDIC [Finland, Sweden, Norway, Denmark], Poland, Turkey, Russia, Rest of Europe)  
Latin America (Brazil, Mexico, Argentina, Rest of Latin America)  
Asia-Pacific (China, India, Japan, South Korea, Indonesia, Singapore, Malaysia, Australia, New Zealand, Rest of Asia-Pacific)  
Middle East and Africa (Israel, GCC [Saudi Arabia, UAE, Bahrain, Kuwait, Qatar, Oman], North Africa, South Africa, Rest of Middle East and Africa). 
Global Contactless Biometrics Technology, Segmentation by End-User
Government
Banking & Finance
Consumer Electronics
Healthcare
Transport & Logistics
Defense & Security
Others
The government segment is anticipated to hold the largest revenue by the end of 2035. The increasing efforts by the governments of various countries globally to minimize and control criminal activities, terrorism, and drug trafficking are primarily leading to the adoption of biometric data technology such as fingerprint, face, iris, vein, voice, DNA, palm prints, hand geometry, signatures, and a number of behavioral features to recognize a person's specific physical attributes, and behavioral attributes are expected to boost the segment in the forecast period. According to research, each year, violent crimes in the United States hover somewhere between 1 and 1.5 million, whereas burglary reports total over 2 million each year.
Request for Customization of this Report @
https://www.researchnester.com/customized-reports- 3924
Global Contactless Biometrics Technology, Segmentation by Application
Identity Verification
Payments & Transactions
Access Control
The identity verification segment is anticipated to hold the largest revenue by the end of 2035. The factors applicable to the growth of the segment include the burgeoning number of identity theft complaints worldwide, the escalating employment of artificial intelligence in the digital world, the surge in deployment of remote cloud-based services, and the rising penetration of smartphones and wearables, besides the downturn in popularity of letter-number-special-character password combinations, all of which are projected to offer ample growth opportunities to the segment in the projected time period. As per findings, more than 6 billion people were using smartphones in 2021, up from 5.5 billion in 2019. Moreover, more than 50% of the population in the United States uses password-less identification systems, which have gained popularity since 2019. Furthermore, approximately 15 million Americans complained about their stolen identity in 2021.
Global Contactless Biometrics Technology, Segmentation by Component
A few of the well-known market leaders in the global contactless biometrics technology market that are profiled by Research Nester are Fingerprint Cards AB, NEC Corporation, Gemalto N.V., Aware Inc., Touchless Biometric Systems AG, Fujitsu Limited, IDEMIA, NVIAsoft Corporation, HID Global, M2SYS Technology, and other key market players.
Recent Development in the Global Contactless Biometrics Technology Market
Vienna Airport deployed biometrics solutions for contactless boarding. The solutions are provided by NEC Corporation.
Fingerprint Cards, a Swedish biometrics company with Seshaasai, a private limited company focused on secure and versatile technology-driven solutions agreed for bringing contactless biometric payment cards to the Indian market.
About Research Nester
Research Nester is a one-stop service provider with a client base in more than 50 countries, leading in strategic market research and consulting with an unbiased and unparalleled approach towards helping global industrial players, conglomerates and executives for their future investment while avoiding forthcoming uncertainties. With an out-of-the-box mindset to produce statistical and analytical market research reports, we provide strategic consulting so that our clients can make wise business decisions with clarity while strategizing and planning for their forthcoming needs and succeed in achieving their future endeavors. We believe every business can expand to its new horizon, provided a right guidance at a right time is available through strategic minds.