WAWA, Pa., Aug. 31, 2023 (GLOBE NEWSWIRE) -- Wawa announced today two significant milestones in the company's electric vehicle journey, including reaching its 150th store offering Electric Vehicle (EV) charging across its operating area and launching its first battery-electric truck in partnership with Penske Logistics.
First, the convenience retailer continues to increase the number of stores hosting EV charging stations to increase charging access and convenience to drivers of electric vehicles. Wawa began hosting EV charging at its first store in 2017. Wawa now offers Tesla Superchargers, and EV chargers with both CCS and CHAdeMO connectors, through providers like EVgo, ChargePoint, and Electrify America. To date, Wawa has hosted over six (6) million charging sessions across its network of EV charging locations since 2017. Today, Wawa stores host more Tesla Superchargers than any other retail chain in North America.
Second, in a new way to expand on its EV journey, Wawa is partnering with Penske to operate a Freightliner eCascadia battery-electric truck as part of a 6-month pilot program. This is the first electric truck used in Wawa's history and the very first Penske truck of this kind in the Philadelphia region. Wawa and Penske will test and learn more about this emerging new technology to consider future application or expansion to its delivery fleet.

"It gives us great pride to cut a ribbon on our 150th store offering EV charging faster than we anticipated, and to continue to grow the number of stores we have hosting EV charging," said Brian Schaller, President, Wawa. "We're also thrilled to spread our wings in the electric vehicle space by testing our first electric truck with Penske that will allow us to learn more about our continued efforts to have a positive impact on our EV journey."

Jeff Jackson, Penske Logistics executive vice president of operations dedicated contract carriage stated: "We are very pleased to support our longtime customer Wawa with their sustainability journey in their fresh channel supply chain. We have depth and breadth of experience in this area."
For a complete list of Wawa stores hosting EV charging please see the location finder on Wawa.com or the Store Amenities in the Wawa App.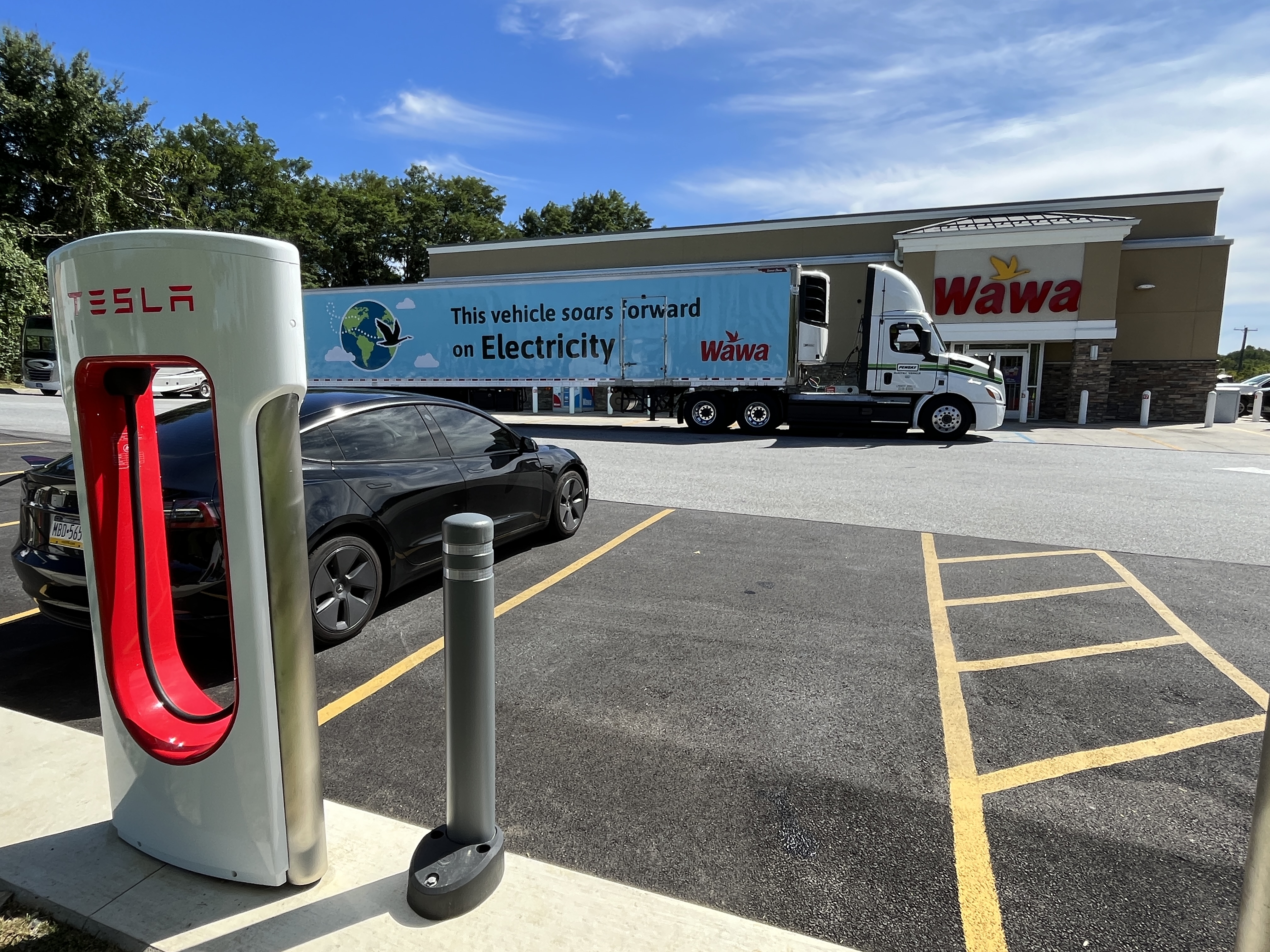 About Wawa, Inc.
Wawa, Inc., a privately held company, began in 1803 as an iron foundry in New Jersey. Toward the end of the 19th Century, owner George Wood took an interest in dairy farming and the family began a small processing plant in Wawa, PA in 1902. The milk business was a huge success, due to its quality, cleanliness and "certified" process. As home delivery of milk declined in the early 1960s, Grahame Wood, George's grandson, opened the first Wawa Food Market in 1964 as an outlet for dairy products. Today, Wawa is your all day, every day stop for freshly prepared foods, beverages, coffee, fuel services and surcharge-free ATMs. Wawa stores are located in Pennsylvania, New Jersey, Delaware, Maryland, Virginia, Florida and Washington, D.C. The stores offer a large fresh foodservice selection, including Wawa brands such as custom prepared hoagies, freshly-brewed coffee, hot breakfast sandwiches, specialty beverages and an assortment of soups, sides and snacks. Forbes.com ranks Wawa as one of the Best Employers for Women and New College Grads in 2023 and as #23 of America's Largest Private Companies in 2020. For more information, visit us on www.wawa.com or follow us on Facebook, Twitter or Instagram at @wawa.
CONTACT: public.relations@wawa.com
A photo accompanying this announcement is available at https://www.globenewswire.com/NewsRoom/AttachmentNg/84dd567b-be14-4cc0-8962-5837026f6691