Beijing, China, Sept. 13, 2023 (GLOBE NEWSWIRE) -- Hosted by the United Nations Environment Programme (UNEP), the Second Policy and Outlooks Authors Meeting for the Seventh Global Environment Outlook (GEO-7) was held on September 4-7, 2023. Participants from more than 30 countries and regions met in Shanghai to discuss the trends and prospects of global environmental governance. China's leading autonomous driving company MOGO,as the Exclusive Official Vehicle for Automated Driving at The GEO-7, MOGO BUS is proud to provide shuttle service in the field trip during the event.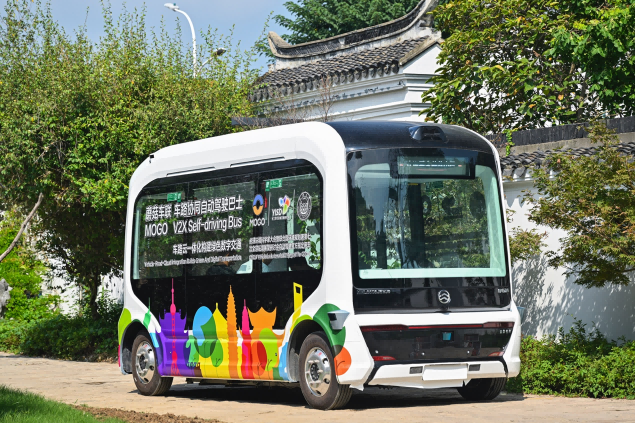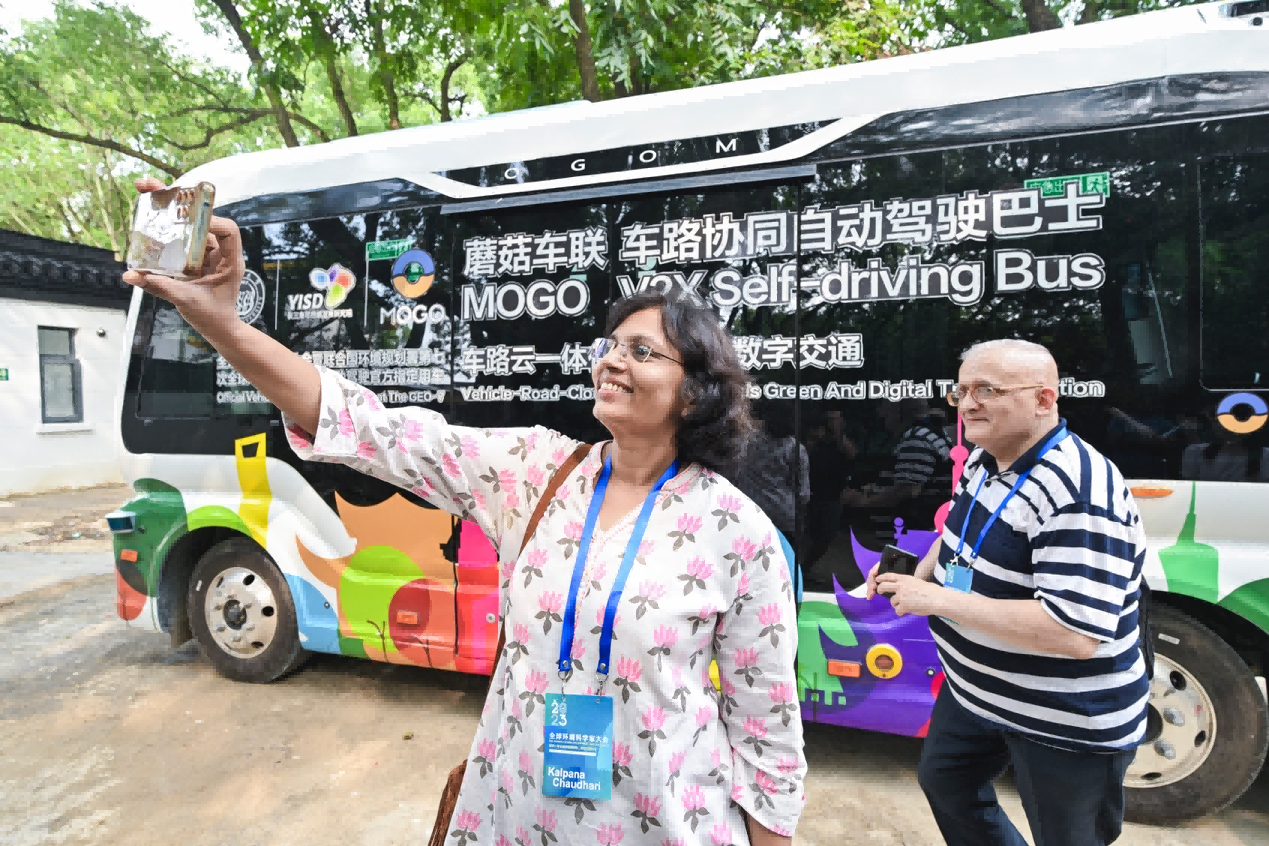 MOGO BUS, the Official Vehicle for Automated Driving at The GEO-7
As an important part of the meeting, participants from Shanghai Municipal Government, Ministry of Education, Ministry of Ecology and Environment, Ministry of Science and Technology, and National Development and Reform Commission, as well as renowned environmental scientists from all over the world had a field trip at YISD by MOGO BUS. This is the first time that self-driving service has been used at UNEP's GEO-7 meeting.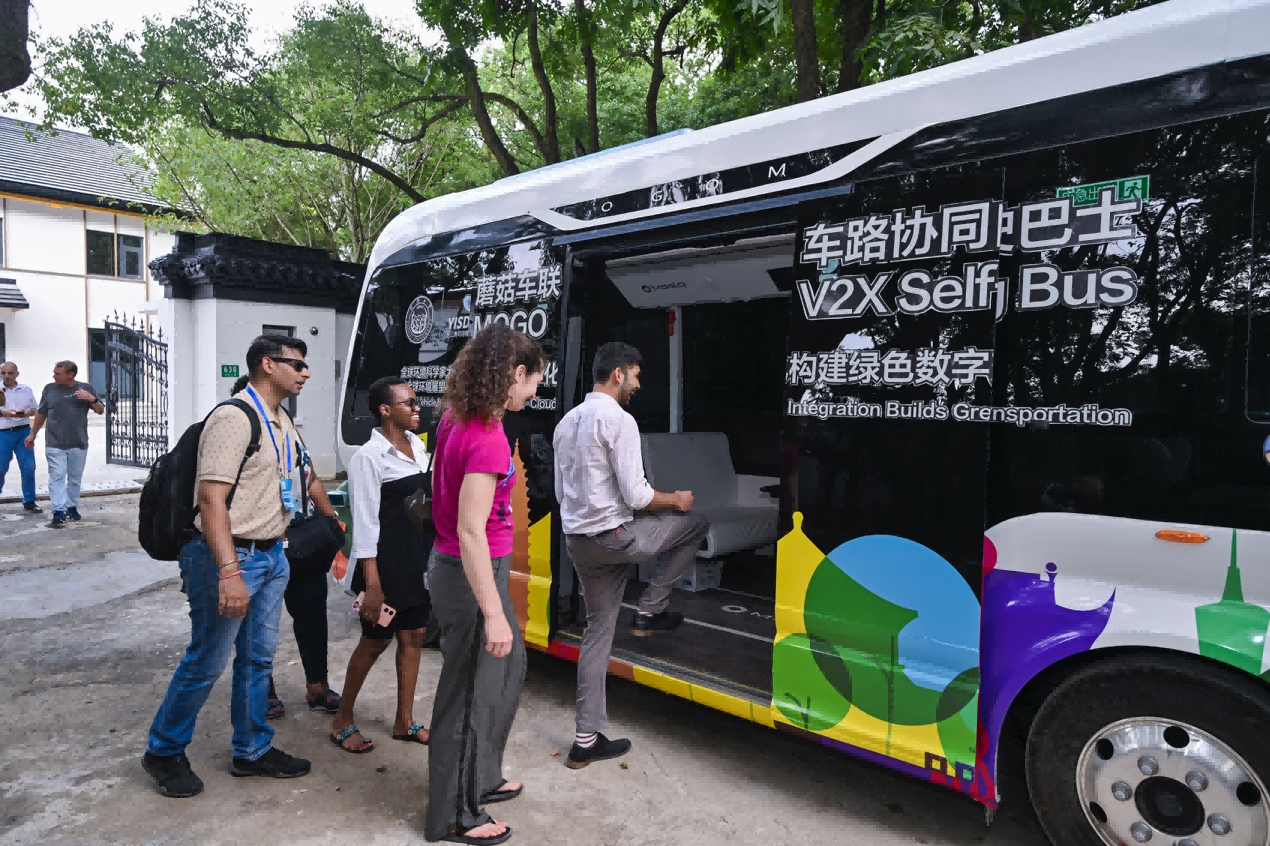 Participants getting on the MOGO BUS
The two latest models serving this meeting are MOGO BUS M1 and MOGO BUS B2, the world's first pre-installed mass-production self-driving buses equipped with the vehicle-road-cloud integration system and developed independently by Mogo. Both models have so powerful V2X capabilities, e.g., real-time interaction with MOGO AI Station and MOGO Cloud, that they can significantly improve driving safety and mobility efficiency.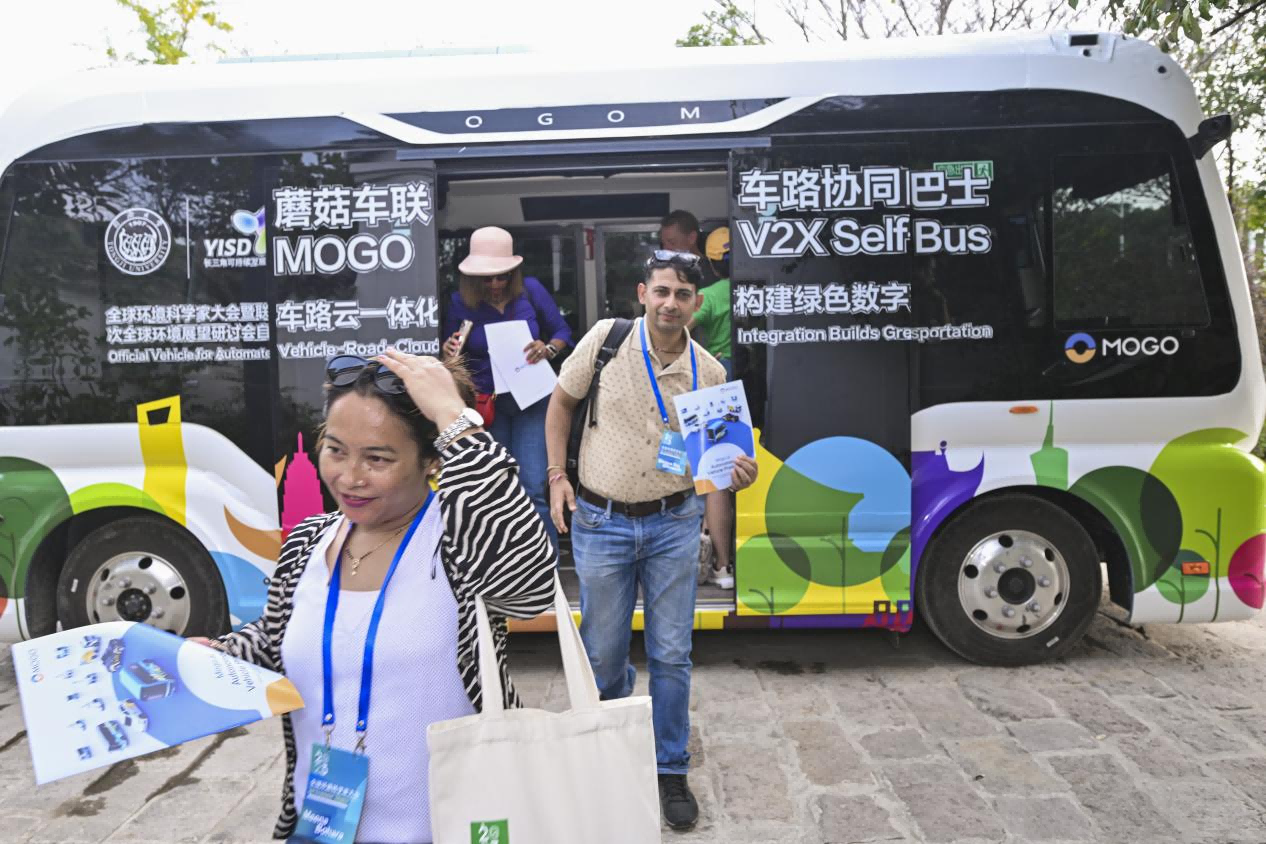 MOGO V2X Self-driving Bus providing shuttle service at the GEO-7

MOGO V2X Self-driving Bus has showed the world a Chinese solution to self-driving, that is, vehicle-road-cloud integration. By connecting to MOGO AI Station and MOGO Cloud, the vehicle can have a wider and farther view, so as to ensure better safety. The vehicle-road-cloud integration system also plays a key part in increasing the overall traffic efficiency, reducing congestion, and saving energy.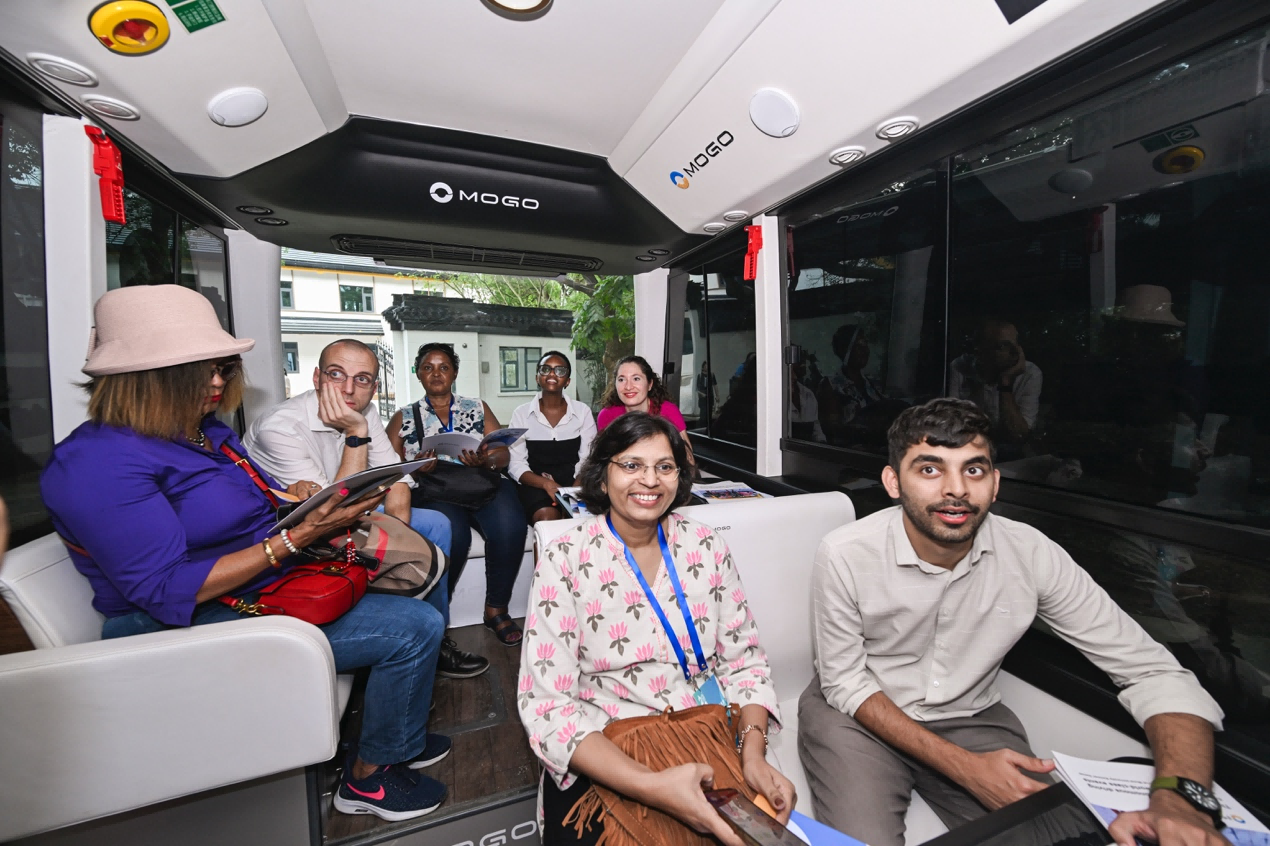 Participants experiencing the self-driving shuttle service brought by MOGO BUS

At present, several countries and regions, including China, the United States, the European Union, Japan, and South Korea, have proactively introduced policies in an attempt to lead the race of autonomous driving. Chinese companies have also begun to appear on the world stage on after another, making breakthroughs in public transport, shuttle bus, sightseeing, sanitation, security, retail and other scenarios.
Based on its industry-leading vehicle-road-cloud integration technology and standard products, Mogo has been launching the vehicle-road-cloud integration project in Tongzhou, Beijing, in an effort to build a Digital Tongzhou; operating China's first city-level autonomous driving project in Hengyang, Hunan; and building the first vehicle-road-cloud integration intelligent tourism project in Dali, Yunnan. Recently, the tech company has provided self-driving shuttle service for the 31st FISU World University Games in Chengdu, becoming the first company of its kind to sponsor such a global event; and so far, Mogo has expanded its vehicle-road-cloud integration projects to 19 provinces across China, including Beijing, Shandong, Hubei, Jiangsu, Sichuan, Guizhou, and Shaanxi.
The vehicle-road-cloud integration technology coincides with the objective of this year's GEO-7 meeting: to cut carbon emissions, reduce pollution, expand green development, and pursue economic growth Self-driving buses not only have a significant advantage over human driving in reducing energy consumption, but the digital transportation system built on the vehicle-road-cloud integration system can also make a positive contribution to the decarbonization in the transportation field.
This is the second time that MOGO BUS has served a world-class event after the Chengdu 2021 FISU Games. As the vehicle-road-cloud integration technology is being massively adopted at the moment, Chinese tech companies may emerge as a major player in leading the development of global autonomous driving.