LOS ANGELES, Sept. 14, 2023 (GLOBE NEWSWIRE) -- GoGuardian, the leading digital learning company providing simple, proven solutions to create effective, engaging, and safer learning environments, today announced new add-on AI features from popular student assessment tool Edulastic that aim to propel learning forward while helping educators save time when building and grading assessments.

Teachers spend a median of five hours a week planning and preparing their lessons, and another five hours a week grading, according to the 2022 Merrimack College Teacher Survey.1 Edulastic's new AI capabilities save teachers significant time on grading and question creation, freeing them to focus their effort where it can make the most meaningful impact on supporting positive learning outcomes. Question Generator automatically crafts questions based on a teacher's given criteria, while Assisted Rubrics automatically designs rubrics for essay questions and recommends grades. Both new AI features are offered as add-ons for Edulastic.
Question Generator is an AI feature that enables educators to automatically generate questions tailored to subject, standard, Depth of Knowledge (DOK), and difficulty level, which can be input in a variety of question formats (multiple choice, true and false, multi-select). The Question Generator provides sets of questions that teachers can revise and choose to include in their assessments. As a result, teachers can more easily create differentiated assessments and develop more accessible and diverse question pools — ultimately leading to increasingly individualized learning opportunities for students.
Teachers will also be able to use Question Generator within Edulastic Video Quiz, a new feature that allows educators to create fun, focused experiences for learners by turning their favorite YouTube videos or other video recordings into engaging formative assessments, lessons, or assignments within Edulastic. Edulastic has partnered with YouTube to implement YouTube Player for Education, delivering distraction-free video quizzes with no ads or personalization tracking. Within Video Quiz, educators can use Question Generator to build prompts, considering the video transcript, and then plot questions on individual, relevant moments within the video.
"Edulastic is excited to offer this AI-driven solution to teachers, enabling real-time quiz creation for their students," said Sharad Gupta, Chief Product Officer at GoGuardian. "Now, teachers can build in relevant assessment throughout instructional videos, specifying standards, difficulty level, and more."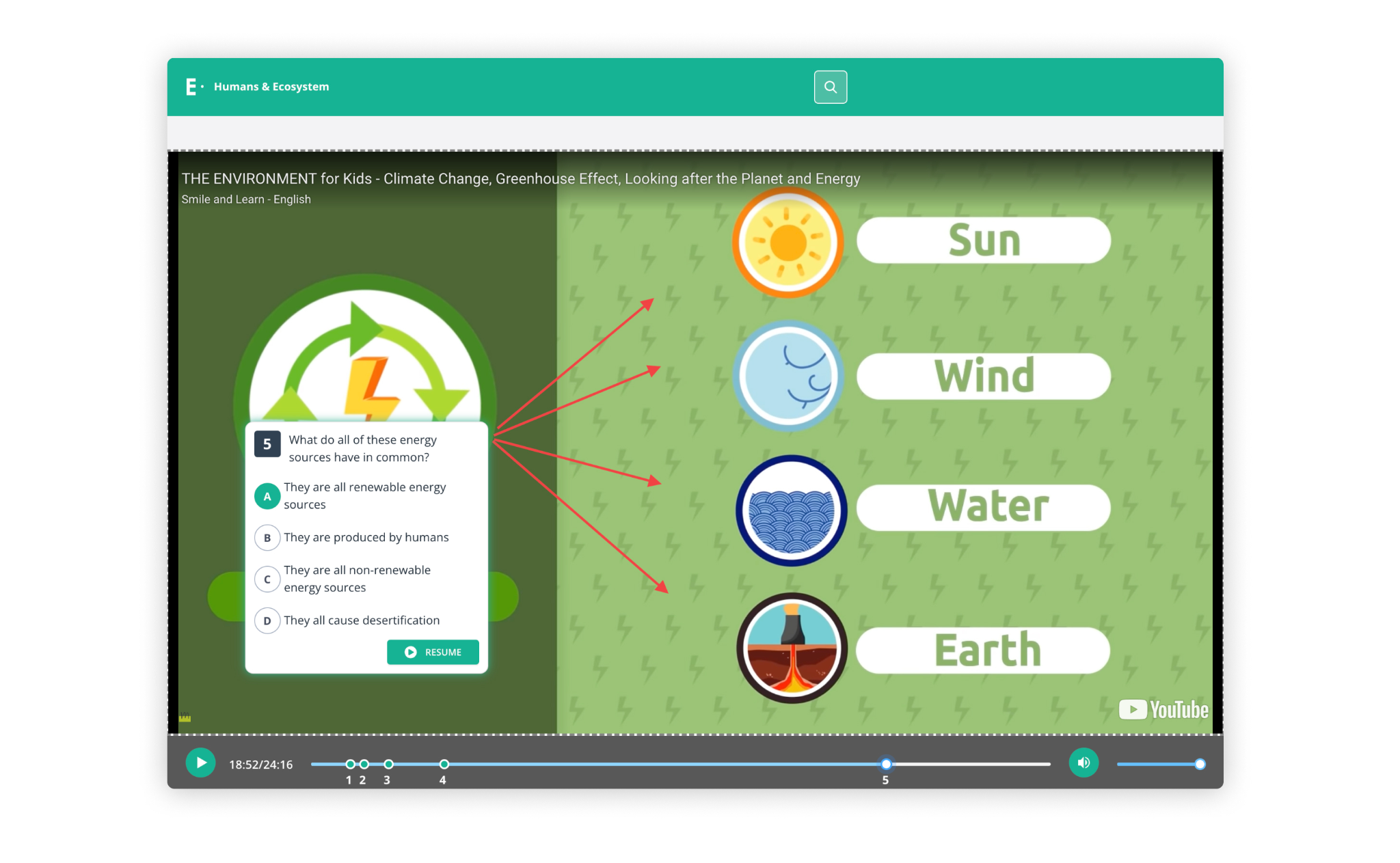 Caption: Within Video Quiz, teachers can pose questions to students during instructional videos, including annotations and multiple question types.
Assisted Rubrics automatically generate rubrics for essay questions, recommend grades for rubric questions, and save teachers hours of time manually grading assessments with rubrics. While creating rubrics and grading assignments are important methods for teachers to understand their students' progress, they take tremendous amounts of time — time that could be spent analyzing results and providing students with valuable feedback. Teachers can use Assisted Rubrics to expedite grading and conduct an initial pass at their students' results. By enabling auto essay response evaluations within Edulastic, teachers can get a head start on their grading, review recommended grades and feedback, and focus more of their time on digging into expanding student feedback and setting goals.
"Teachers face a number of challenges when it comes to assessment, including building differentiated standards-aligned questions, setting goals with students, and determining students' most impactful next steps," said Anirban Jhuri, General Manager for assessments at GoGuardian. "Through Edulastic AI, we aim to give teachers valuable time back in their days, automating portions of assessment creation and grading, and freeing them up to connect with students and analyze students' learning outcomes."
"Recently, I've been thinking a lot about how AI can make my life easier as a teacher so I can focus more on meeting the needs of individual students," said Amy Ballard, a math teacher and instructional coach in South Carolina. "Video Quiz coupled with the AI Question Generation will allow me to differentiate instructional methods for students while ensuring I'm able to collect the formative data I need to make the next instructional decision. I am able to generate questions quickly and easily, and get immediate feedback, which allows me to adjust as needed during class."
Edulastic's AI capabilities and Video Quiz are sold as a separate add-on for Edulastic customers. To learn more, visit: edulastic.com.
About GoGuardian
GoGuardian aims to help all learners feel ready and inspired to solve the world's greatest challenges by combining the best in learning and science technology across every part of the learning journey. Our award-winning system of educational tools, which includes Giant Steps, Pear Deck, and GoGuardian Teacher for learning engagement; Edulastic for assessments; TutorMe for virtual on-demand tutoring; and GoGuardian Admin and Beacon to support student safety, is purpose-built for K-12 and trusted by school leaders to promote effective teaching and equitable engagement while empowering educators to help keep students safe. Learn more at goguardian.com.
Contact
GoGuardian PR
press@goguardian.com
________________________

1 Kurtz, H. (2022, June 9). A profession in crisis: Findings from a national teacher survey. EdWeek Research Center. https://www.edweek.org/research-center/reports/teaching-profession-in-crisis-national-teacher-survey
A photo accompanying this announcement is available at https://www.globenewswire.com/NewsRoom/AttachmentNg/6e58749a-ae01-4d67-8c87-a3a96d642a43