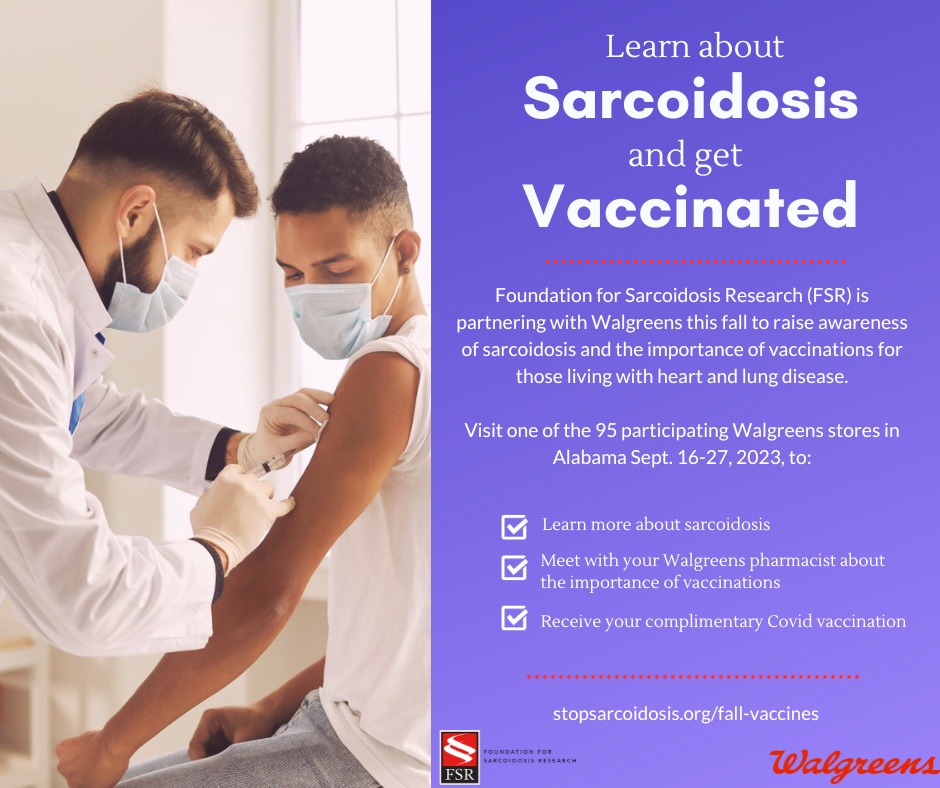 CHICAGO, Sept. 15, 2023 (GLOBE NEWSWIRE) -- Beginning September 16th, Walgreens, a pharmacy and retail leader who plays a critical role in the U.S. healthcare system by providing a wide range of pharmacy and healthcare services, including those that drive equitable access to care for the nation's medically underserved populations, and Foundation for Sarcoidosis Research (FSR), the leading international sarcoidosis organization, are proud to launch a partnership to raise education and awareness about sarcoidosis and the importance of vaccinations with 95 Alabama-based Walgreens stores. Now, through September 27th, customers can visit any of the participating Alabama-based Walgreens locations to learn more about sarcoidosis, meet with their Walgreens pharmacist about the importance of vaccinations, receive their free Covid vaccination, and show support by donating $1, $5, or $10 increments at checkout registers to provide education and support to the nearly 175,000-200,000 individuals living with sarcoidosis across the nation. September is the start of the vaccination season, making it the perfect time to kick-off this exciting partnership and initiative.
Sarcoidosis is a rare inflammatory disease that can impact any organ of the body and often leads to severe chronic illness and even death. To improve diagnosis and clinical treatment, FSR created the FSR Global Sarcoidosis Clinic Alliance (FSR-GSCA) which is a member program consisting of clinics, hospitals, individual providers, patients, and caregivers committed to finding a cure, providing community education and support, and offering evidence-based, patient-centric care for those living with sarcoidosis. University of Alabama at Birmingham (UAB) Medicine is an FSR-GSCA Founding Member, providing comprehensive, collaborative care for sarcoidosis. During this campaign, visitors to Walgreens in Alabama will have the opportunity to learn about how sarcoidosis significantly impacts people's lives through profiles of patients which will be on display at the registers.
"For years, patients with sarcoidosis have been living with a chronic and debilitating disease that has no cure to date. Many patients struggle to find access to health care that can diagnose and provide therapies to manage their immunological condition," said Dr. Joseph Barney, Associate Professor of Medicine at UAB Medicine. "We are incredibly fortunate to have support and collaboration from Walgreens with the Foundation for Sarcoidosis Research to bring public attention and education on the impact sarcoidosis has on thousands of patients and their caregivers. The more we all know, the closer a cure is in our hands."
Sarcoidosis can impact anyone of any ethnicity, age, or gender, but is more prevalent among Black Americans. Black and African Americans are 2.5 times more likely to have sarcoidosis than White Americans. Furthermore, they experience more severe and chronic forms of sarcoidosis, worse health outcomes, and a higher hospitalization and mortality rate than other groups. Through this partnership, FSR hopes to raise awareness of symptoms for all individuals at risk, and especially Black Americans, for earlier diagnosis and improved outcomes. Free educational flyers will be distributed by Walgreens cashiers.
Additionally, sarcoidosis impacts the lungs of nearly 90% of those diagnosed, can impact a patient's immune response, and can have dire consequences for those who have heart involvement. FSR is also taking this opportunity to remind all with lung and heart disease that now is the time to ask your pharmacist about Fall vaccines, including Flu, Pneumococcal, RSV, and COVID-19 vaccines. Vaccinations are important for all of us, but especially for those with chronic diseases, such as sarcoidosis.
"FSR is grateful to Walgreens for their dedication to raising awareness and improving the lives of those impacted by sarcoidosis," said Mary McGowan, Chief Executive Officer of FSR. "We are grateful to the 95 stores in Alabama helping to drive improved outcomes for all at risk by raising awareness of sarcoidosis as well as heightening the importance vaccinations play for those living with heart and lung disease during this vaccination season."
To find a store near you where you can visit your pharmacist, learn more about vaccinations, and receive your complimentary Covid vaccination, visit www.walgreens.com.
About Sarcoidosis
Sarcoidosis is a rare inflammatory disease characterized by the formation of granulomas—tiny clumps of inflammatory cells—in one or more organs of the body. Despite increasing advances in research, sarcoidosis remains difficult to diagnose with limited treatment options and no known cure.
About the Foundation for Sarcoidosis Research (FSR)
The Foundation for Sarcoidosis Research (FSR) is the leading international organization dedicated to finding a cure for sarcoidosis and improving care for sarcoidosis patients through research, education, and support. Since its establishment in 2000, FSR has fostered over $6 million in sarcoidosis-specific research efforts. For more information and to join our community, visit www.stopsarcoidosis.org. To receive an electronic version of the educational flyer and to donate visit www.stopsarcoidosis.org/fall-vaccines/.
About Walgreens
Walgreens (www.walgreens.com) is included in the U.S. Retail Pharmacy and U.S. Healthcare segments of Walgreens Boots Alliance, Inc. (Nasdaq: WBA), an integrated healthcare, pharmacy and retail leader with a 170-year heritage of caring for communities. WBA's purpose is to create more joyful lives through better health. Operating nearly 9,000 retail locations across America, Puerto Rico and the U.S. Virgin Islands, Walgreens is proud to be a neighborhood health destination serving nearly 10 million customers each day. Walgreens pharmacists play a critical role in the U.S. healthcare system by providing a wide range of pharmacy and healthcare services, including those that drive equitable access to care for the nation's medically underserved populations. To best meet the needs of customers and patients, Walgreens offers a true omnichannel experience, with fully integrated physical and digital platforms supported by the latest technology to deliver high-quality products.
Contact:
Cathi Davis
312-341-0500 ext. 106
cathi@stopsarcoidosis.org
An infographic accompanying this announcement is available at: https://www.globenewswire.com/NewsRoom/AttachmentNg/5afe69dd-8b8d-4a8a-b9c3-f534603563e1