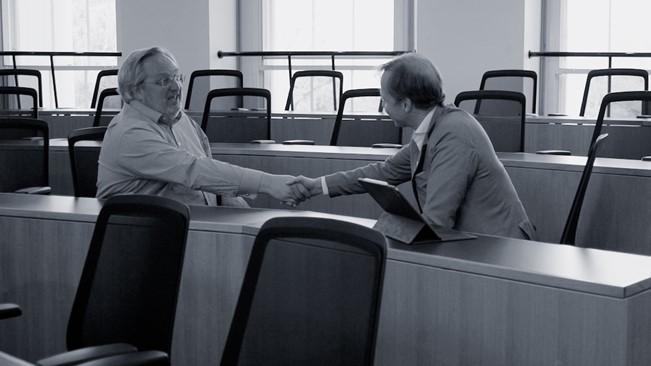 Chris Caldwell United Renewables CEO in conversation with Professor Randall Peterson
DOUGLAS, Isle of Man, Sept. 18, 2023 (GLOBE NEWSWIRE) -- United Renewables and London Business School Illuminate the Future of Climate Leadership with Professor Randall Peterson.
In a world grappling with the complexities of climate change and corporate responsibility, United Renewables, in collaboration with the London Business School Energy Alumni Club, unveils the latest episode of their "Conversations on Climate" podcast. This episode, a tapestry of insights and expertise, features Professor Randall Peterson, a distinguished authority on leadership and organisational behaviour.
Professor Peterson, with his academic roots in agriculture and educational psychology, offers a nuanced perspective often absent from mainstream discourse. The episode traverses the intricate corridors of corporate boardrooms, emphasising their cardinal role in confronting environmental and societal quandaries. Peterson also champions the imperatives of boardroom diversity and inclusion, whilst sounding a clarion call for organisations to adapt to our ever-evolving global milieu.
With the eloquence characteristic of The Gray Lady's pages, Professor Peterson articulates, "The magnitude of our challenge is not the burden of one, but the collective responsibility of all."
Guided by the astute moderation of the Conversations on Climate host Chris Caldwell, listeners are invited to a cerebral exploration of leadership's future trajectory and its intertwined fate with climate action.
About the Conversations on Climate Podcast:
United Renewables' "Conversations on Climate" podcast, now heralding its second season, is a beacon for those seeking enlightenment and actionable insights on climate change. By amalgamating the intellect of academia with the pragmatism of industry, the podcast crafts a narrative both compelling and instructive. From the strategic intricacies of game theory to the pioneering strides in algae-powered innovations, the show is a testament to the multifaceted approach required to address global challenges.
Season 2, a symphony of thought leadership, offers professionals a roadmap to navigate the climate conundrum. The series, a brainchild of United Renewables CEO Chris Caldwell, finds its collaborative spirit with the dynamic Alumni Energy Club of the London Business School.
For the discerning listener, the podcast awaits your ears. Stay abreast of the latest episodes by activating notifications.
About United Renewables:
United Renewables stands as a vanguard in the climate dialogue, fostering partnerships with academic luminaries and industry trailblazers to envision a sustainable horizon for generations to come.
For more information and access to this exceptional episode, visit the Conversations on Climate Podcast on Youtube or Podbean platforms.
For all related articles.
Conversations on Climate is a joint production of United Renewables and the London Business School Alumni Energy Club.
Conversations on Climate brings world leading thinkers from business and academia together to share their expertise on the subject of climate change. Guests include Sir Andrew Likierman, Julio Dal Poz, Professor Jean-Pierre Benoît, Professor Ioannou, Tara Schmidt, Professor Dan Cable, Professor Zoe Chance, Professor Lynda Gratton, Tom Gosling, Eduardo Famini Silva, Dr. Linda Yueh, Yariv Cohen and François Ortalo-Magné. 
All previous episodes can be found here. Related articles can be found here.
CONTACT Isabella Hawke – Sales and Marketing Consultant
COMPANY United Renewables
PHONE +447624457139
EMAIL IIhawke@unitedrenewables.co.uk
WEB unitedrenewables.co.uk/resources
A photo accompanying this announcement is available at https://www.globenewswire.com/NewsRoom/AttachmentNg/6dded833-3ccf-4fa1-8f5b-fd6e55a4de2e