New York, Sept. 18, 2023 (GLOBE NEWSWIRE) -- The global hot plate stirrer market size is slated to expand at ~ 9 % CAGR between 2023 and 2035. The market is poised to garner a revenue of USD 23 billion by the end of 2035, up from a revenue of ~USD 15 billion in the year 2022. This is due to increased demand for advanced laboratory equipment for scientific research, rising demand for laboratory automation, and technological advancements in laboratory equipment. In 2022, the ILAC MRA Signatories granted accreditation to more than 88,000 laboratories.
Request Free Sample Copy of this Report @
https://www.researchnester.com/sample-request- 5124
With more and more laboratories becoming accredited, the need for advanced laboratory equipment and automation is also rising. This is leading to increased investments in research and development, which is further driving the demand for laboratory equipment. This, in turn, is leading to an increase in the revenue of the market.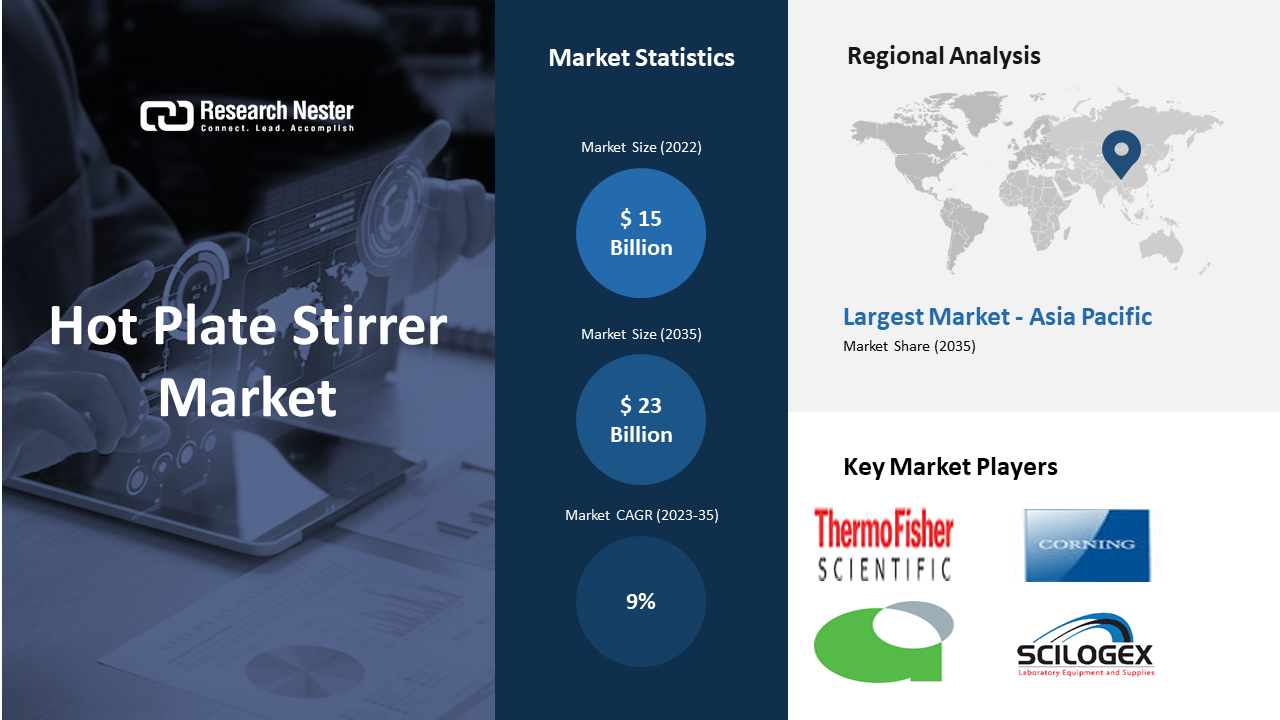 Hot Plate Stirrer: Key Takeaways
Market in Asia Pacific to propel highest growth
Digital segment to garner the highest growth
Market in North America to grow at a significant rate
Increasing Research and Development Activities In The Pharmaceutical and Biotechnology Industries To Boost Market Growth
Hot plate stirrers are used to mix, heat, and stir samples in the laboratory. The increasing number of research and development activities in the pharmaceutical and biotechnology industries require precise and consistent temperature control and stirring, which is driving the growth of the hot plate stirrer market. In 2021 there were 5,000 pharmaceutical companies actively engaged in research and development (R&D) efforts. In addition, these industries are increasingly focusing on technological advancements to improve drug development processes. This has led to the need for more efficient and sophisticated laboratory instruments, such as hot plate stirrers, that can provide accurate and consistent temperature control and stirring. This is expected to further contribute to the growth of the hot plate stirrer.
 Hot Plate Stirrer Market: Regional Overview
The global hot plate stirrer market is segmented into five major regions including North America, Europe, Asia Pacific, Latin America, and the Middle East and Africa region. 
The Increasing Funding In Biotechnology And Life Sciences Projects to Drive the Growth in the Asia Pacific Region
The hot plate stirrer market in Asia Pacific region is estimated to garner the largest revenue by the end of 2035 backed by the increasing funding in biotechnology and life sciences projects. In the year 2021 the funds dedicated to life science in China saw an increase of approximately 88% compared to the previous year reaching an impressive total of, around 108 billion U.S. Dollars. In biotechnology and life sciences, hot plate stirrers are used for cell culture, sample preparation, and various biological assays that require controlled temperature and agitation. Moreover, the rapid growth in the pharmaceutical industry in this region is expected to contribute to the growth of the market. The increasing demand for advanced products such as magnetic hot plate stirrers, heated stirrers, and high-temperature stirrers, along with the growing need for efficient sample preparation for better results, are also driving the growth of the hot plate stirrer market in the Asia Pacific region.
Rising Number of Biotechnology and Pharmaceutical Companies to Drive the Growth in the North America Region
The North America hot plate stirrer market is estimated to garner the largest revenue by the end of 2035, due to the increasing number of research and development activities, the need for efficient and automated processes in drug discovery, and the rising number of biotechnology and pharmaceutical companies in the region. As of 2023 the number of Biotechnology businesses in the US has risen by 8% compared to the year reaching a total of 3,420. Furthermore, the use of advanced and automated hot plate stirrers is expected to increase the demand for automated hot plate stirrers in laboratories, as they are used for a wide range of applications, such as cell and tissue culture, protein purification, and drug delivery.
Make an Inquiry Before Buying this Report @
 https://www.researchnester.com/inquiries-before-buying- 5124
Hot Plate Stirrer Segmentation by Type
The digital segment is projected to generate the largest revenue by the end of 2035. The most advanced digital hot plate stirrers are equipped with a range of features that improve accuracy, such as temperature monitoring, digital heat control, and automated stirring speeds. These features not only make them safer to use but also make them more efficient and accurate for conducting experiments, which makes them more attractive to researchers and laboratories. The Digital Magnetic Hotplate Stirrers utilize temperature technology to provide precise control over the heating process. It quickly reaches the desired temperature, improves accuracy in controlling the heating process. These hotplate stirrers can heat up to 550°C (280°C, for EF13711).
Request for Customization of this Report @
https://www.researchnester.com/customized-reports- 5124
Hot Plate Stirrer Segmentation by End User
Academic Institutions
Industrial Laboratories
The industrial laboratories segment in Hot Plate Stirrer is expected to generate the largest revenue by the end of 2035 due to the growing demand for hot plate stirrers in industrial laboratories for applications including synthesis, distillation, extraction, and other processes in the chemical, pharmaceutical, food & beverage, and other industries. Based on data from the Bureau of Labor Statistics the employment of laboratory technologists and technicians is expected to increase by 5% between 2022 and 2032. This growth rate is higher than the average for all occupations. Moreover, industrial hot plate stirrers are designed with a number of safety features to protect laboratory personnel and the environment, such as over-temperature protection, over-speed protection, and thermal cutouts. These features help to ensure experiments are conducted safely, which is a priority for industrial laboratories.
A few of the well-known market leaders in the global hot plate stirrer market that are profiled by Research Nester are Thermo Fisher Scientific Inc., IKA Works, Inc., Corning Incorporated, Cole-Parmer Instrument Company, LLC, VELP Scientifica Srl, Heidolph Instruments GmbH & Co. KG IKA-Works Asia Pacific Pte Ltd. Troemner, LLC Scilogex LLC Benchmark Scientific, Inc., and other key market players.
Recent Development in the Market
KA recently introduced a cutting edge stirrer named "StirringMAGiC." This innovative device combines magnetic stirrer technology, with advanced motor control ensuring highly efficient and accurate stirring capabilities. With a global presence KA is widely recognized for its dependable and pioneering laboratory products.
Thermo Fisher Scientific has increased its involvement in the bioproduction industry through acquisitions, like Brammer Bio and Qiagen N.V. Year the company played a crucial role in responding to COVID 19 by creating diagnostic tests providing research tools and assisting with the production of vaccines.
About Research Nester
Research Nester is a one-stop service provider with a client base in more than 50 countries, leading in strategic market research and consulting with an unbiased and unparalleled approach to helping global industrial players, conglomerates, and executives for their future investments while avoiding forthcoming uncertainties. With an out-of-the-box mindset to produce statistical and analytical market research reports, we provide strategic consulting so that our clients can make wise business decisions with clarity while strategizing and planning for their forthcoming needs and succeed in achieving their future endeavors. We believe every business can expand to its new horizon, provided the right guidance at the right time is available through strategic minds.