New York, NY, Sept. 20, 2023 (GLOBE NEWSWIRE) -- Alpha Transform Holdings' press distribution service, Content Syndicate and its subsidiary, Blockchain Wire, the premier press release distribution service specializing in disseminating news related to blockchain and cryptocurrency endeavors, have formed a strategic partnership with Trace Labs, core developers of OriginTrail, to create the first decentralized information hub for all press releases, corporate news and filings.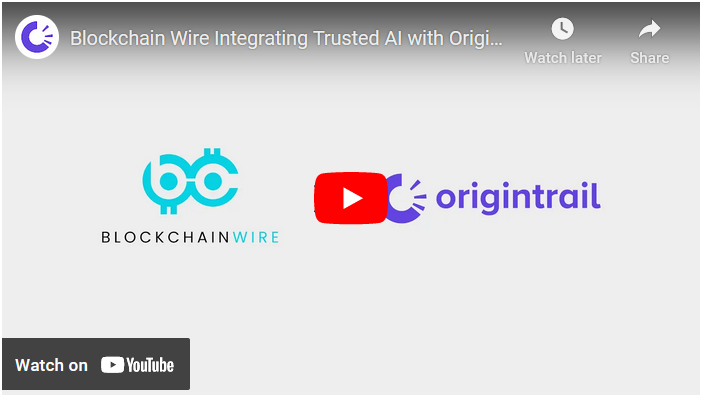 Through the strategic partnership, Blockchain Wire is bringing the interactions with company data, news and investor insights to the AI age. Using a question-answering chat interface, investors and analysts will be able to tap into a full set of data sources about a particular company or industry at the same time. Filtering through sources will allow an even more tailored chatting experience. Each response users receive is based on verifiable sources with associated identities of the issuer. It sets Blockchain Wire on the path of creating a global inclusive platform for gathering and accessing company data and investor insights.
"The Alpha Transform Holdings' team has been involved in the industry for the last 2 decades and the combination of AI and Web3 technologies are presenting an unprecedented opportunity in this field. It empowers companies to share more verifiable information about their business, empowers other stakeholders (e.g. auditors, certification bodies, government agencies) to share their claims and gives investors or analysts seamless access to this entire body of knowledge. We're very excited to see the impact this technology can deliver."  Enzo Villani, Co-founder at Blockchain Wire.
The new capabilities are based on OriginTrail Decentralized Knowledge Graph (DKG) and will be built in partnership with Trace Labs (core developers of OriginTrail DKG). The DKG is a mature technology, already in use by Fortune500 companies in multiple industries (global trade, pharmaceuticals, construction industry, metaverse).
"We are proud to work with the Blockchain Wire team on an industry breakthrough solution they're bringing to the market. Artificial Intelligence has the potential to leap-frog many industries and the corporate news and investor research fields are definitely high on the list of the most impactful ones. We're looking forward to seeing the solution get in the hands of users and help Blockchain Wire achieve their vision." Žiga Drev, Founder at Trace Labs
Blockchain Wire made the first sneak peek demo available here, where you can use the interface to pose questions about this press release. Further releases are scheduled for later this year with a beta group of companies included in the service. Get in touch with the Blockchain Wire team here to include your companies' insights in the first versions of the service.

Fair Disclosure: Alpha Transform Holdings owns Blockchain Wire and Content Syndicate and asset manager Alpha Sigma Capital holds OriginTrail equity and TRAC digital assets.
About Blockchain Wire
Blockchain Wire is the first and largest press release distribution service in the blockchain and crypto industry. With over 1,800 clients, our global scope encompasses the circulation of information through broadcast and online media platforms, social media networks, trade periodicals, prominent blogs, industry leaders, influencers, and investors. Blockchain Wire offers unmatched value in the industry, backed by decades of experience in the newswire sector. Our approach centers on precise targeting, user-friendly functionalities, seamless partnership integrations, and an unwavering client support team. Blockchain Wire distribution for US National and International circuits releasing news across news sites such as Reuters, Yahoo Finance, Bloomberg, Business Insider, Associated Press, hundreds of online publications, and distribution to over 20,000 blockchain/crypto industry executives, investors and enthusiasts.  For more information, visit Blockchainwire.io

About OriginTrail
OriginTrail is an ecosystem dedicated to making the global economy work sustainably by enabling a universe of AI-ready Knowledge Assets, allowing anyone to take part in trusted knowledge sharing. It leverages the open source Decentralized Knowledge Graph that connects physical and digital worlds in a single connected reality driving transparency and trust. Advanced knowledge graph technology currently powers trillion-dollar companies like Google and Facebook. By reshaping it for Web3, the OriginTrail Decentralized Knowledge Graph provides a crucial fabric to link, verify, and value data on both physical and digital assets. Website: https://origintrail.io/

About Trace Labs
Trace Labs is the core developer of OriginTrail — the open-source Decentralized Knowledge Graph. Trace Labs' technology is being used by global enterprises (e.g. over 40% of US imports including Walmart, Costco, Home Depot are exchanging security audits with OriginTrail DKG) in multiple industries, such as pharmaceutical industry, international trade, decentralized applications and more. Website: https://tracelabs.io/

About Alpha Transform Holdings
Alpha Transform Holdings (ATH) is a driving digital asset organization dedicated to ushering in the future of blockchain-powered Web3. With our deep knowledge and expertise, we invest in and advise innovative companies and decentralized projects that leverage blockchain technology to revolutionize traditional industries such as financial services, healthcare, media & entertainment, and more. We work closely with portfolio companies to drive value while creating outsized returns and are renowned for our detailed research on growing blockchain initiatives. Our mission is simple: To accelerate the mass adoption of distributed ledger technology through investments that provide impactful solutions with long-term sustainability. Our vision is an open connected world powered by secure decentralized systems so that everyone can benefit from the new tech economy.Website:   https://www.alphatransform.io/

DISCLAIMER
This is for informational use only. This is not investment advice. Other than disclosures relating to Alpha Transform Holdings (ATH) and Alpha Sigma Capital (ASC) this information is based on current public information that we consider reliable, but we do not represent it as accurate or complete, and it should not be relied on as such. The information, opinions, estimates, and forecasts contained herein are as of the date hereof and are subject to change without prior notification. We seek to update our information as appropriate.
Any forecasts contained herein are for illustrative purposes only and are not to be relied upon as advice or interpreted as a recommendation. The price of crypto assets may rise or fall because of changes in the broad market or changes in a company's financial condition, sometimes rapidly or unpredictably. Past performance is not a guide to future performance, future returns are not guaranteed, and a loss of original capital may occur. Fluctuations in exchange rates could have adverse effects on the value or price of, or income derived from certain investments. We and our affiliates, officers, directors, and employees, excluding equity and credit analysts, will from time to time have long or short positions in, act as principal in, and buy or sell, the securities or derivatives, if any, referred to in this press release.
The information on which the information is based has been obtained from sources believed to be reliable such as, for example, the company's financial statements filed with a regulator, the company website, the company white paper, pitchbook, and any other sources. While Alpha Sigma Capital has obtained data, statistics, and information from sources it believes to be reliable, Alpha Sigma Capital does not perform an audit or seek independent verification of any of the data, statistics, and information it receives.
Unless otherwise provided in a separate agreement, Alpha Sigma Capital does not represent that the contents meet all of the presentation and/or disclosure standards applicable in the jurisdiction the recipient is located. Alpha Sigma Capital and its officers, directors, and employees shall not be responsible or liable for any trading decisions, damages, or other losses resulting from, or related to, the information, data, analyses, or opinions within the report.
Crypto and/or digital currencies involve substantial risk, are speculative in nature, and may not perform as expected. Many digital currency platforms are not subject to regulatory supervision, unlike regulated exchanges. Some platforms may commingle customer assets in shared accounts and provide inadequate custody, which may affect whether or how investors can withdraw their currency and/or subject them to money laundering. Digital currencies may be vulnerable to hacks and cyber fraud as well as significant volatility and price swings.