Building the bridge from genotype to phenotype, the Symposium will feature scientific leaders creating cutting edge technologies and approaches that are ushering in the era of proteoform systems biology & medicine and paving the way for the Human Proteoform Project. The Symposium will be held Oct. 3-5, 2023 in Chicago, IL.

CAMBRIDGE, Mass., Sept. 20, 2023 (GLOBE NEWSWIRE) -- The 2nd International Top-Down Proteomics Symposium will bring together world leaders in the fields of proteomics, proteoform biology, cell biology, and genomics to present their latest research findings as well as to discuss future directions for building the bridge from genotype to phenotype. The Symposium is hosted by the Consortium for Top-Down Proteomics together with Northwestern University's Chemistry of Life Processes Institute and will be held in Chicago, IL October 3-5, 2023.
Prominent presenters are David Walt, Wyss Institute at Harvard University and Harvard Medical School, who will present hypothesis-driven ultrasensitive methods for the discovery and validation of proteoforms; Amy Herr, Dept. of Bioengineering at UC Berkeley and the Chan Zuckerberg Biohub, who will present single-cell analysis tools capable of resolving proteoforms and integrating this information into single-cell omic analysis; and Ben Cravatt, Scripps Research Institute, who will present chemical proteomics strategies to discover proteoform-specific small-molecule probes.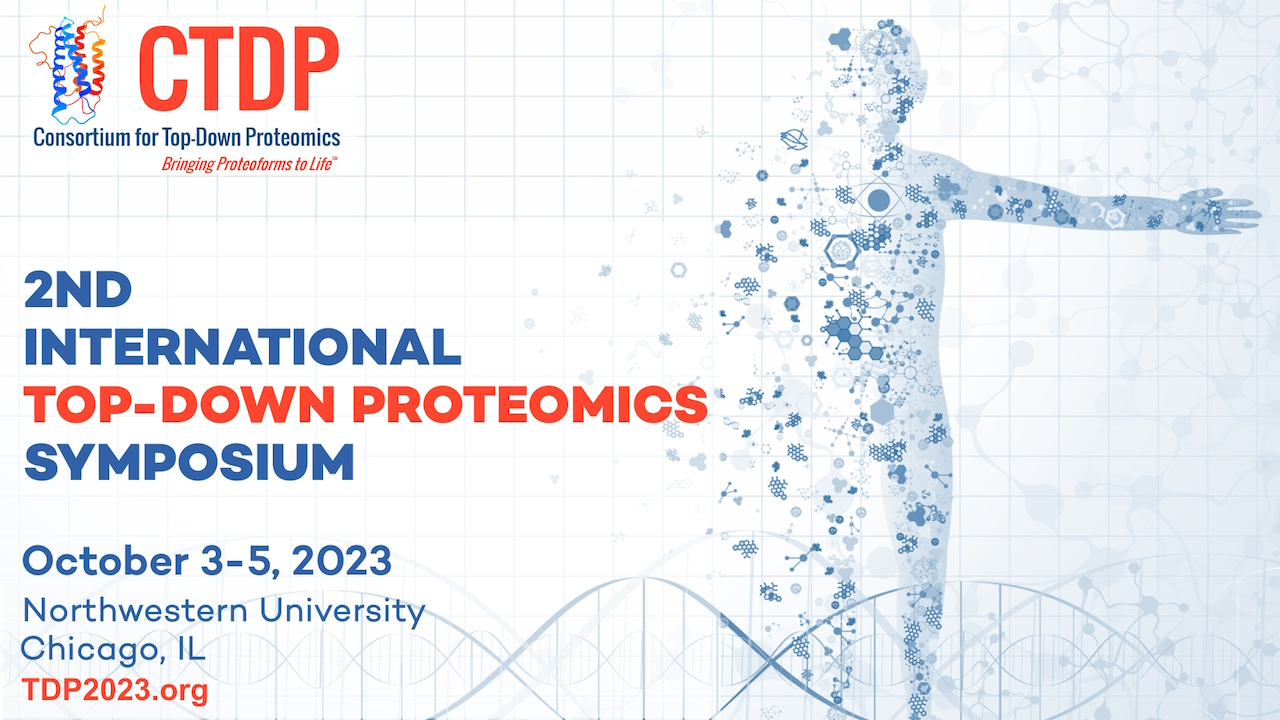 In addition, the Symposium will feature a series of poster and oral presentations covering single-cell methods, proteoform function and their complexes, spatial mapping, and clinical applications as well as innovative approaches to proteoform analysis such as single molecule protein sequencing. Larger open questions will be examined in a series of roundtable discussions focused on shaping the next generation of proteomics, the clinical value of proteoforms, and the Human Proteoform Project.
Details on the event including sponsorships and exhibition, registration, logistics as well as the speakers and program can be found on the event website at TDP2023.org. The Symposium is generously supported by sponsorships from Bruker, Quantum-Si, Sciex, Thermo Fisher Scientific, Nautilus Biotechnology, Glyphic Biotechnologies, PacBio, Seer, Agilent, ZefSci, Covaris, CMP Scientific, and Affinisep.
About the Consortium for Top-Down Proteomics
The Consortium for Top-Down Proteomics, Inc. is a 501c3 non-profit organization fostering collaboration, education, and innovative research to accelerate the comprehensive analysis of all human proteoforms, speeding developments in the fields of therapeutics, diagnostics, environment, and energy. It has members from academic institutions, corporations, and government agencies worldwide, and its work is supported by Seer, Thermo Fisher Scientific, Bruker, SCIEX, Lilly, Pfizer, Newomics, and Agilent.  
A photo accompanying this announcement is available at https://www.globenewswire.com/NewsRoom/AttachmentNg/0628b2d0-d093-4561-a102-06da6d57632c