VANCOUVER, British Columbia, Sept. 21, 2023 (GLOBE NEWSWIRE) -- United Lithium Corp. (CSE: ULTH; OTC: ULTHF; FWB: 0ULA) ("United" or the "Company") is pleased to announce that 15 lithium-bearing pegmatites have been identified on its 100%-owned Patriot Project (the "Patriot Project"), in Colorado. Nine of the fifteen are new discoveries and the remaining six, while new to United, were identified from historical records and confirmed with recent sampling. Results are from a surface bedrock sampling program completed over the entire 2,580 hectare ("ha") Patriot Project, which is located within the Quartz Creek historical pegmatite mining district. The nine new occurrences were not identified in historical mapping work as being lithium-bearing. This recent surface sampling program was highly successful, having returned high-grade results of up to 3.97% Li2O ("lithium oxide").

Highlights
United identified 15 lithium-bearing pegmatite occurrences in the recent program, nine of which are new discoveries with no known historical mining or record of hosting lithium-bearing minerals;
Assay results include rock samples hosting 2.34% Li2O, 1.61% Li2O, and 1.54% Li2O among several other high-grade results;
United sampled four known historical mines and several historical test pits on the Patriot Project which returned results including 3.97% Li2O, 3.38% Li2O, 1.65% Li2O, and 1.16% Li2O;
The largest lithium-mineralized pegmatite body exposed at surface has an outcrop strike length of approximately 470 metres at an average exposed width of 50 metres with the highest grade sampled being 1.84% Li2O; and
Colorado is ranked as the 5th best mining jurisdiction in the world according to the Fraser Institute's Investment Attractiveness Index.1

Scott Eldridge, United's President and CEO stated: "Our Patriot project lies within a past producing lithium pegmatite district, yet until United began mapping and sampling, the area had not seen modern systematic exploration efforts. The multiple high-grade results of up to 3.97% lithium oxide further supports our enthusiasm of the discovery potential at Patriot. With fifteen separate lithium-bearing outcropping pegmatite bodies, we are highly encouraged to advance towards a maiden drill campaign in the spring."
Geology and Mining History
The Patriot Project encompasses the most lithium-prospective portion of the Quartz Creek pegmatite field where more than 1,800 individual pegmatite occurrences have been recorded by the United States Geological Survey ("USGS") during detailed surveying prior to 19522,3. Of the 1,803 pegmatite occurrences mapped in the greater district, all that were recorded as being lithium-bearing in the district are contained within the Patriot Project boundaries. These were recorded as primarily hosting lepidolite, with one body hosting spodumene and amblygonite3. There is an obvious mineral zonation in the mapped pegmatites outwards to the southeast from the interpreted source pluton (the Black Wonder Granite)3. The Black Wonder Granite is captured by the northwest claim block of the project where some 2022 reconnaissance rock sampling was completed, and the more distal, evolved and lithium-hosting pegmatites occur on the southeast and south tenure blocks.
Several former lithium, tantalum and beryllium-hosting pegmatite mines and prospects occur on the Patriot Project. The mines that exploited lithium included the Bazooka, White Spar, Opportunity (aka Parlin) and a portion of the Brown Derby pegmatite system all within the southeast claim block. Brown Derby reportedly produced 283 tons of lepidolite and an "ore of tantalum" between 1943 and 19453 and the occurrence hosts mineralization in 15 zones of a pegmatite complex, three of which were mined underground. Of note is the White Spar pegmatite body, which United sampled in 2023. Results here returned Li2O as high as 1.84%, and the body is exposed over 470 metres long and over 50 metres width (Figure 1). On the south block, there was limited historical production from the Opportunity (Parlin) mine where lithium and other mineralization is hosted within 11 zoned pegmatite exposures in an area over 1,000 metres long and 500 metres wide3.
1 Fraser Institute Annual Survey of Companies, 2022.
2 Geology of the Quartz Creek Pegmatite District, Gunnison County, Colorado. United States Geological Survey Professional Paper 265, 1955. 113 pages.
3 Field Trip Guide to the Brown Derby pegmatites, Gunnison County, in the Second Eugene E. Foord Pegmatite Symposium July 15-19, 2016, Field Trip Guidebook.
Sampling and Mapping Program
The Patriot Project sampling and mapping program was completed in two phases: an early reconnaissance phase in late 2022 of 76 surface bedrock grab samples and a later phase in early 2023 of both 310 surface bedrock grab samples and 636 soil samples. The later phase focused on the southeast and south claim blocks as these were where historically mined or mapped lithium-bearing pegmatites occurred, whereas the northwest block hosts the interpreted source pluton (Black Wonder Granite). The northwest block, which also hosts the lithium-bearing Bucky pegmatite will be followed up at a later time. United collected soil samples where there was no bedrock exposure; results are pending for those samples. In addition to collecting samples for assaying, 310 bedrock sites were analysed in-field for lithium using a portable Laser Induced Breakdown Spectroscopy ("LIBS") analytical tool, results of which are shown on Figure 1.
The 2023 program aimed to sample known lithium-bearing pegmatites, historically mined bodies, and identify new occurrences. The results have not only identified nine new occurrences with lithium oxide grades as high as 2.34% Li2O (refer to Table 1) but also confirmed high grades at historic occurrences with values as high as 3.97% Li2O (at the Opportunity/Parlin mine) (refer to Table 2). Results of more reconnaissance sampling are listed in Table 3 on the Company website. Figure 1 illustrates the locations of these new occurrences relative to historically mapped lithium-pegmatites and historical mine workings or prospect pits and illustrates the large White Spar lithium-pegmatite. There is at least a 200 metre distance between each new occurrence. Follow up surface exploration work will aim to determine which, if any, of the clustered occurrences may be related to a single pegmatite body (refer to Figure 1).
Table 1: 2023 surface rock chip samples from interpreted new lithium-bearing pegmatite discoveries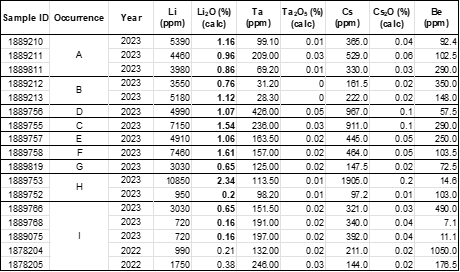 Figure 1: Patriot Project surface outcrop sample assay results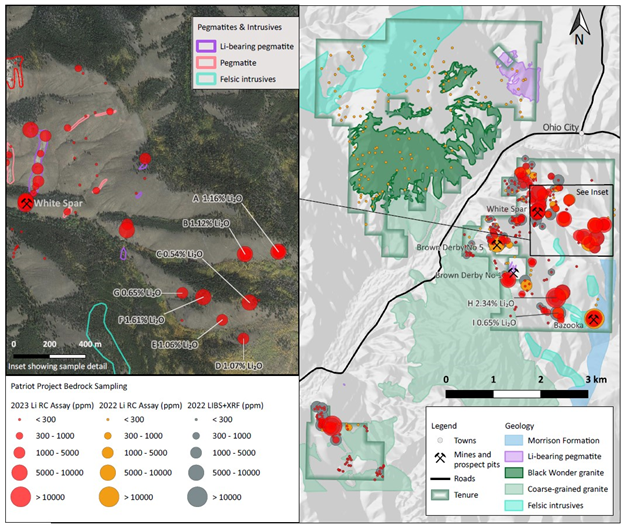 Table 2: Patriot Project surface rock chip sample assay results from known 
past producers and lithium-pegmatite occurrences.
About the Patriot Project
The Patriot Project is comprised of 321 unpatented lode claims and is part of the historically producing Quartz Creek pegmatite field, located 17 miles due east of the city of Gunnison, in Gunnison County, Colorado. More than 1,800 individual pegmatite bodies were identified by USGS mapping in this region, of which only 17 were visually recorded as hosting lithium. All of these 17 bodies, and nine new occurrences identified in 2023 are contained within the Patriot Project boundaries, which covers more than 25 km2 (approximately 2,580 ha). Historical records indicate pegmatites in the district host lithium, tantalum and beryllium in former mines and occurrences, including the well-known Brown Derby, Bazooka, White Spar, and Opportunity (Parlin) lithium pegmatite mines or occurrences.
Quality Assurance and Quality Control
Surface rock samples that were analysed in the field during the 2023 program were done so using a SciAps LIBS ("Laser Induced Breakdown Spectroscopy") hand-held tool model Z-903 for exploration purposes. The LIBS laser spectrometer is designed to identify and assess lithium-bearing minerals on-site in real time. Samples collected for laboratory analysis were sent to ALS Global Ltd. ("ALS") laboratory in Elko, Nevada for sample preparation. Once prepared, samples were securely shipped by ALS to their laboratory in Vancouver, B.C., Canada, for analysis. Samples were analyzed using the ME-MS89L technique with analyzes for 53 elements using sodium peroxide fusion and is appropriate for lithium-mineralized pegmatites. The ALS global quality program includes internal and external inter-laboratory test programs and regularly scheduled internal audits that meet all requirements of ISO/IEC 17025:2017 and ISO 9001:2015.
Qualified Person
The scientific and technical data contained in this news release was reviewed and approved by Cathy Fitzgerald, M.Sc., P.Geo, United's Executive Vice President, Exploration. Ms. Fitzgerald is a registered professional geologist in British Columbia and a Qualified Person as defined by NI 43-101 Standards of Disclosure for Minerals Projects.
On Behalf of The Board of Directors
"Scott Eldridge"
President, Chief Executive Officer and Director 
About United Lithium Corp.
United Lithium Corp. (CSE: ULTH) is an exploration & development company energized by the global demand for lithium. The Company is targeting lithium projects in politically safe jurisdictions with advanced infrastructure that allows for rapid and cost-effective exploration, development and production opportunities.
The Company's consolidated financial statements and related management's discussion and analysis are available on the Company's website at https://unitedlithium.com/ or under its profile on SEDAR at www.sedar.com.
Forward-Looking Statements
This news release includes "forward-looking statements" and "forward-looking information" within the meaning of Canadian securities legislation. All statements included in this news release, other than statements of historical fact, are forward-looking statements including, without limitation, statements with respect to the potential of the Patriot Project; the potential identification of new mineralization; timing and successful execution of future drilling and exploration activities. Forward-looking statements include predictions, projections and forecasts and are often, but not always, identified by the use of words such as "anticipate", "believe", "plan", "estimate", "expect", "potential", "target", "budget" and "intend" and statements that an event or result "may", "will", "should", "could" or "might" occur or be achieved and other similar expressions and includes the negatives thereof.
Forward-looking statements are based on the reasonable assumptions, estimates, analysis, and opinions of the management of the Company made in light of its experience and its perception of trends, current conditions and expected developments, as well as other factors that management of the Company believes to be relevant and reasonable in the circumstances at the date that such statements are made. Forward-looking information is based on reasonable assumptions that have been made by the Company as at the date of such information and is subject to known and unknown risks, uncertainties and other factors that may have caused actual results, level of activity, performance or achievements of the Company to be materially different from those expressed or implied by such forward-looking information, including but not limited to: risks associated with mineral exploration and development; metal and mineral prices; availability of capital; accuracy of the Company's projections and estimates; realization of mineral resource estimates, interest and exchange rates; competition; stock price fluctuations; availability of drilling equipment and access; actual results of current exploration activities; government regulation; political or economic developments; environmental risks; insurance risks; capital expenditures; operating or technical difficulties in connection with development activities; personnel relations; contests over title to properties; changes in project parameters as plans continue to be refined; and impact of the COVID-19 pandemic. The estimate of mineral resources may be materially affected by environmental, permitting, legal, title, taxation, sociopolitical, marketing, or other relevant issues. Forward-looking statements are based on assumptions management believes to be reasonable, including but not limited to the price of lithium and other metals and minerals; the demand for lithium and other metals and minerals; the ability to carry on exploration and development activities; the timely receipt of any required approvals; the ability to obtain qualified personnel, equipment and services in a timely and cost-efficient manner; the ability to operate in a safe, efficient and effective matter; and the regulatory framework regarding environmental matters, and such other assumptions and factors as set out herein. Although the Company has attempted to identify important factors that could cause actual results to differ materially from those contained in forward-looking information, there may be other factors that cause results not to be as anticipated, estimated or intended. There can be no assurance that forward-looking statements will prove to be accurate and actual results, and future events could differ materially from those anticipated in such statements. Accordingly, readers should not place undue reliance on forward looking information contained herein, except in accordance with applicable securities laws. The forward-looking information contained herein is presented for the purpose of assisting investors in understanding the Company's expected financial and operational performance and the Company's plans and objectives and may not be appropriate for other purposes. The Company does not undertake to update any forward-looking information, except in accordance with applicable securities laws.
The Canadian Securities Exchange has not approved nor disapproved the contents of this news release and does not accept responsibility for the adequacy or accuracy of this release.
Photos accompanying this announcement are available at:
https://www.globenewswire.com/NewsRoom/AttachmentNg/75090e30-30c5-47be-bc6a-ec0739c2545a
https://www.globenewswire.com/NewsRoom/AttachmentNg/8823e88c-f1d9-42d0-b959-e6e377492846
https://www.globenewswire.com/NewsRoom/AttachmentNg/2d73190e-d82f-4136-a442-3a761dbaaf9a