New York, Sept. 28, 2023 (GLOBE NEWSWIRE) -- The global cloud data loss prevention (DLP) solution market size is predicted to expand at ~ 22% CAGR between 2023 and 2033. The market is projected to garner a revenue of USD 6 Billion by the end of 2033, up from a revenue of ~USD 2 Billion in the year 2022. The rapidly growing number of internet users, which now exceeds 5 billion people worldwide, the growing data sprawl, the rising use of cloud storage by the world population, which has reached new heights over the last decade as well as since the COVID-19 pandemic, and the growing concern about security breaches in cloud computing can be attributed as the market's primary growth factors. It was discovered that nearly 45% of businesses globally experienced a cloud-based data breach between 2021 and 2022. 
Request Free Sample Copy of this Report @
https://www.researchnester.com/sample-request- 4363
Global Cloud Data Loss Prevention (DLP) Solution Market: Key Takeaways
Market in North America to propel the highest growth
Cloud-Based segment to garner the highest growth
Market in Asia Pacific to grow at the highest rate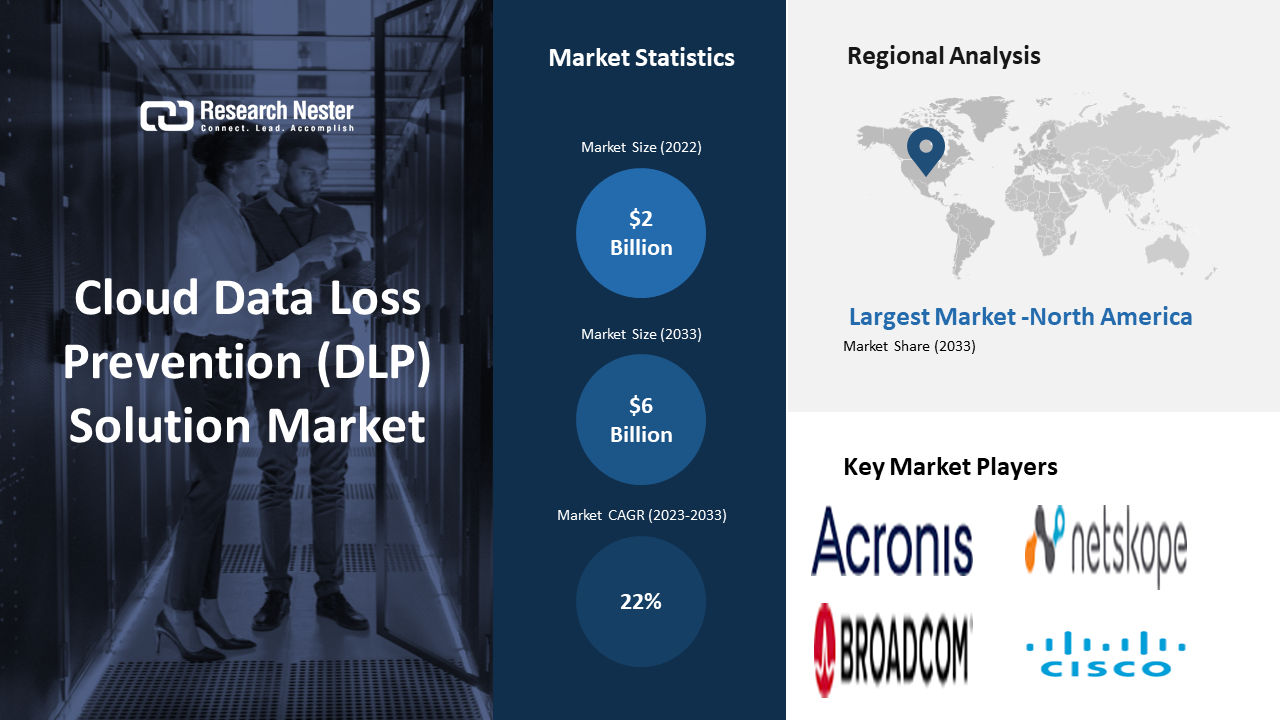 Rising Ransomware and Malware Threats to Drive Market Growth
The growth of the market can be majorly attributed to the speedily augmenting data breaches in cloud applications, which are not rare, as well as the emergence of regulatory, compliance, and enforcement requirements, along with the radically rising threat of ransomware and viruses, together with malware attacks such as phishing emails resulting in the loss of sensitive and vulnerable data. While investigating, it was found that every day, some 300,000 new pieces of malware are created across the world to target individuals and organizations. Moreover, around 60% of respondents in the 2022 Thales Cloud Security Study acknowledged that almost 40% of their data in the cloud is sensitive. Additionally, in the awakening of remote and hybrid work cultures, there is a rise in BYOD culture globally along with increased employee mobility, which has driven the quest of how to prevent data loss in cloud computing and overcome the risk of breaches. This, as a result, is expected to further boost the market growth in the provided time frame.
Global Cloud Data Loss Prevention (DLP) Solution Market: Regional Overview
The global cloud data loss prevention solution market put light on five major regions including North America, Europe, Asia Pacific, Latin America, and the Middle East and Africa region. 
Increasing Security and Cyber Security Budgets to Drive Growth in North America
The Cloud Data Loss Prevention (DLP) Solution Market in North America is estimated to garner the largest revenue by the end of 2033. The regional growth in the projected time is attributed to the exponential use of cloud networks in the region as well as the growing risk from cyber security threats, which has led to the increasing investment in cybersecurity by the IT sector and the rising demand for data scientists and professional cyber security personnel. According to a 2019 study, American businesses spent approximately USD 66 billion per year on cyber security. Moreover, the United States Bureau of Labor Statistics report stated that the demand for knowledgeable and skilled data scientists is expected to grow by 2026, owing to a 27.9% rise in employment.
Digital Transformation to Drive Growth in the Asia Pacific Region
The Cloud Data Loss Prevention (DLP) Solution Market in the Asia Pacific region is estimated to garner the highest CAGR by the end of 2033. The market growth in the region can be attributed to the growing internet & data economy, the burgeoning partnership on digital infrastructure, and the increased spending on digital technologies in the region. Southeast Asia's internet economy has reached around USD 100 billion in the past few consecutive years and is further estimated to triple by 2025. Moreover, the increasing volume of cybercrime in the region and the growing need for DLP, or protection against cyberattack, to protect the vulnerability of large volumes of individual and corporate sensitive data that are stored in the cloud are expected to further propel market growth in the region. For instance, in 2020, India faced about 13 lakh cyberattacks or attempts.
Make an Inquiry Before Buying this Report @
 https://www.researchnester.com/inquiries-before-buying- 4363
Global Cloud Data Loss Prevention (DLP) Solution, Segmentation by Deployment Model
The cloud-based segment cloud data loss prevention (DLP) solution market is anticipated to hold the largest revenue by the end of 2033. The segment growth over the forecast period can be attributed to the increasing adoption of Software-as-a-Service (SaaS) as well as the rising popularity of this cloud-based service in the business sector owing to its cost-effectiveness, ease of use, flexibility, and scalability. According to a report, more than 60% of all corporate data was stored in the cloud in 2022. Moreover, end-user spending on public cloud services across the globe is anticipated to amount to about USD 600 billion in 2023. Furthermore, rising spending on global cloud services infrastructure, with around USD 41 billion spent in 2021 alone, and its expanding use in businesses and services are expected to drive segment growth. 
Request for Customization of this Report @
https://www.researchnester.com/customized-reports- 4363
Global Cloud Data Loss Prevention (DLP) Solution, Segmentation by End-User
IT and Telecom
BFSI
Government
Healthcare
Manufacturing
Retail and Logistics
The IT & telecom segment is anticipated to hold the largest revenue by the end of 2033. The factors applicable to the growth of the segment include the rising emergence of new technologies such as big data, data analytics, machine learning, artificial intelligence, cloud computing, and blockchain, as well as the rising revolution in healthcare, banking, education, pharma, travel and tourism, agriculture, aviation, and various other sectors with the adoption of these computers and information technology (ICT), besides the expanding adoption of best practices in the industry to minimize the potential financial impact of data breaches. It was estimated that the cost of a data breach worldwide amounted to somewhere between USD 1.8 and around USD 42 billion per year. Moreover, it is anticipated that big data analytics in the healthcare industry will reach ~USD 79 billion by 2028.
Global Cloud Data Loss Prevention (DLP) Solution, Segmentation by Solution
Network DLP
Endpoint DLP
Datacenter/Storage-based DLP
A few of the well-known market leaders in the global Cloud Data Loss Prevention (DLP) Solution Market that are profiled by Research Nester are Acronis International GmbH, Netskope, Inc., Broadcom Inc., Mcafee LLC, GTB Technologies Inc., Digital Guardian Inc., CoSoSys SRL, Trend Micro Incorporated, Proofpoint Inc., Check Point Software Technologies Ltd., and other key market players.
Recent Development in the Global Cloud Data Loss Prevention (DLP) Solution Market
Acronis International GmbH, a Swiss technology company announced that Florida Panthers had joined Acronis #TeamUP program and the company will now serve as the Cyber Protection Partner of the National Hockey League's Florida Panthers to keep all parties' data safe and #CyberFit.
Netskope, Inc., the leader in Security Service Edge (SSE) and Zero Trust acquired Infiot which is a pioneer in enabling secure, reliable access with zero trust security, network and application optimization, and AI-driven operations.
About Research Nester
Research Nester is a one-stop service provider with a client base in more than 50 countries, leading in strategic market research and consulting with an unbiased and unparalleled approach to helping global industrial players, conglomerates, and executives for their future investments while avoiding forthcoming uncertainties. With an out-of-the-box mindset to produce statistical and analytical market research reports, we provide strategic consulting so that our clients can make wise business decisions with clarity while strategizing and planning for their forthcoming needs and succeed in achieving their future endeavors. We believe every business can expand to its new horizon, provided the right guidance at the right time is available through strategic minds.