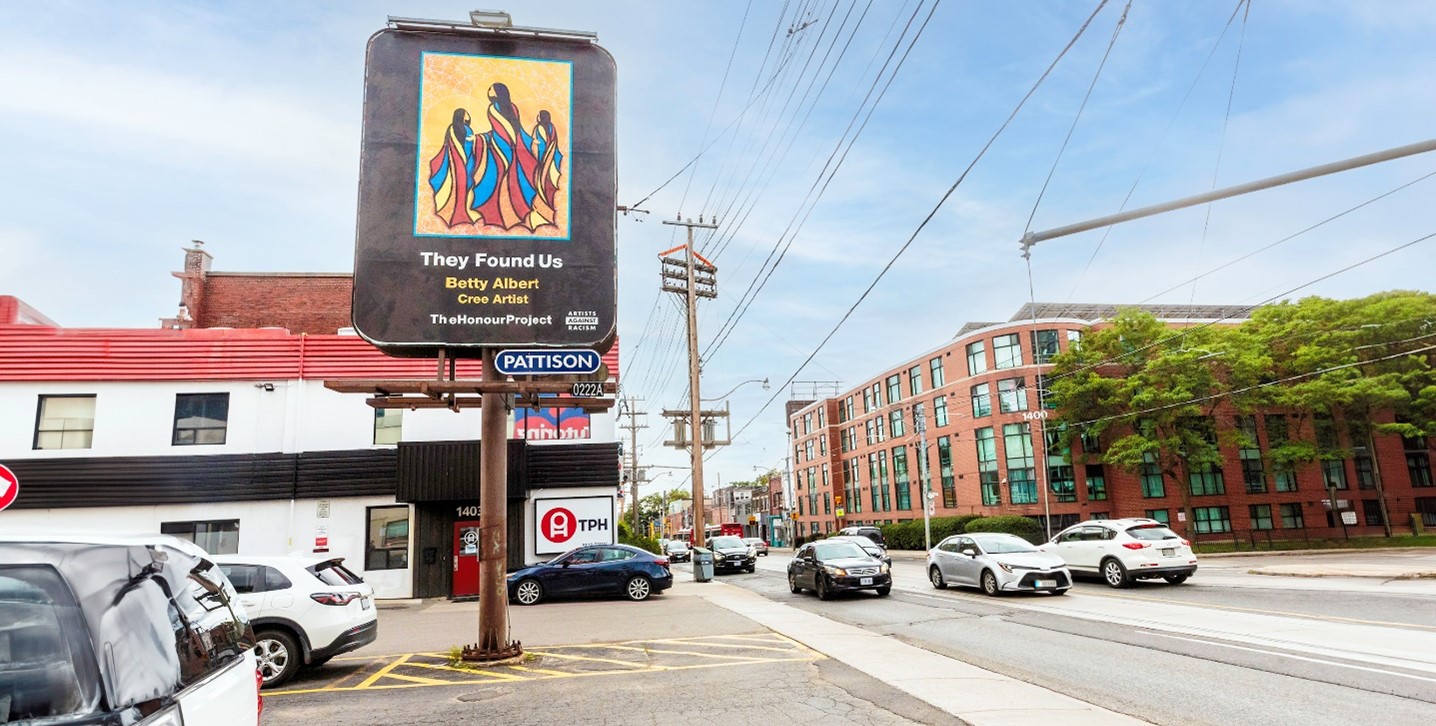 Pictured above: Vertical Poster in Toronto, Ontario, featuring one of 2023's PATTISON Elevating Voices Media Grant recipients, Artists Against Racism.
MISSISSAUGA, Ontario, Aug. 29, 2023 (GLOBE NEWSWIRE) -- In 2023 PATTISON Outdoor announced the launch of the very first Diversity & Inclusion focused media grant – Elevating Voices. The PATTISON Elevating Voices Media Grant garnered dozens of applicants from various organizations with a diversity and inclusion mandate from all across Canada. These applications were assessed by PATTISON's employee-run Diversity, Equity and Inclusion committee who had the pleasure of meeting with these organizations. We are pleased to announce that seven organizations from across the country were chosen to receive a portion of the $1 million media grant value.
The Elevating Voices program launched in 2022 with the intention to provide a platform to organizations dedicated to servicing and supporting ethno-cultural groups, the 2SLGBTQI+ community, women's equality, those with disabilities, and any other group focused on and for projects that promote diversity, equity and inclusion. Three national partners and four regional partners (Eastern, Central, Prairies and Pacific) make up the first-ever recipients of the media grant program.
 
National Partners
 
1.
Artists Against Racism: Artists Against Racism's mandate is to target and motivate youth of all cultures, religions and backgrounds through powerful awareness/educational anti-racism campaigns featuring artwork by artists of the primary groups that are discriminated against in Canada.
https://artistsagainstracism.org/


 
2.
The Forum: The Forum's mandate is to energize, educate, mentor and connect self-identified women entrepreneurs to ensure they feel equipped to achieve their business visions, in order to promote strengthened economies and thriving communities. The Forum believes that communities are stronger and better cared for when they are diverse, inclusive, and just. They are dedicated to ensuring their initiatives reflect these beliefs by being committed to journey towards anti-oppression and equity.
https://www.theforum.ca/


 
3.
Canadian Mental Health Association: Founded in 1918, the Canadian Mental Health Association (CMHA) is the most extensive community mental health organization in Canada. ​They are a collective of organizations bound together by a brand and mission ​to respond to Canada's most pressing mental health priorities. Their objective is to share relevant mental health information and resources, including CMHA's BounceBack® program, with Black, Indigenous and People of Colour (BIPOC) youth (aged 15-29) across Canada.
https://cmha.ca/


 
Regional Partners
 
1.
Central
 
 
Outside Looking In: Outside Looking In (OLI) is an Indigenous-led organization with a demonstrated track record of supporting and empowering Indigenous youth from high school to their career path of choice. They have been making a difference in the lives of Indigenous youths since 2007 when they began introducing dance classes to remote communities as a tool to motivate youth to stay in school.
https://www.olishow.com/


 
2.
Eastern
 
 
The Refugee Centre: The Refugee Centre is a registered non-profit based in Montreal. Their mission is to create long-lasting, self-sustainable, and creative solutions to refugee integration. Their organization implores youth to work with the community so they can help strengthen the refugee & immigrant population through unity and integration.
https://www.therefugeecentre.org/


 
3.
Prairies
 
 
The Fruit Loop Society of Alberta: Established in 2013 and has helped to raise funds for local community organizations in the Edmonton area, the Fruit Loop Society of Alberta is dedicated to supporting and promoting non-profit groups within the LGBTQ2S+ community by providing well-respected and popular public events that showcase local talent and culture.
https://www.fruitloop.ca/


 
4.
Pacific
 
 
H.O.P.E Outreach - HOPE (Helping Out People Exploited) supports sex-trade workers including cis-gender women and girls and self-identifying women or girls, LGBTQ2S, and Indigenous Peoples living at-risk lives in community who may experience vulnerability on a journey to realizing their potential of living a safe and healthy life. HOPE Outreach delivers a provision of programs, services and advocacy, community-wide education aimed at decreasing the stigma associated with vulnerable people and those involved in sex work and exploitation.
https://www.hopeokanagan.com/

The grant program will leverage the reach, inventory and power of OOH advertising, giving recipients an opportunity to expand their outreach and impact in their respective communities.

"The DEI committee acknowledges that PATTISON Outdoor is very much in a unique position to share these organizations' message of underrepresented groups with our mass reach. This grant allows our medium to work to serve our communities in promoting diversity, equity and inclusion across the country. We commend our Executive team for stepping up to be a part of a greater solution." – Jason Estrada, DEI Co-Chair
PATTISON Outdoor's Diversity, Equity and Inclusion committee was formed in 2020. Their mission is to address diversity within the company, and the Canadian OOH advertising industry. It is a volunteer-based committee, with members from various regional offices across the country. The committee prides itself on creating a more equitable and just workplace and society.
About PATTISON Outdoor
PATTISON Outdoor Advertising, a division of The Jim Pattison Group is Canada's largest Out-of-Home advertising company. PATTISON Outdoor helps brands and businesses harness the power of Out-of-Home advertising by providing the most comprehensive range of products, markets, insights and customer support services. With its roots reaching back to 1908, PATTISON has been providing innovative solutions for Out-of-Home advertising opportunities with products ranging from traditional billboards to transit, digital, airport, residential, office, and street level formats. PATTISON is headquartered in Toronto, Ontario with over 25 sales offices across the country, providing advertisers unmatched reach and coverage with products available in over 200 markets coast to coast.
www.linkedin.com/company/pattison-outdoor
www.instagram.com/pattisonoutdoor
www.facebook.com/pattisonoutdooradvertising
www.twitter.com/pattisonoutdoor
https://www.youtube.com/PattisonOOH/
For more information contact:
Bridget Campbell
Director, Digital Production & Diversity and Inclusion Committee Co-Chair 
bcampbell@pattisonoutdoor.com
A photo accompanying this announcement is available at https://www.globenewswire.com/NewsRoom/AttachmentNg/3a6970d2-fe74-489d-b1db-d1b21930991b